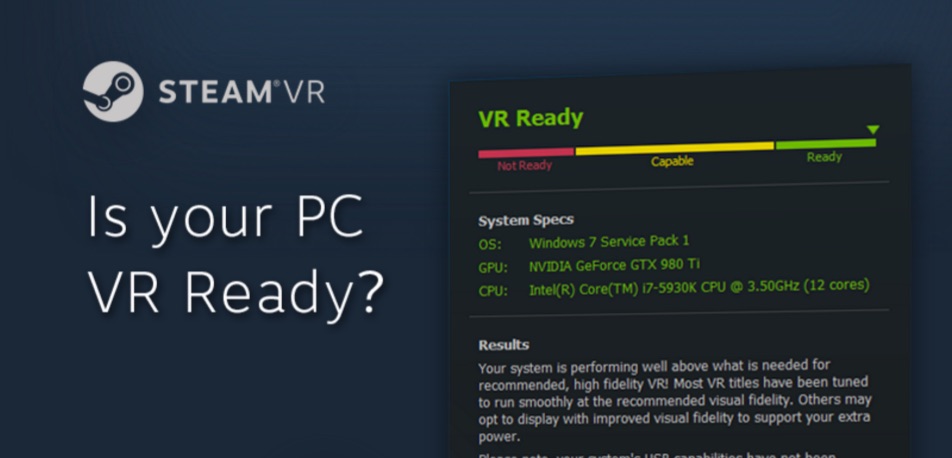 Short Bytes: A number of virtual reality headsets are soon going to make an appearance in the market. If you are planning to buy one, you need to make sure that your PC is powerful enough. Here, we are going to tell you about SteamVR Performance Test that checks if your system is good enough for playing VR content at 90fps.
T
echnology companies are moving ahead and pushing their virtual reality-enabled products in the market. The MWC 2016 added few more products to this lineup and the event also witnessed
Mark Zuckerberg surprising VR headset-strapped people
at
Samsung Galaxy S7
launch event.
In the upcoming months, Oculus Rift and Stream VR-powered HTC Vive headsets are going to make their debut in the market. But, is your PC good enough for VR content? To tell you the same, Valve has released a tool. Known as the SteamVR Performance Test, over a period of just 2 minutes this tool serves you results.
According to a Valve blog post, this tool determines whether your system is capable of running VR content at 90fps and whether "VR content can tune the visual fidelity up to the recommended level".
While Oculus Rift's compatibility tool just checks your PC against a list and doesn't perform any diagnostic, Valve's tool runs actual tests using a non-interactive animation of a GLaDOS robot repair facility.
After the test, the tool gives an average fidelity rating (Low/Medium/High/Very High) and tells the percentage of tested frames that dropped below the recommended 90fps for smooth VR performance.
To run this test, Valve has mentioned some minimum requirements like Intel® i5-4590 / AMD FX 8350 equivalent or greater processor, 4 GB RAM, and NVIDIA GeForce® GTX 970 / AMD Radeon™ R9 290 equivalent or greater.
This test is helpful for the users as it can help determine whether their PC's capabilities are bound by CPU, RAM, Graphics Card, or all of them.