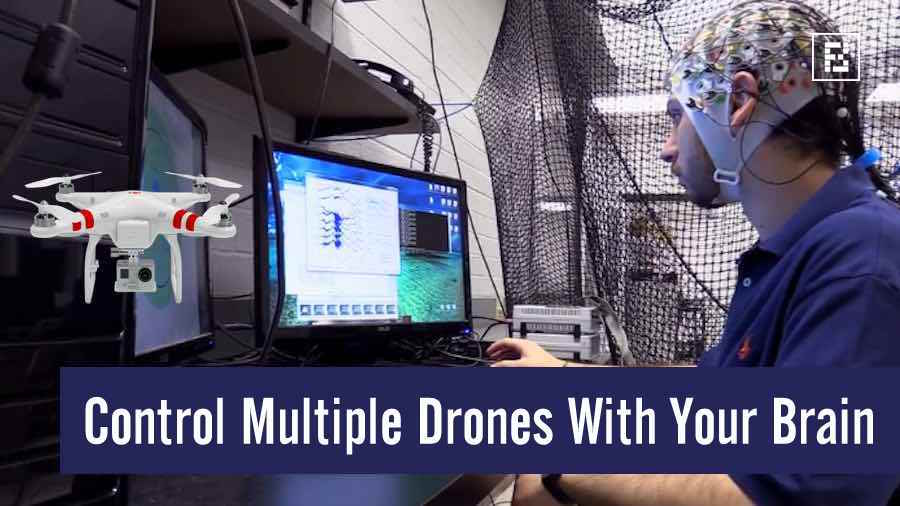 Short Bytes: An ASU professor named Panagiotis Artemiadis has been working on a technology that would enable you to use your brain and wirelessly control multiple drones in the air. The experiment involves wearing a cap on the head with numerous wires attached to it. The system catches the signals of the brain and sends them to the drones.
U
nmanned Aerial Vehicles (UAV), commonly known as Drones, have
gathered much attention
in the last few decades. From being deployed in war zones for surveillance purpose or for delivering daily groceries to our homes, these small flying machines find use in many aspects of lives.
Generally, most of the drones are remotely controlled using Joysticks. But, why to use a Joystick when you have your brain to control the drone? Panagiotis Artemiadis, a researcher from the Arizona State University (ASU) has come up with his tech setup to establish a connection between your brain and the drone through a wireless interface attached to your head. The best part is that you can't control just one but three to four drones at the same time.
"One of the big novelties we are working towards here at ASU is how you can bridge that gap between humans and robots and especially when you're talking to multiple robots. There has not been a lot of research on how one single human can control multiple robots," says Artemiadis, the director of the Human-Oriented Robotics and Control (HORC) Lab at ASU. He also works as an Assistant Professor of Mechanical and Aerospace Engineering in the Ira A. Fulton Schools of Engineering at ASU.
In order to control the drones with your brain, all you need to do is, think. That's all. You want the drones to go in a particular direction, just generate a thought in your mind and the minions flying in the air will follow your command.
The cap, which resembles a swimming cap, worn on the head, will take you into the world of X-Men, remember Professor X. Well, it won't grant you mind-controlling capabilities but controlling multiple drones at once is also a plus point. It captures the thoughts you create inside your head – the researchers already know which part of your head generates the thoughts – and sends them to the drones after processing using them using advanced algorithms.
Although you don't need to get any sort of training or clear a test to control the drones but you need to be completely alert, else, your drones will turn into ash in no time. Fill up your belly and get enough sleep before you get on your job of controlling the drone.
One more thing that needs to be taken into the consideration is that whole human-computer wireless system needs to be calibrated with each other daily basis as the brain signals show a slightly chance on the every next day.
Artemiadis's research does set a new benchmark in the field of human-robot interaction. But, a lot of work has to be done. His experiment would produce different outputs for different people. Eventually, his system would become more and more advanced.
Tell us, what do you think about this brain-computer interface in the comments section below.
Source: Science News Journal
Also Read: How To Make A Wi-Fi Drone Killer With Your Raspberry Pi And Linux