Short Bytes: Very often a Windows user needs an ISO file to perform a clean installation from the scratch. Instead for asking your friends or paying a visit to notorious torrent websites, you can download Windows 10, 8.1, and 7 legally from various sources. Later, you can use it to make a bootable USB (or burn a DVD) and activate Windows using your legal key.
I
f you've recently bought a Windows computer, you might be owning an original Windows installation disk and a Windows key. While performing a clean installation, you can use them to get things done and activate the newly installed operating system.
Very often we misplace our original Windows installation disk. So, what would you do if you need to reinstall Windows operating system from the scratch using the key that came with your PC?
Usually, people borrow the ISO files from a friend and make a bootable disk or USB. Others visit different file-sharing and torrent websites and download Windows ISO files. Apart from being illegal, this method also brings along a high chance of malware infection.
So, how to download Windows 10, 8.1, and 7 ISOs legally?
After releasing a new version of Windows, Microsoft makes the latest ISO files available on its website. Few people know about this legal method to grab a copy of Windows operating system.
You can easily download Windows 10, 8.1, and 7 legally using the official channels of Microsoft. Later, you can activate the copy using the key that came with your computer.
In case you face any problem activating the downloaded Windows on your computer–this might happen due to the differences between a retail and OEM version of Windows, you need to contact Microsoft support and it'll solve this problem.
Where to get Windows 10 and 8.1 ISOs legally?
When Microsoft released the ISO files of Windows 10 for a clean installation, I wrote an article about it and told you how to use Microsoft's Media Creation tool.  This process of downloading a fresh copy of Windows 10 and 8.1–and creating an installation media–involves the same steps.
To get started with this procedure, you need to go ahead and download Windows 10 Media Creation Tool or Windows 8.1 Media Creation tool.
After you've downloaded this small program, just click and give it the permissions, if asked, to make changes to your computer. Now, accept the license terms–Windows 8.1 version of the tool doesn't ask for permissions–and proceed.
On the dialog window that asks "What do you want to do?", select the "Create installation media for another PC" and proceed. Note that Windows 8.1 version of Media Creation Tool doesn't give you this option and directly creates the installation media for another PC.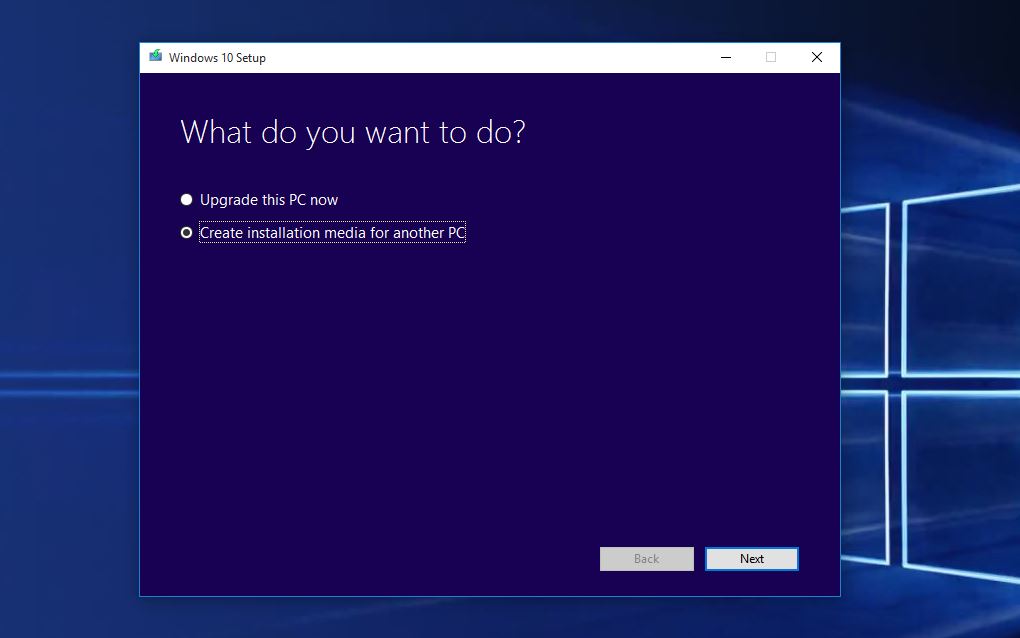 Now after filling the basic information like language, edition, architecture etc., click on the Next.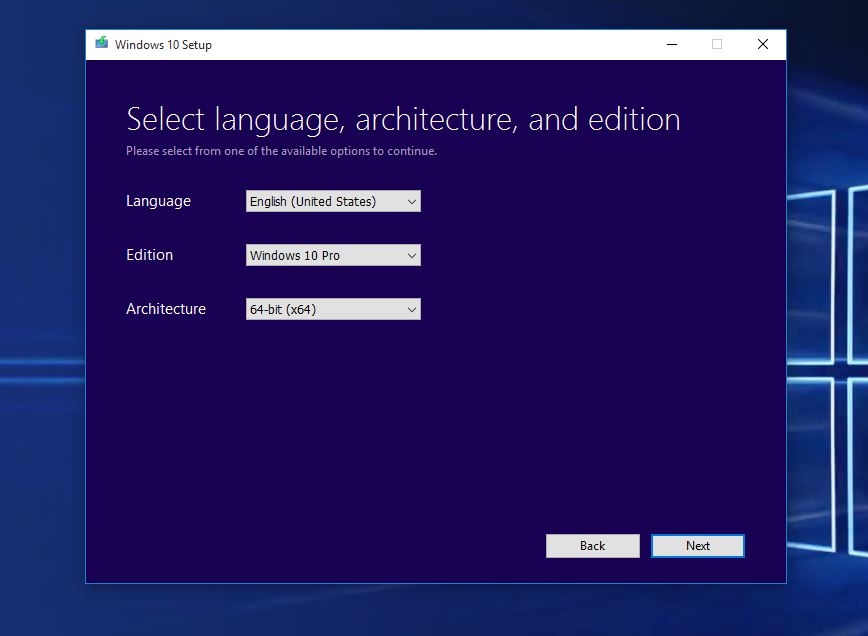 Depending upon on the fact that you want to create a bootable USB drive or download an ISO file that you'll burn to a DVD, select the options on "Choose which media to use" dialog window.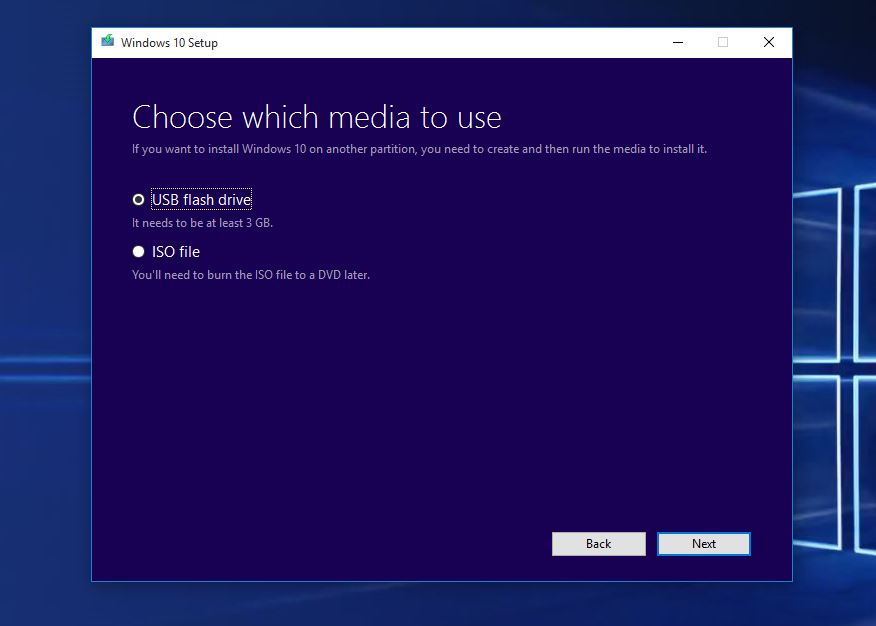 In the next step, choose the location where you want to save the Windows 10 or Windows 8.1 ISO file. Depending upon your internet connection speed, Microsoft's Media Creation tool will download Windows 10 or Windows 8.1 legally on your computer.
Where to get Windows 7 SPI ISO file legally?
After telling you about how to download Windows 10 and Windows 8.1 legally, I'll be sharing the method to do the same for Windows 7 ISO files.
Here, you don't need to download some tool to get Windows 7 ISO files. Instead, Microsoft lets you officially download Windows 7 directly from its website.

You just need to enter a valid Windows 7 key and Microsoft will let you download Windows 7 SPI ISO file legally. As you type your key and verify it, Microsoft will show you the 64-bit and 32-bit download options.
After downloading the ISO file, you can burn the file to a DVD or create a bootable Windows 7 USB drive.
Download any Windows ISO using third party tools:
Apart from Microsoft's website, there are 3rd party websites that provide free tools to let you download Windows operating system and Office ISOs legally.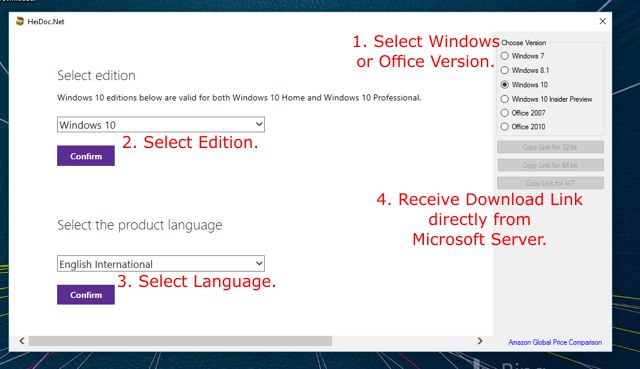 You need to visit Heudoc.net and download Microsoft Windows and Office ISO Download Tool. This free tool's simple interface will let you choose the Windows version and download the ISO of your choice.
Free Windows 10 and 8.1 trials on TechNet:
If you don't have a legal key and you want to try out Windows operating system, Microsoft's TechNet Evaluation Center is the right place to pay a visit.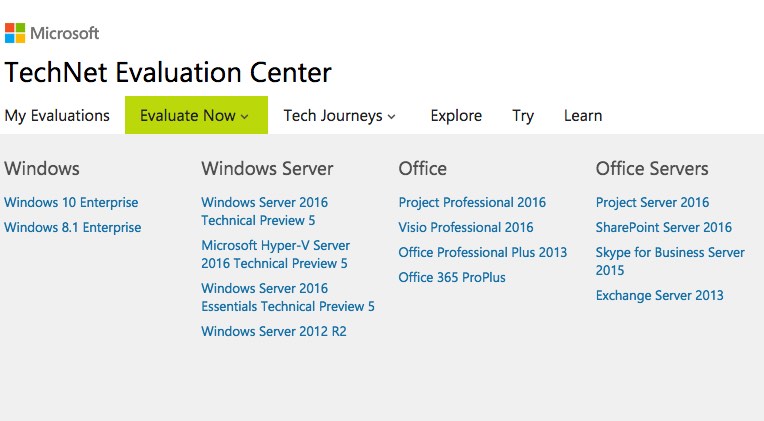 In the past, I've described this method in reference to 90-days free Windows 10 trial. But, as mentioned above, you can use it to try a variety of other Microsoft software. Visit Microsoft TechNet Evaluation Center here.
Did you find this article helpful? Don't forget to drop your feedback in the comments section below.