UDOO is again making headlines leaving board makers in awe. It has yet made another powerful board that features new AMD Ryzen Embedded V1000 series chips combined with Radeon Vega graphics.
The board is available for pre-order through a Kickstarter crowdfunding campaign for $229 and up. It comes with a choice of dual-core or quad-core Ryzen Embedded chips and is expected to ship in December 2018.
UDOO started up with its first Kickstarter project in 2013 and reached the goal of $27,000 in about 40 hours. UDOO boards run on an ARM processor (dual or quad core) as well as integrate an Arduino microcontroller.
Now the 4.7-inch UDOO Bolt can run AAA gaming, high-end VR, 3D rendering at insane speeds. "A portable, breakthrough supercomputer that can clock up to 3.6GHz and is twice as fast as Mac Book PRO 13″." said the creators.
Among the two variants you can choose from, BOLT V3 features AMD Ryzen V1202B with Vega 3 GPU and BOLT V8 packs Ryzen V1605B with Vega V8 graphics.
Both the hacker boards have 32GB of eMMC 5.0 storage, two SODIMM slots for up to 32GB of DDR4-2400 memory, gigabit ethernet port, two USB 3.1 Type-C ports, two USB 3.0 Type-A ports, and two HDMI 2.0 ports.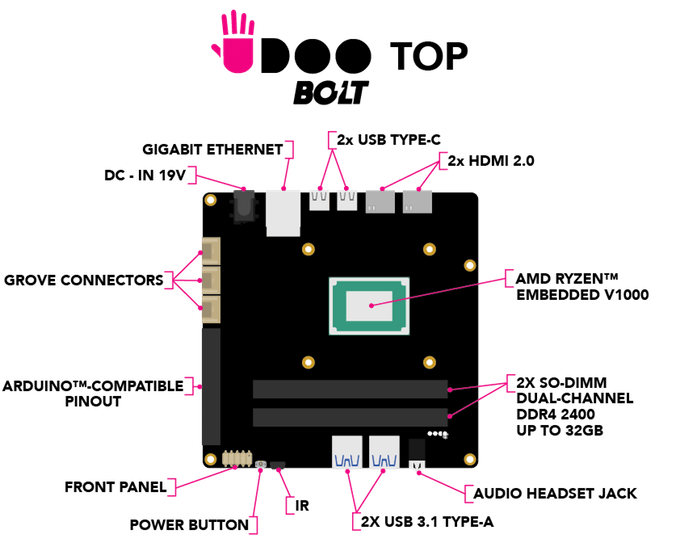 Although the UDOO Bolt looks like any other tiny single board computer, it can act as a full-fledged computer as well. You can just plug in a monitor, mouse, and keyboard and turn it into a mini workstation. It supports Windows 10 and any 64-bit Linux distribution.
UDOO has been making crowdfunded boards for a few years. Previously, UDOO X86 was known to be the best hacker board ever made. You can go over their website know about their other projects.