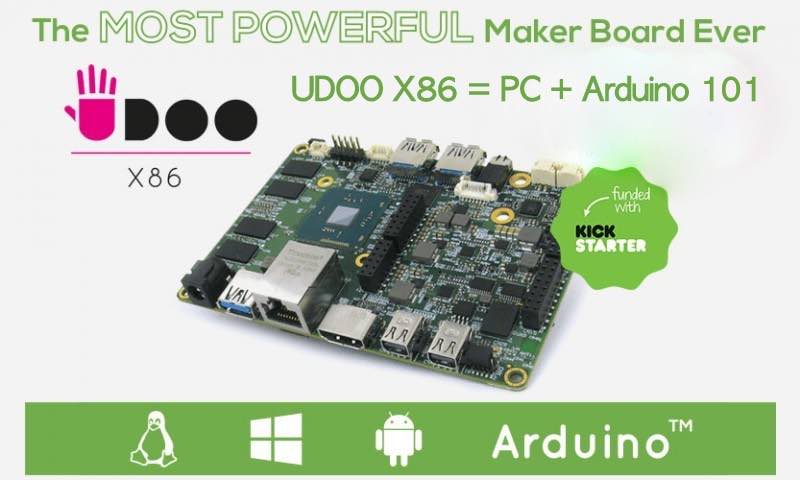 Short Bytes: UDOO X86 single board computer combines the benefits of a PC and Arduino 101 to become one of the most appealing devices for a maker. This open source board is about 10 times faster than Raspberry Pi 3 and based on Quad-Core 64-bit generation x86 Intel processors.

UDOO X86 hacker single board computer has surpassed its Kickstarter goal.
UDOO X86 comes with a quad-core Braswell SoC, 4GB RAM, and Arduino compatibility with the help of a Curie module. UDOO X86 is the most powerful hacker board ever made that can run all the software available for the PCs, ranging from video editing to gaming. In simpler words, it is the next-generation computer.
UDOO X86 is 10 times faster than Raspberry Pi 3
If we compare this single board computer with its competitors, UDOO X86 is 10 times more powerful than a Raspberry Pi 3 with an ability to drive up to three 4K screens at the same time.
Designed for the PC domain, UDOO X86 is based on Quad-Core 64-bit generation x86 Intel processors. Built on 14 nm architectures, these processors consume as little as 5 or 6 Watt energy.
UDOO X86 = Arduino 101 + PC
Talking about the software, UDOO X86 is compatible with the official Arduino 101 IDE and includes the 6-axis accelerometer, gyroscope, and Bluetooth Low energy connectivity.
Just like the pinout layout of Arduino 101, it has the same configuration. This means, the board is compatible with all Arduino 101-compatible sensors, shields, and actuators.
UDOO X86 boots from everywhere
UDOO X86 comes with multiboot support and can boot from everywhere. With the help of 8GB eMMC onboard, a Micro SD card reader, SATA, M.2 Key B and USB 3.0 ports, you can connect different types of devices. It also comes with Gigabit Ethernet.
Also read: VoCore: A Cheap And Coin-sized Linux Computer With Wi-Fi
UDOO loves open source
UDOO X86 finds great love in the open source community with its open source hardware and software. UDOO will be releasing the schematics, 3D design, binaries, and the Bill of Material at the end of its campaign along with a Creative Commons license.
If you are willing to know more about UDOO X86, you can visit their Kickstarter page.
If you love DIYing and making new things, we have some amazing deals for you: