US President Donald Trump has signed an executive order that could strip social media platforms of their legal immunity over content posted by the users.
If the order comes into action, regulators will be able to pursue legal suits and court cases against social media companies such as Twitter, Facebook for anything posted by the platform's users.
Under Section 230 of the Communications Decency Act in the US, social media companies are mostly not held responsible for anything posted by users on their platforms.
But the new draft order would enable the Commerce Department and FCC (Federal Communications Commission) to reinterpret and make changes to the law.
The order argues that social media companies engage in "selective censorship" and favor certain political viewpoints. Through this order, the FCC has been urged to create a tool that would allow users to report bias online.
The executed order also asks FTC to define what type of content blocking would be considered deceptive under the platform's terms and conditions.
Why is Trump lashing out on social media platforms?
The executive order comes after Trump threatened Twitter and others to regulate or shut down their platforms. In a previous tweet, he accused Twitter of bias against conservatives and claimed he would come up with significant action.
https://twitter.com/realDonaldTrump/status/1265649545410744321
But the entire fiasco started when Twitter fact-checked two of the US President's tweets and labeled them "misleading." This was a first-time for both Twitter and a US president whose Tweet got the "fact check label," and this incident infuriated Trump to take drastic steps.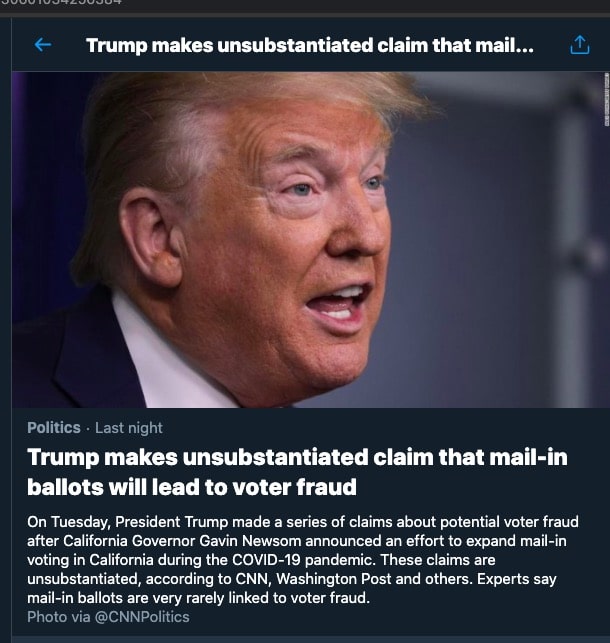 The controversial tweet in question, had Donald Trump claiming that vote-by-mail was fraudulent, and therefore, the upcoming election would be rigged. However, experts found no evidence for Trump's claims, and that is when Twitter labeled the tweets as false.
The response of social media platforms
Twitter has said the order is a "reactionary and politicized approach to a landmark law." And it is an attempt to threaten freedom of the Internet and online speech.
This EO is a reactionary and politicized approach to a landmark law. #Section230 protects American innovation and freedom of expression, and it's underpinned by democratic values. Attempts to unilaterally erode it threaten the future of online speech and Internet freedoms.

— Twitter Public Policy (@Policy) May 29, 2020
Meanwhile, Google has said that order would hamper America's leadership on Internet Freedom. "We have clear content policies and we enforce them without regard to political viewpoints," Google told BBC.
Facebook has also come out against the order, "Repealing or limiting section 230 will have the opposite effect. It will restrict more speech online, not less."
Interestingly, when it comes to pointing out false content, Facebook doesn't share the same viewpoint as Twitter. In an interview with CNBC, Facebook CEO Mark Zuckerberg said no private company should act as "the arbiter of truth".