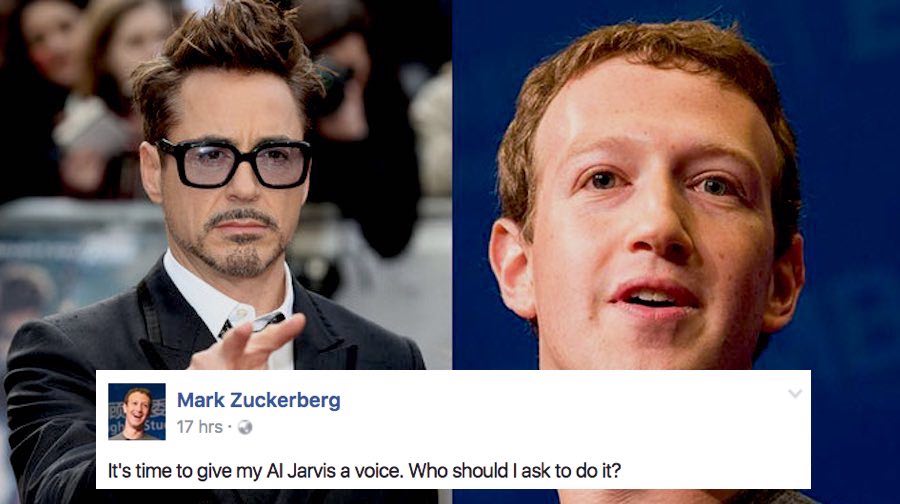 Short Bytes: Mark Zuckerberg posted a question on his Facebook page, asking the people for suggestions on who should be the voice of his AI Jarvis. Apart from a long list of commenters on the post, Robert Downey Jr also paid a visit and offered to give his services.
Y
ou might be knowing that earlier this year in January, Facebook CEO Mark Zuckerberg
took a personal challenge
to build an A.I. similar to Iron Man's Jarvis in the Marvel movies. He said that he wishes to build something that'll help him do simple things in his house.
It looks like he is ready to enter the next phase of his A.I. development, i.e., giving a voice to his AI Jarvis. Asking for suggestions on his Facebook page, Zuckerberg wrote: "It's time to give my AI Jarvis a voice. Who should I ask to do it?"
On his post, numerous commenters left their suggestions. While some voted for Arnold Schwarzenegger, others rooted for Robert Downey Jr. or Benedict Cumberbatch.


Some people even suggested the names of Neil deGrasse Tyson and Morgan Freeman.


Surprisingly, Robert Downey Jr also paid a visit and offered his services "if Bettany gets paid and donates it to a cause of Cumberbatch's choosing".
"This just got real," Zuckerberg replied.

Well, according to you, who is perfect for this job? Share your views in the comments below.
Also Read: How To Code Your Own Personal Assistant Using Python Programming