In a recent tweet, US President Donald Trump has threatened to regulate or shut down social media platforms.
Trump accused social media platforms of bias against conservatives and asked Twitter to "Clean up your act, NOW!!!!" in another tweet.
https://twitter.com/realDonaldTrump/status/1265601611310739456
His tweet comes after Twitter fact-checked two of his tweets and left a warning implying that the facts mentioned in the tweet are misleading. This is the first time the platform has fact-checked a tweet from the president of the United States.
Trump's tweet in question claimed that the vote-by-mail was "substantially fraudulent" and hence, the election in the US would be rigged. However, experts and fact-checkers said that there is no evidence to prove that mail-in ballots are linked to fraud.
https://twitter.com/realDonaldTrump/status/1265255835124539392
In response, Twitter labeled the tweets as false with a link below the tweets that read, "Get the facts about mail-in ballots." When a user clicks on the link, Twitter shows a collection of statements and tweets that debunks the US president's false claim.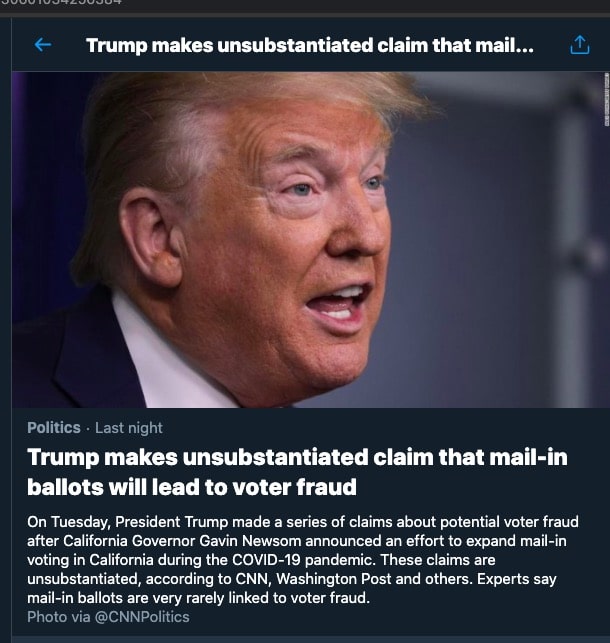 Twitter and other social media companies have tightened their policies regarding fake news and misleading facts in the past years.
Twitter recently introduced new policies to tackle fake news and "limit the spread of potentially harmful and misleading content" related to COVID-19. The social media tech giant says its actions are in line with its recent policy for tackling fake news.
The platform has often been criticized for not deleting some of the false claims made by Donald Trump in the past, given Trump has more than 80 million followers on Twitter. However, now for the first time, the platform has stepped up against the president of the US.
The latest tweet from Donald Trump regarding the matter says, "Big action to follow."
https://twitter.com/realDonaldTrump/status/1265649545410744321