Tesla Cybertruck has a ton of rivals. Recently, a Michigan-based startup revealed an electric pickup truck 'Hercules Alpha' with specs impressive enough to be a potential Cybertruck killer.
Hercules Alpha is another Michigan-based electric pickup truck after the Rivian that will challenge Tesla, the upcoming Rivian R1T, and electric Hummer.
Since Hercules alpha is a newbie in the market, here's a brief overview of the startup. James Breyer founded Hercules Electric Vehicles in Detroit on 26th December 2018.
The startup was soon joined by automotive industrialists Greg Weber and Julie Tolley on a mission to make environmentally-friendly electric vehicles.
Hercules Alpha is the first electric vehicle from the startup that claims to boast 1000 HP, 300 miles+ range, and surprisingly zero turning radius.
Here's everything else you need to know about the Hercules Alpha electric pickup truck.
Tesla Cybertruck Rivals: Hercules Alpha Electric Pickup Truck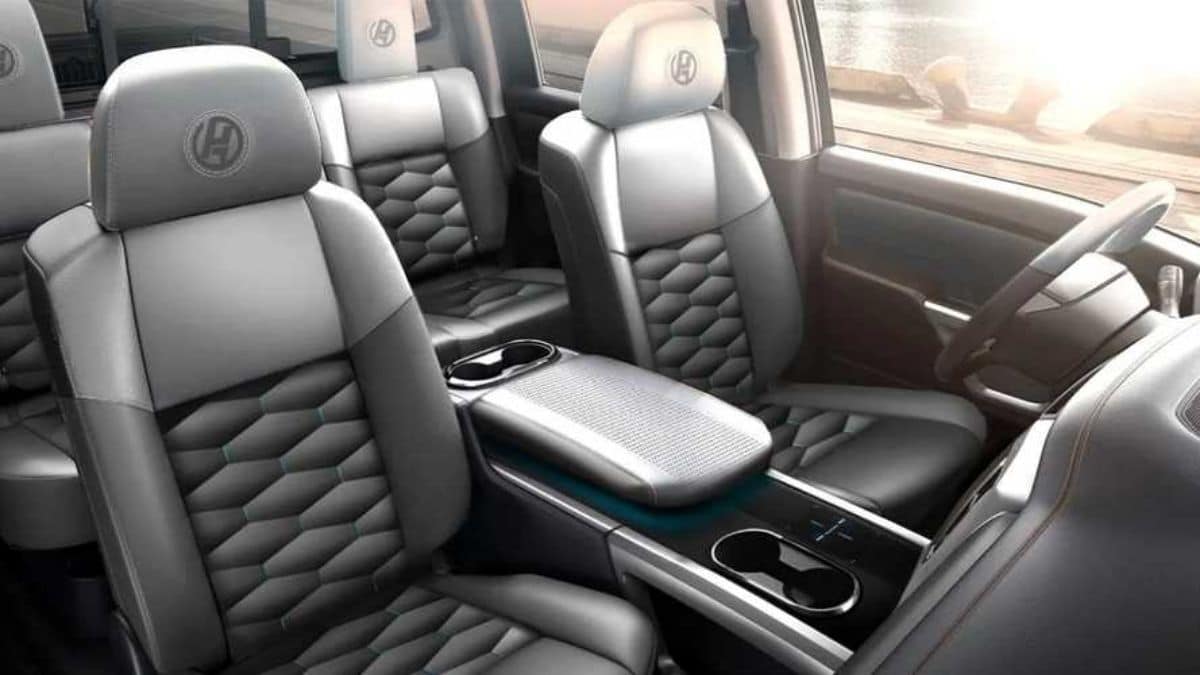 | | |
| --- | --- |
| Hercules Alpha | |
| Electric Range | 300+ Miles |
| Battery | TBA |
| Acceleration | 4.0 seconds 0 to 60 mph |
| Top Speed | 120 mph |
| Power | 1000 HP |
| DC Fast Charging | Yes |
| Price | TBA |
In addition to the above eye broadening specs, the electric pickup truck has a zero turning radius. However, the company has not disclosed what type of steering system will be incorporated into the electric vehicle.
Rivian R1T also comes with a tank turn feature, making Hercules Alpha the second electric pickup truck to do so.
Although the Alpha electric pickup has a range of 300+ miles, it's not specified whether it's based on EPA or the WLTP cycle. In contrast, Tesla Cybertuck will be available with three range options: 250+ miles, 300+ miles, and a top variant offering 500+ miles.
The electric pickup truck has four motors enabling it to produce 1000 HP. However, Rivian R1T, which also uses a quad-motor setup, produces 750 HP.
Furthermore, Hercules Alpha will have an advanced torque-vectoring All-Wheel-Drive (AWD) system that will assist in offroading trips. There is also a Rear Wheel Drive (RWD) version of the Hercules Alpha electric pickup truck which produces 500 HP.
Though it is the very first electric vehicle from a small startup, it seems more than good enough, at least on paper.
Price Of Electric Vehicle: Hercules Alpha
There is neither any official confirmation nor any rumors regarding the price. We'll update the information as soon as it is announced.
However, the Hercules Alpha can be reserved online from its official website with a token amount of $1500. Do you think it's a proper Tesla Cybertruck rival?