Last month, Valorant released a brand new 'Icebox' map in Act 3 Update. After testing the new map on Unrated, Spike Rush, and Deathmatch for over a month, Valorant devs recently brought Icebox in Competitive.
However, a large proportion of Valorant players aren't prepared to play Icebox in Ranked just yet. As a result, several are dodging the new map in the Competitive queue, despite knowing that Valorant will put a ten minute time penalty for the action.
Valorant Icebox Map Is Way Too Difficult For Average Players
For those of you who don't know, Icebox is the first map in Valorant to introduce multi-level spike planting options. Unlike other Valorant maps, Icebox has several vertical angles and corners where players can hide. So when it comes to clearing out the angles, the process gets insanely challenging.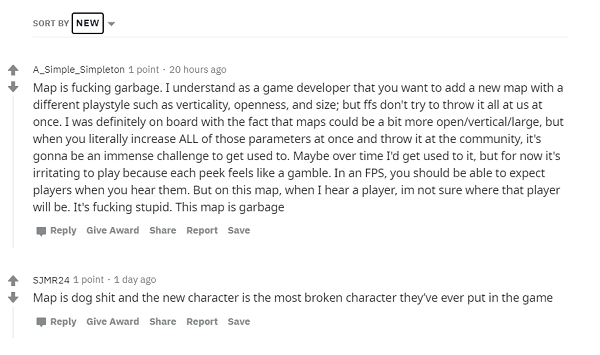 Speaking of the new map's verticality, smoke can be pretty useless in Icebox if not done smartly. For instance, smoke on the ground would not block the vision of agents like Omen, Jett, or Rage, who can get on higher ground.
Valorant agents such as Rage, Jett, and Omen get a certain advantage in Icebox. That is because these agents can use their abilities to get on top of the multiple crates, which aren't easily accessible by other agents.
Of course, an effective strategy and good teamwork can easily counter these factors; but for that, players must communicate. Communication is essential in every Valorant map; however, not communicating on Icebox before making your move can be more punishing. And in Valorant, Solo players tend to not communicate during the match.
That's why we are seeing a lot of players dodging Icebox in Ranked simply because they don't want to lose the match and get demoted. Along with the discussion on Reddit, my Valorant-addict colleagues at Fossbytes also confirmed this fact.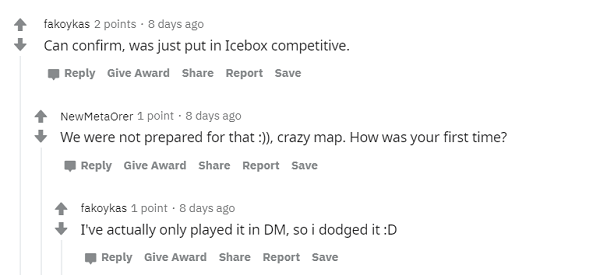 Valorant devs are also trying incredibly hard to push Icebox into map rotation. The map appears in the queue repeatedly, and with solo players not selecting the agents, it is taking a lot of time for other players to get into a match.