As if screaming "Ok Google" at your phone in a room full of people wasn't embarrassing already, Google Assistant not working at all can make things even worse.
I get it! Digital assistants can behave weirdly at times. But when life throws lemons at you, you make lemonade out of it. So chill out, make yourself a lemonade and closely attempt the following methods if "Ok Google" commands have stopped working on your Android phone.
"Ok Google" not working? How to fix that?
There could be only two possibilities why calling out "Ok Google" is not working: either the Google Assistant app is not working or Google is not able to recognize your voice.
Now that we have talked about the potential problems that could cause the Google commands to stop responding, let's try to fix the problem –
1. Clear the basics
Before anything else, we will have to see if the basic smartphone functionalities are not being the bottleneck here.
Topping the list is to check for hardware issues, particularly in the microphone. Ironically, the issue is most common in Google's very own Pixel devices. There are a few Android apps that enable you to test the microphone of your smartphone.
Another very plain and simple method that might fix the "Ok Google" not responding issue is cleaning the microphone hole. Sometimes, dirt or other debris may get into the microphone hole, consequently blocking the pathway.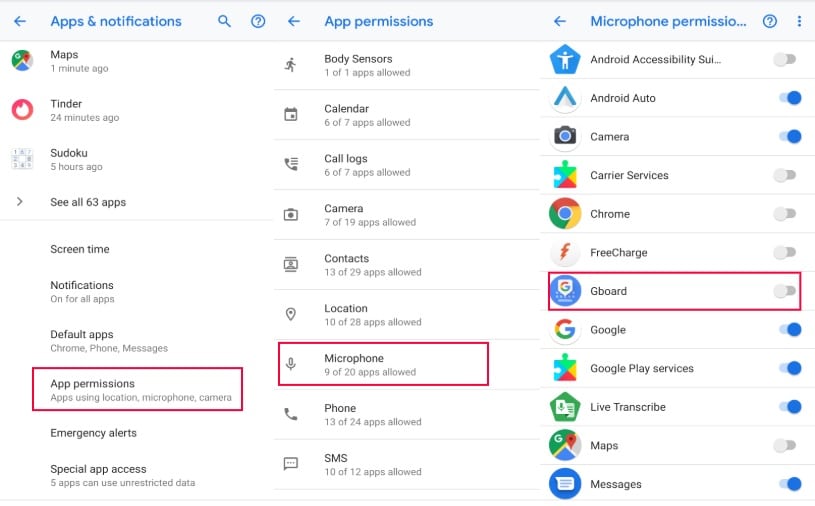 Although highly unlikely possibility might be Google app losing access to the microphone permission. You can look it up in the Android permission manager and fix it as shown in the screenshots above.
2. Google App not working
Sometimes, the Android app itself can behave way out of proportion. It could be due to a newer update or the app itself might have bugs.
If the Google app is not responding, try "Force Stop" via going into the App Settings on your Android device.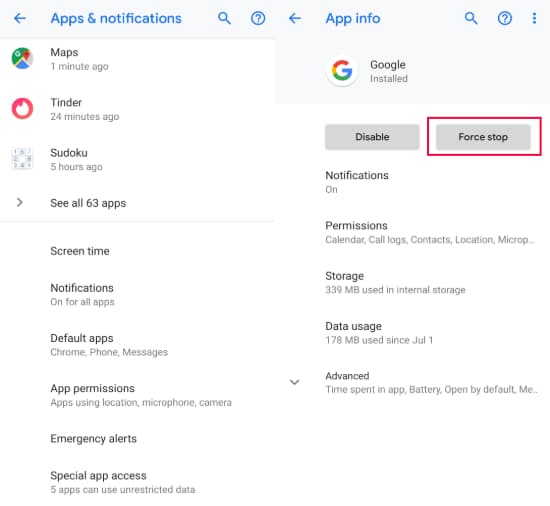 It's possible that maybe the Ok Google commands stopped working just after you installed a new Google app update. In that case, you can download an older version of the Android app from Android APKs hosting websites such as APKMirror.
3. Go to Google Assistant settings
After we have tried all the above methods, let's reach for the ultimate source — Google Voice settings.
Simply go to Google in the Android settings, tap on "Search, Assistant & Voice" and then tap on the Voice section.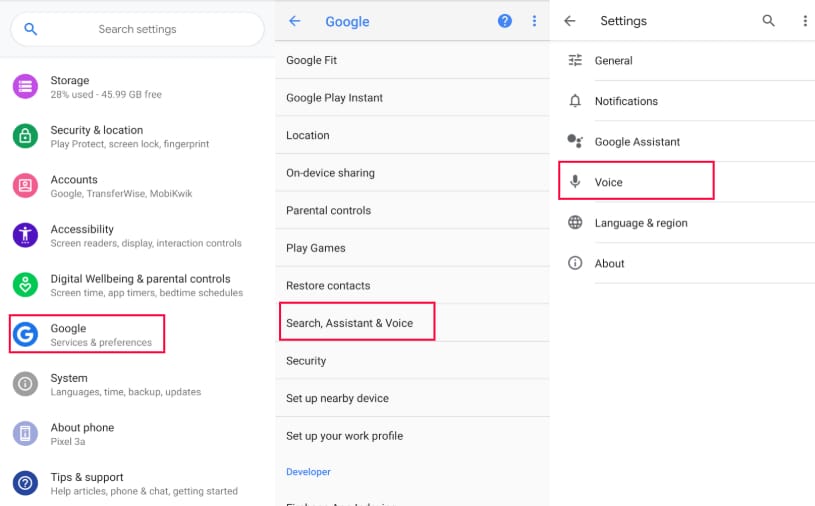 Turn on "Ok Google"
On several Android smartphones, one has to manually turn on Google voice while setting up the device.
Here is how you can do it — Go to the Google Voice Settings, tap on the Voice match option, and toggle on the "Access with Voice Match."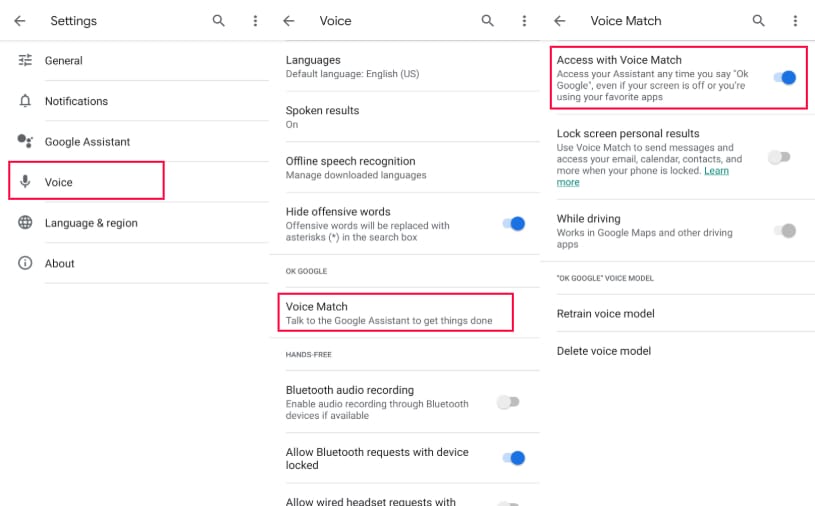 Google language settings page
Check if the languages checked under the "Language" section are the ones which you are most comfortable with. Select two or three languages to make the assistant more efficient.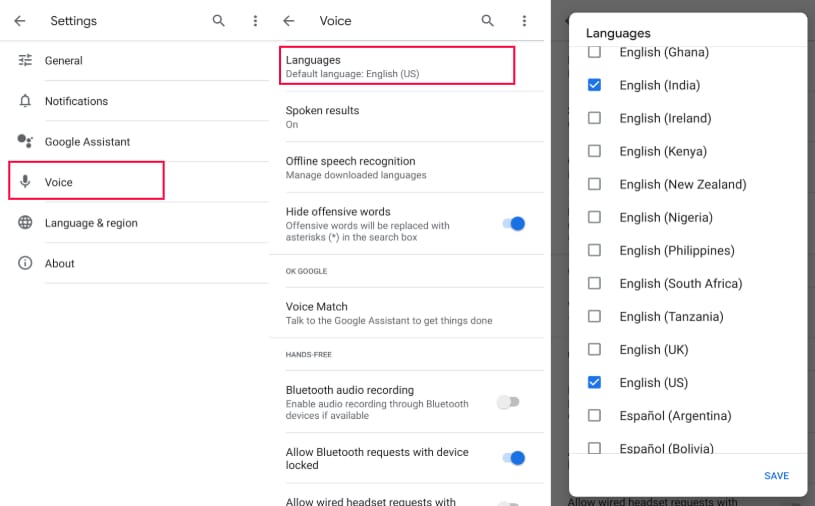 Retrain the Google voice model
If Google is taking time to recognize your voice or is not recognizing at all, you can also retrain your voice to the Google Assistant.
Under the same settings, tap on the "Retrain Voice Model" and feed your voice to the Google app.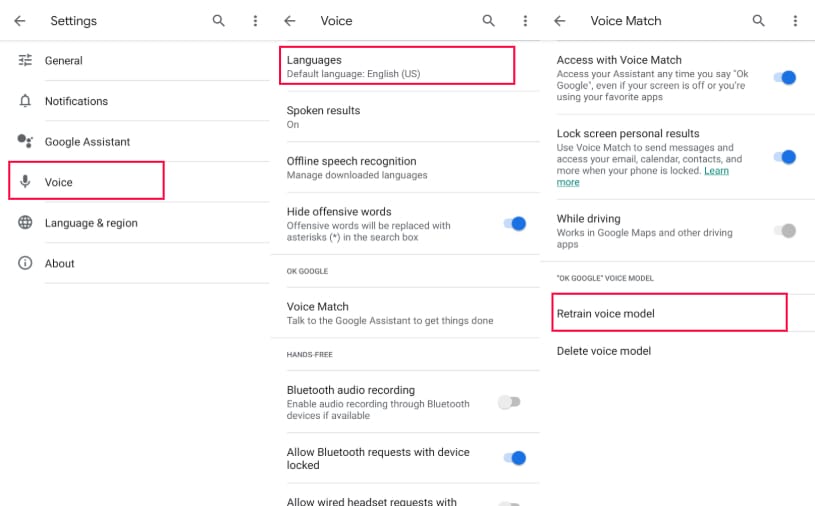 4. Turn off Bixby [For Samsung users]
In case you have a Samsung phone, Bixby might be interfering with the working of the Google Assistant. Classic Samsung!
Therefore, you will first have to disable the Bixby wake-up voice in order to use Ok Google on your Samsung smartphone. And given the obstinate nature of Samsung, it's best to just turn off everything remotely termed as Bixby or S voice on your Samsung smartphone.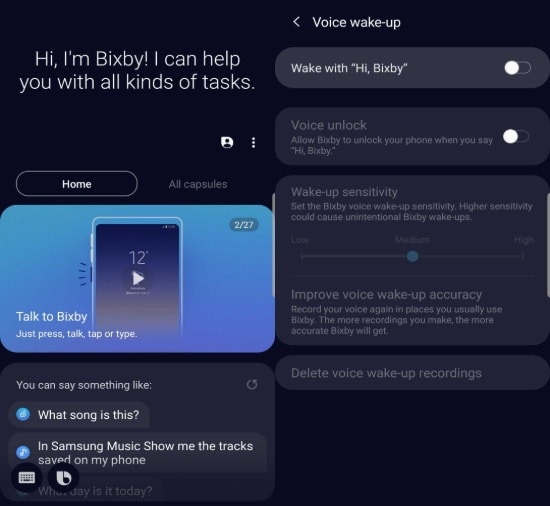 Also, check out our detailed article on how to disable google assistant with few simple steps.
5. Look for support
It is possible that the Google Assistant problem is being faced by the users worldwide as we speak and Google has already rolled out a statement regarding it.
To see if everyone is having the same problem of Ok Google not working, look up the error in Reddit, Twitter and Google Forums. Possibly a fix for Google Voice not working is already being upvoted a thousand times.
Google Voice Fixed? What's more!
Now that you are here, don't forget to check out our multiple articles on Google Assistant. From the best Google Assistant commands to some of the funny Google Commands, we have covered a lot of good stuff.