With the release of Windows 10, Microsoft has started to issue two feature updates per year to push new developments to the users quickly. But the long installation times have been a real pain in the ass for Windows users.
Since almost a year, Redmond has been working to reduce the time people's computers remain unusable during the Windows update process. The time was around 82 minutes for the Creators Update released in April 2017.
After a 38% reduction, it dropped to 51 minutes with Fall Creators Update. Now, the Windows 10 update is going to become a lot faster. As mentioned in a blog post, Microsoft wants to take it down further to just 30 minutes, as they've managed to achieve for Insider preview builds.
A Windows 10 feature update comprises four phases which happen in "online" or "offline" manner. Online means when the machine is turned 'ON,' and the OS is running.
Any process that happens during the online phase doesn't prevent people from using their computer. The Offline phase means when the update disrupts the normal usage, i.e., the stuff that happens on the blue screen.
What's changed?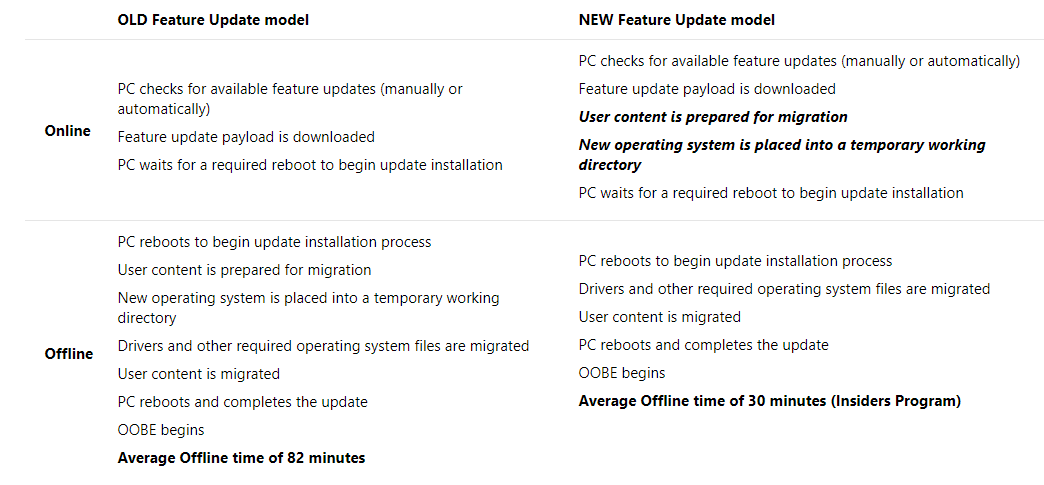 The company has managed to the reduce the offline time by making changes to their update model. As per the new model, the process of preparing user content for migration and placing the new OS in a temporary directory is done during the online phase.
Thus, with RS4, much of the Windows 10 update would happen in the background reducing the average downtime to 30 minutes while the user is probably busy binge-watching some TV show. For the rest of the time, one can take a short walk. Microsoft says most users won't notice it and the low priority process won't degrade the system performance.