Innovating efficient software for transferring files between devices has always been a challenging task for developers. Wireless transfer of files has evolved from using IR beam to advanced apps that rely on WiFi. Sure, you can use Bluetooth for file sharing. But the speed of Bluetooth is nowhere near WiFi.
Unless the files are small in size, Bluetooth can take from minutes to hours for sharing files. Also, WiFi file transfer apps implement efficient algorithms to ensure that files don't get corrupt. So, if you want to transfer large files, using WiFi is the time-saving way.
Note: This list isn't in order of preference. You are advised to choose as per your need.
10 Best File Sharing Apps For Android In 2018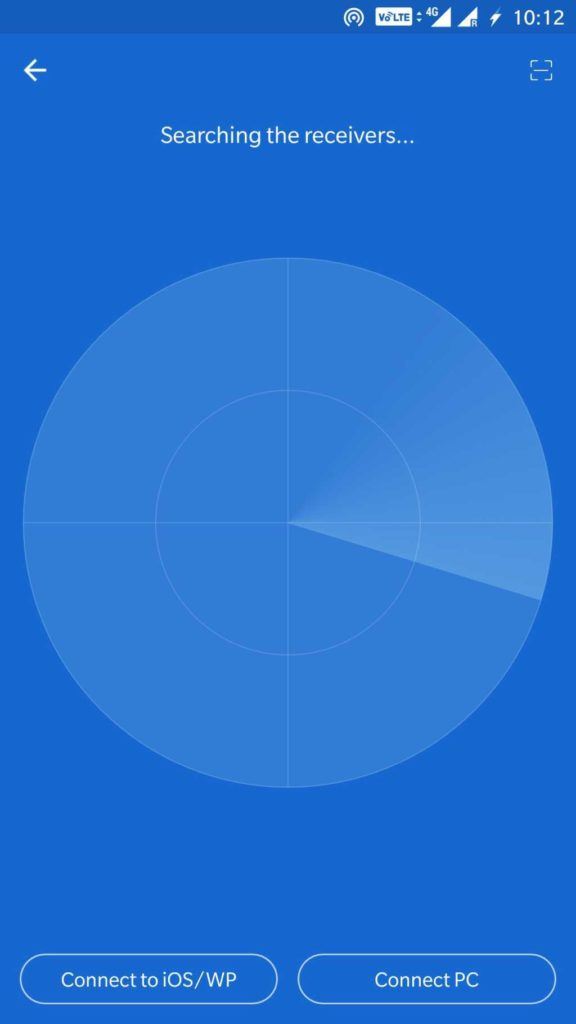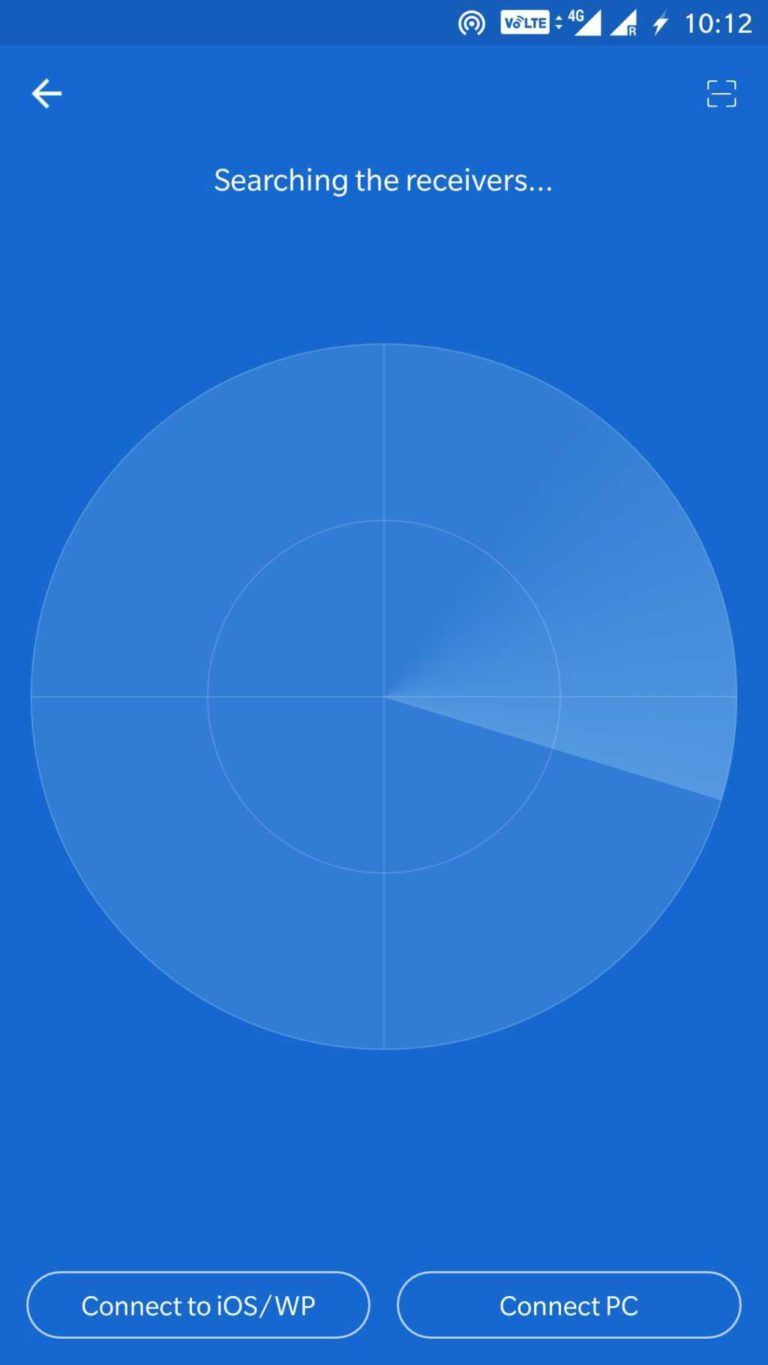 With more than 500 million downloads, SHAREit is one of the best WiFi file transfer apps to share files of any format such as photos, videos, apps and much more. Once two devices are connected, files that are available for transfer are displayed. Thus, the receivers can choose the files they want without any further approval from the sender.
You can share files with a speed of up to 20Mbps. Additionally, the CLONEit feature is very useful to copy data from sender's device. SHAREit also integrates a powerful media player. Also, you can share files to your PC by installing a PC side software. This fast file sharing app is free and ad-supported.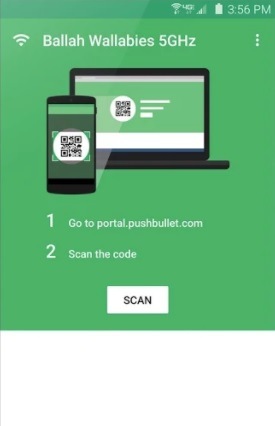 Portal allows you to transfer individual files, multiple files, and even entire folders at once. This Android file sharing app uses WiFi direct to share files so both the sender and receiver need not be on the same local network.
Unlike most other file sharing apps, Portal does not require a PC side software to transfer files to PC. The PC side is managed with a web interface and is easy to set up using QR code. Devices that run Android Lollipop and above can save shared files to removable SD cards.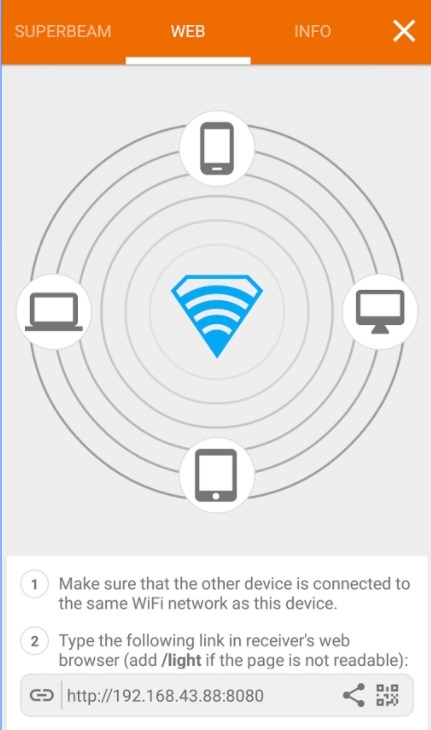 Superbeam is a fast file sharing app that uses WiFi direct to share files. It is a visually stunning app with light, dark and AMOLED themes to choose from. You can share files in other devices in three ways; scan a QR code to connect (QR code scanner is included), connect via NFC or enter a key to receive. If both devices are on connected to the same WiFi, SuperBeam will transfer over WiFi. However, if you don't have a WiFi router, Superbeam uses WIFi direct to transfer files. File transfer can be resumed if the connection is lost. With Superbeam, sharing files with your PC is easy using a web interface. The Pro version allows you to send files to more than one device, send entire folders, and much more. The app is free to download and ad-supported.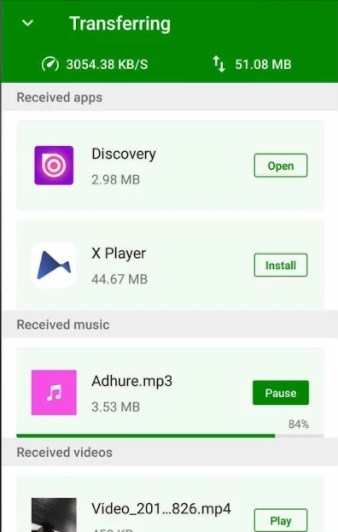 Xender is one of the most widely used file sharing apps for Android. It allows you to exchange any files at an excellent speed. You can transfer multiple contents to and from your device, simply by dragging and dropping. Moreover, it allows you to share between four devices simultaneously.
It supports cross-platform transferring between Android, iOS, Windows, etc. You can also share files to the PC without any PC side software installation. The app is free, and it also has a user-friendly interface. It does not contain any in-app purchases and displays ads.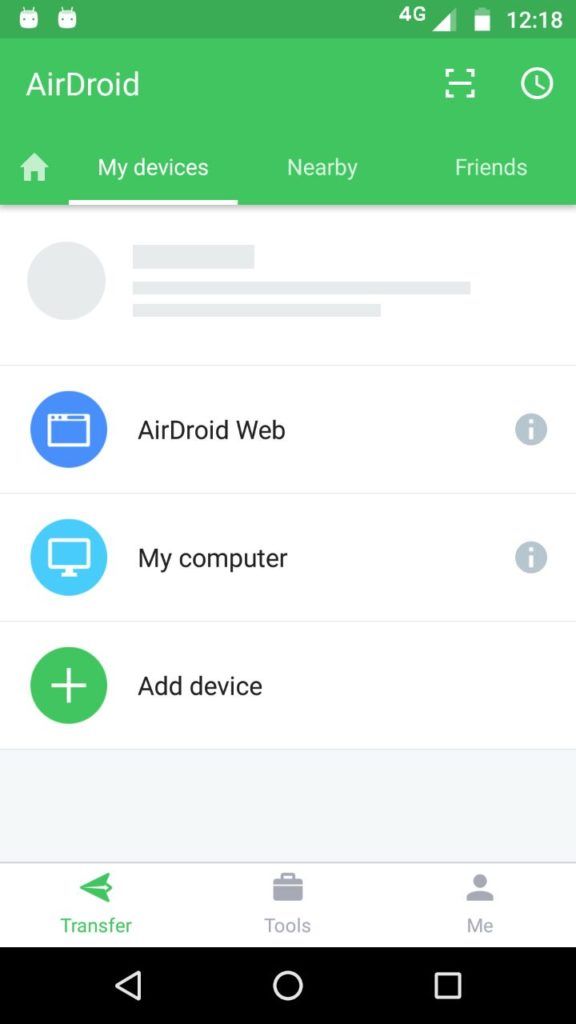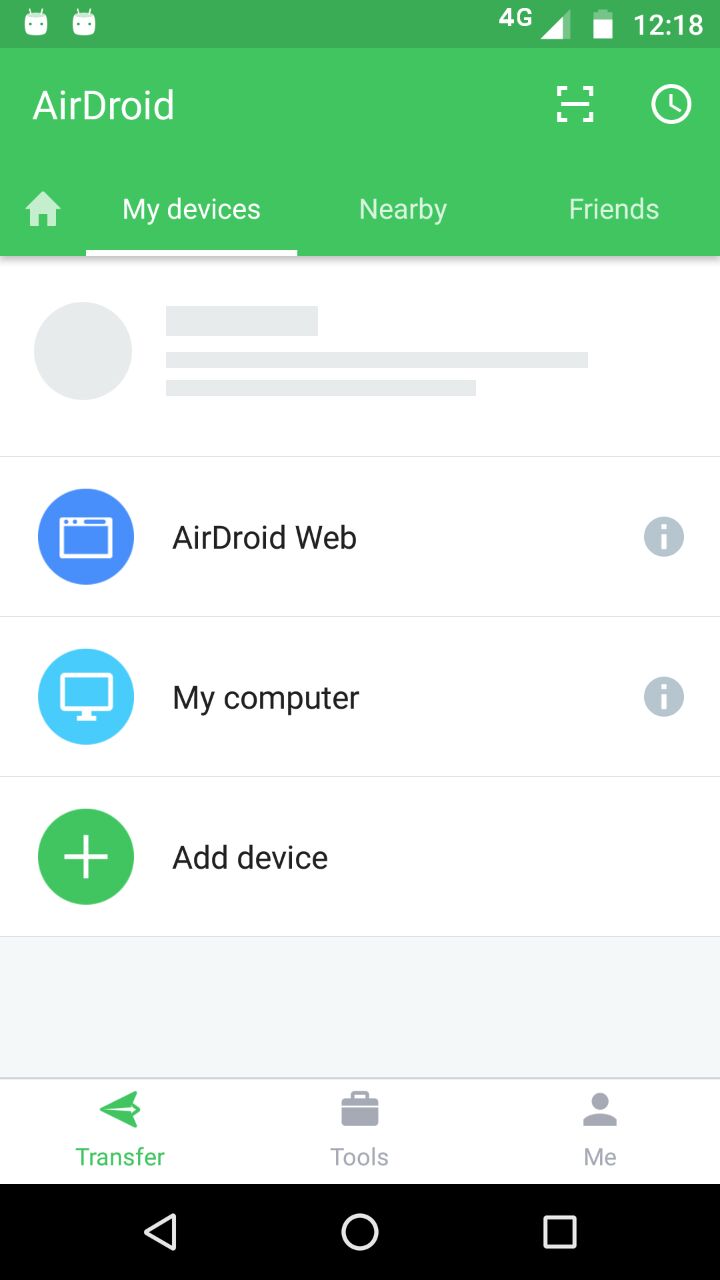 AirDroid permits you to access your Android device wirelessly from your PC. You can transfer and receive files from your Android to PC and vice-versa at fast speeds. Also, you can send and receive messages and access installed apps like WhatsApp, WeChat, etc. from your PC.
Moreover, you can Backup photos and videos from phone to the computer, and can also locate your phone if it's lost. The free version of the app provides you with all the essential features. However, it has some in-app purchases for additional features.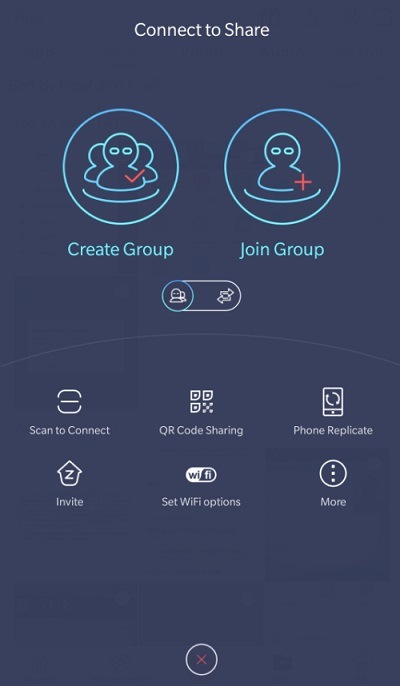 Zapya is no doubt one of the best file sharing apps for Android with high-speed sharing capabilities for fast file sharing. It is a cross-platform software that permits you to transfer files from Android, iOS, Windows phones, Windows PC, Mac, etc.
You can share multiple files of all formats and can connect up to four devices simultaneously. It also allows you to share content through QR codes. You can even chat and share streaming videos and audio with nearby friends without internet. Moreover, you can connect up to 4 devices simultaneously and instantly share files with a group of friends.
Zapya is free to download with no in-app purchases and displays ads.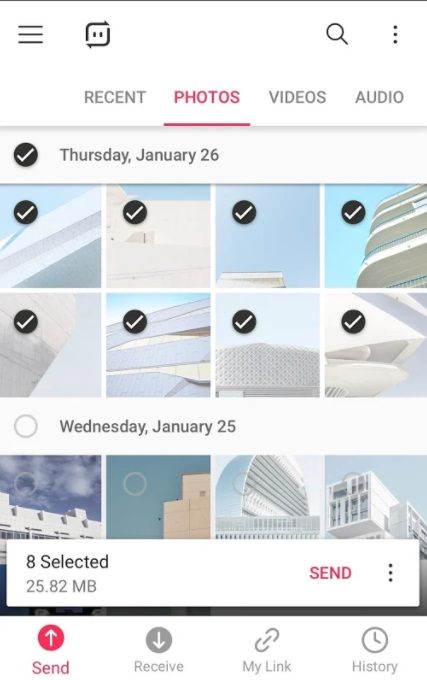 Send Anywhere is cross-platform and a secure Android file sharing app that lets you quickly transfer files of any size. The app can transfer files via WiFi direct. It also has a cloud storage service where you can move your files to the cloud and once uploaded, you can share those files with any device. Send Anywhere provides an easy link to share the file. You can scan a QR code to connect (QR scan is included) or enter a 6-digit key to receive. The files that you transfer are not stored on any servers. There is no limit to how many files you can share.
Send Anywhere offers a versatile way to share files with other people. It is free with in-app purchases and contains ads.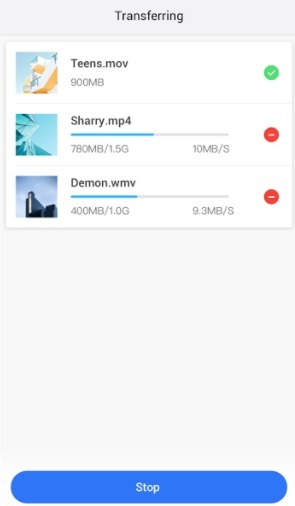 Mi Drop will be a suitable choice for anyone who is looking for a simple file transfer app for Android with no ads. It could be an alternative to Xender and SHAREit. The app is lightweight, fast and supports all Android devices. You can share all kinds of files, and it works without the internet connection. Moreover, the app has an intuitive user interface where all the contents are sorted into categories. You can also resume interrupted transfer without starting over.
Mi drop is available only for Android, and it currently doesn't support multi-user or multi-device sharing. However, the app is an excellent one. It is free and worth a try.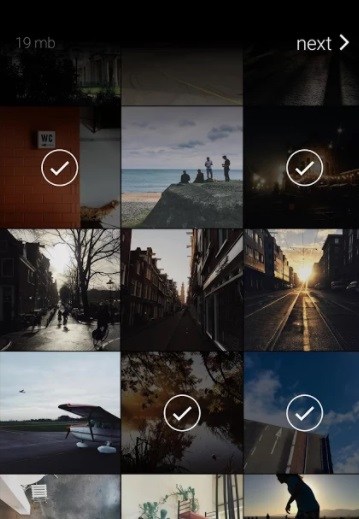 WeTransfer requires the e-mail address of the recipient to transfer files. However, you don't need to signup to use its services. All you need to do is to select the files you'd like to share. Click the next button and add the recipient's email address. The recipient will receive an email with a download link. It is a convenient Android file sharing app that allows you to transfer up to 10GB of files. You can transfer files from any location. Also, you can even pause your transfer and resume it later. The app is lightweight and available for free. It is ad-supported.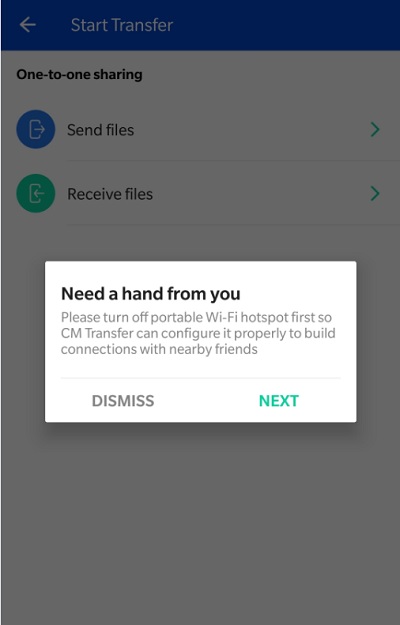 CM Transfer is an easy-to-use file sharing app that allows you to receive all kinds of files without internet. You can use WiFi for fast sharing with speeds exceeding 10Mbps. The app makes it easy to share apps, images, videos, and all sorts of files regardless of their sizes. CM Transfer uses WiFi hotspot to send files. It has a newly crafted interface that is easy to operate. The app is free to download without any in-app purchases and contains ads.
Did you find this list of best file sharing apps for Android To be helpful? Share your views in the comments.