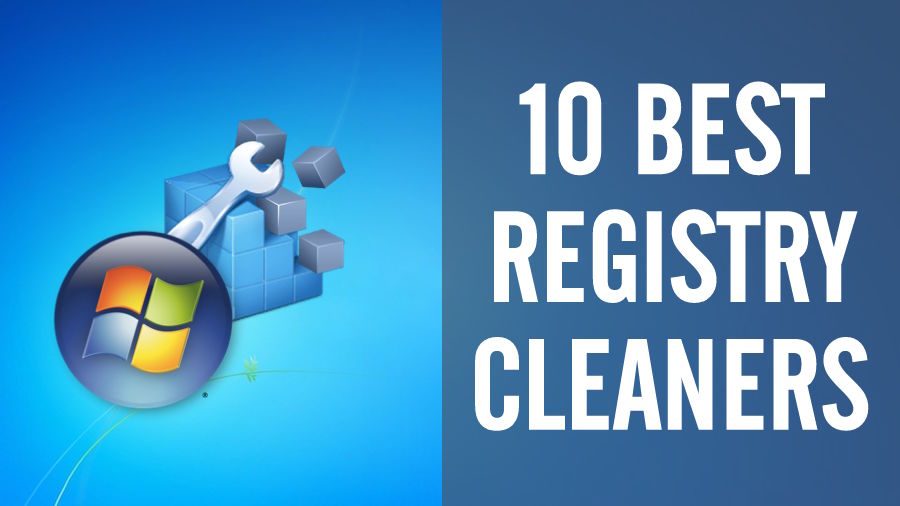 Short Bytes: Registry Cleaners are the software which does the job of removing outdated registry entries from Windows registry. These registry entries are left by some uninstalled programs or created by other Windows services. Here is a list of the top 10 free registry cleaners which you can use to keep your windows registry neat and clean.
T
here are a lot of Windows Registry cleaners lingering on the internet flaunting their capabilities and boasting themselves as the best.  Some of them are paid and some are free. However, free registry cleaners do a perfect job and you need the paid versions only in some critical situations.
The basic task a registry cleaner does is that it searches for the registry entries which are useless and deletes them. For instance, the registry entries left by a software that has been uninstalled. And it's not the software only. Practically, everything you do on your computer creates an entry in the Windows Registry. If you are willing to know more, here's a detailed article on the basics of Windows Registry.
Registry cleaners take the advantage of the laziness exhibited by Windows operating system. Windows OS doesn't regularly clean the registry entries which are outdated or no longer required. That's when the registry cleaners, which claim to magically improve your PC performance, come into the picture. They claim to fix the blue screen of death on your machine or miraculously turn your machine into a supercomputer, just saying.
Do keep in mind, using a registry cleaner won't do any wonders to your computer. It will not boost your PC performance. They'll only clear out unwanted or outworn registry entries. That's an advantage and I'm not denying that. So, it is recommended to try these options as some of the free registry cleaners do offer commendable performance.
Things to consider
Dealing with registry entries shouldn't be considered a child's play. Therefore, you should back up all your data if you're regularly involved in these registry cleaning tools. Otherwise, you'll be the one responsible for your sins.
Also, the creation of new registry entries is a near-constant process. So, don't expect any registry cleaner to wipe out all the errors in one go. Every time you make a scan new errors may pop up.
Here is a list of the top 10 free registry cleaners for Microsoft Windows:
CCleaner | Registry Cleaner Tool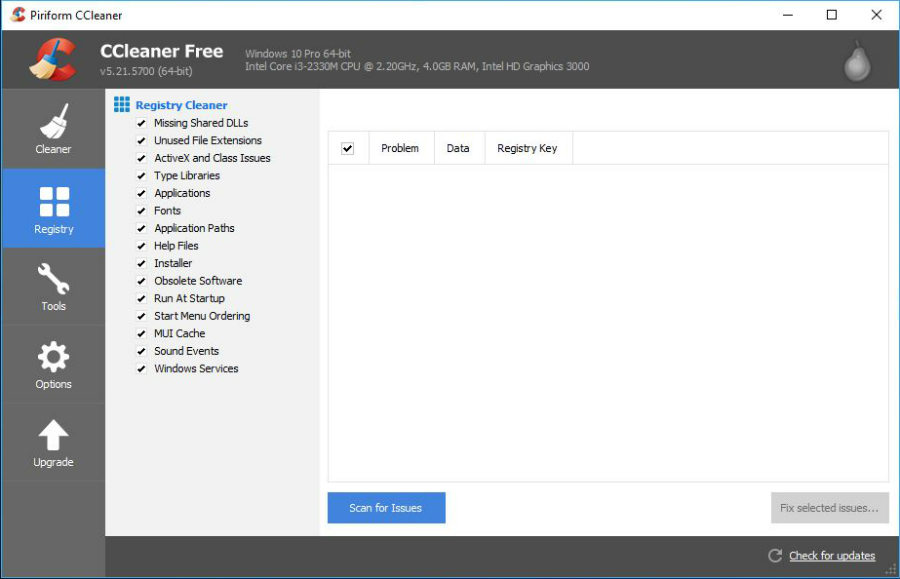 This Piriform product is probably the best computer optimization freeware that I've used in years. CCleaner's inbuilt registry cleaning utility does most of the job a mature registry cleaner could do. It's neat and clean interface adds to the ease of access offered by the registry cleaning tool. It asks you whether to backup registry before making any changes. CCleaner also comes in a paid version but the freeware version would be enough for you.
CCleaner Professional, the paid version, provides automatic browser cleaning, real-time monitoring, and priority support. If these options look beneficial to you, you can grab the paid version. Get CCleaner here.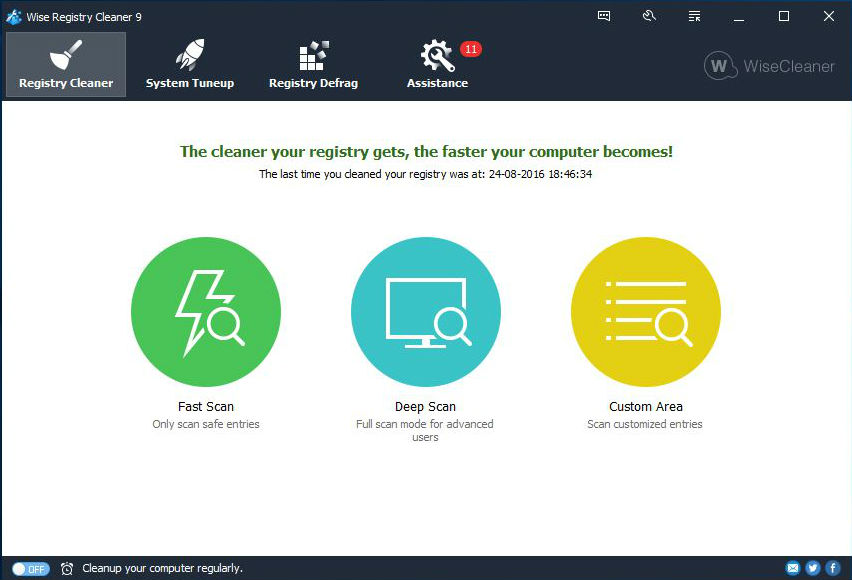 If I take the visual appearance into consideration, I would definitely give an extra point to Wise Cleaner in comparison to CCleaner. But it's not about looking good, a registry cleaner needs to prove how well it manages your registry entries.
It includes two modes: Fast Scan and Deep Scan. One thing I like about Wise Cleaner is the categorized display of detected errors, unlike CCleaner which displays the errors in an excel sheet-like manner. It automatically backs up your registry. You can also run the wise registry cleaner from the command line. It also features a registry defrag option.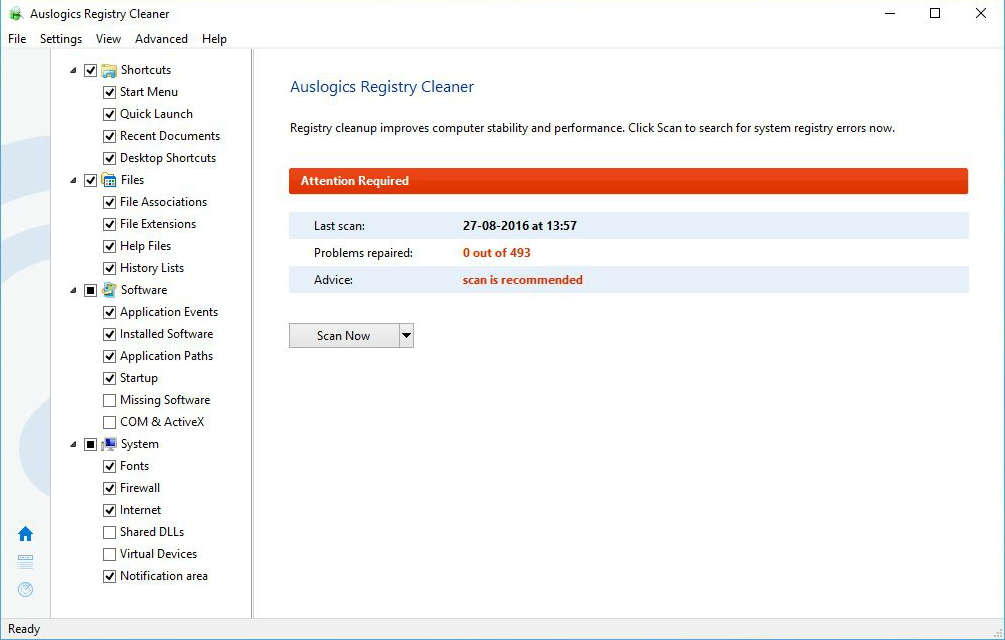 This free registry cleaner from Auslogics also offers a categorized view in a list form. You can tick the ones you want to fix. The interface of the Auslogics registry cleaner is simple and clean, though, not as visually appealing as of Wise Cleaner. A notable feature is that it also displays the severity of the registry error encountered.
It also automatically backs up registry changes it makes during the repair process. If you want to prevent registry backup, click Settings and click Backup Changes. You can go to the Rescue Center to revert changes made by Auslogics registry cleaner.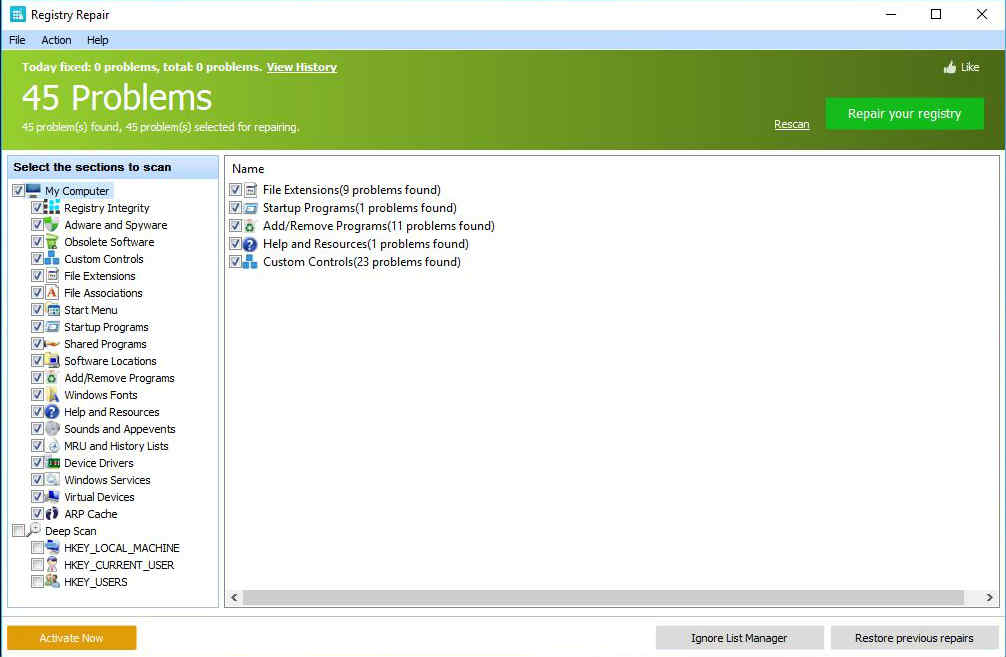 Glarysoft's Registry Repair is also a great free registry cleaner tool. It'll automatically start the registry scan process as soon as you open the tool. It also offers automatic registry backup before making any changes to the Windows registry preventing your system from any tragic event. You can click Action to restore previous repairs made by Glarysoft registry repair.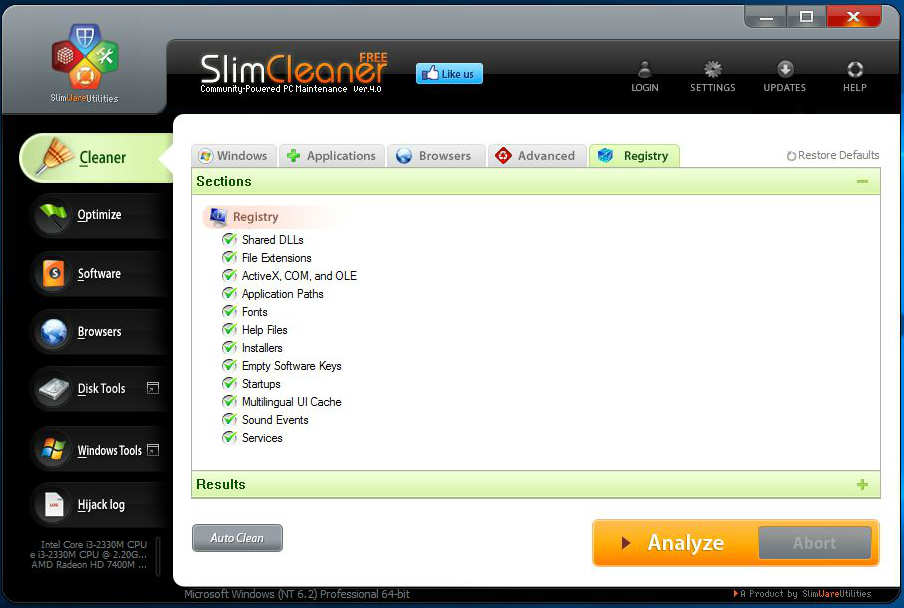 The free version of the SlimCleaner registry cleaner tool offers some great functionality. Its cleaning utility provides one stop solution for all sort of cleaning rituals for your machine. But this adds a little difficulty. For instance, if you need to clean the registry only, you need to untick all checkboxes present in all other tabs. But you only have to this one time. It remembers the settings thereafter.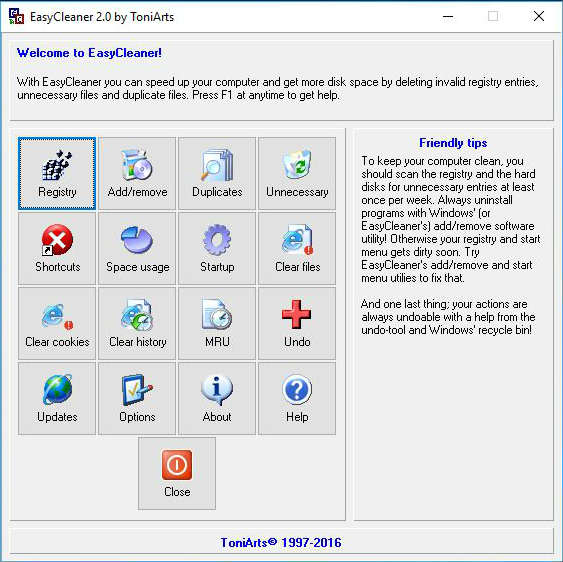 This tiny program was created by a Finnish guy named Toni Helenius. The Easy Cleaner has minimalistic graphics options other than the registry cleaner. The visual appearance of the software hasn't been updated much since its launch in 2005. It also allows you to find duplicate files and clean shortcuts pointing to nowhere.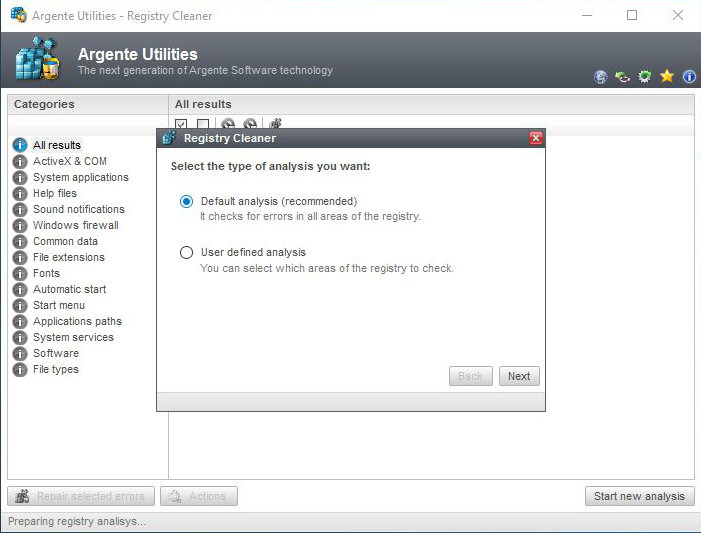 In my tests, this free registry cleaner by Argente Utilities took the longest scan time than any other registry cleaner. It includes a wizard-based interface which lets you choose the scan categories manually or automatically. The interface is not much appealing but it is not as minimalistic as Easy Cleaner. You can undo the changes made to the registry and it also offers automatic cleaning option which will take care of your registry without any interference. It is also available as a portable version. On the downloads page, you can either go for the Argente Utilities or the Registry Cleaner only.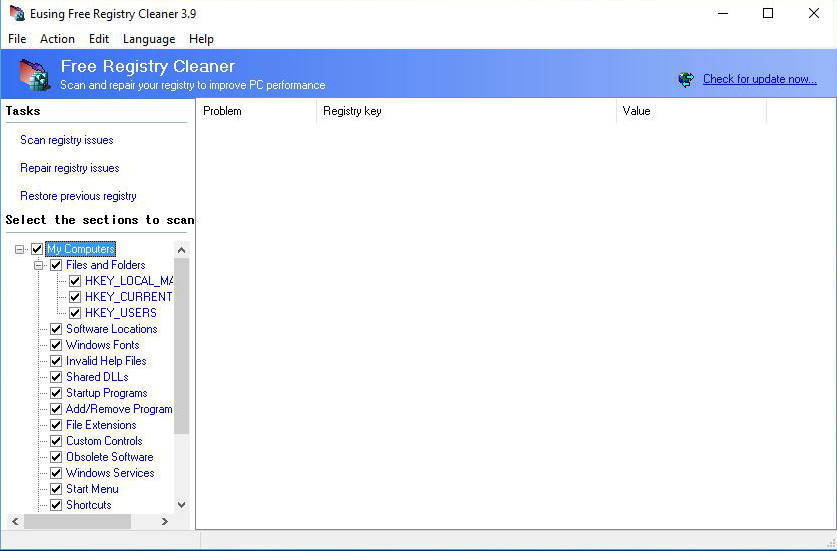 The first thing you'll notice about this registry cleaner is its name. It is quite different. The somewhat ugly-looking tool only offers registry cleaning and repairing option. It also has an option to restore the changes made to the registry in case anything goes wrong.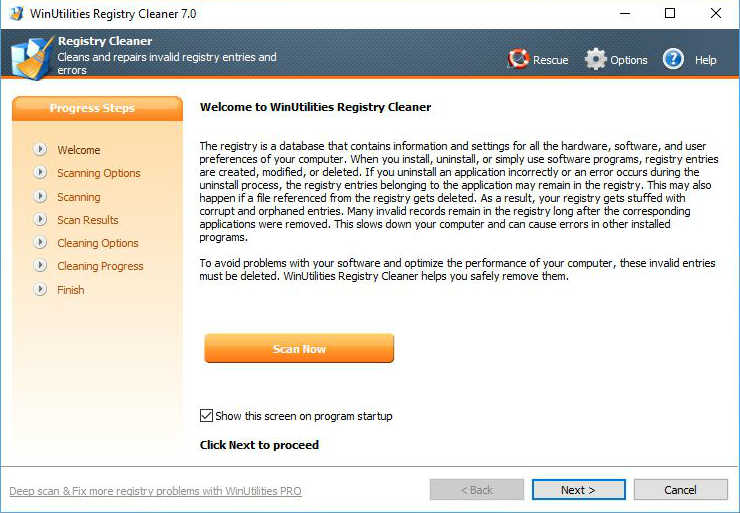 It is a part of the WinUtilities suite developed by YL Software. Just like other free registry cleaners in the list, it also offers restore point creation before making changes to the registry. There is a separate registry cleaner ScanMyReg by the company which is available as paid software.
JetClean | Registry Cleaner Tool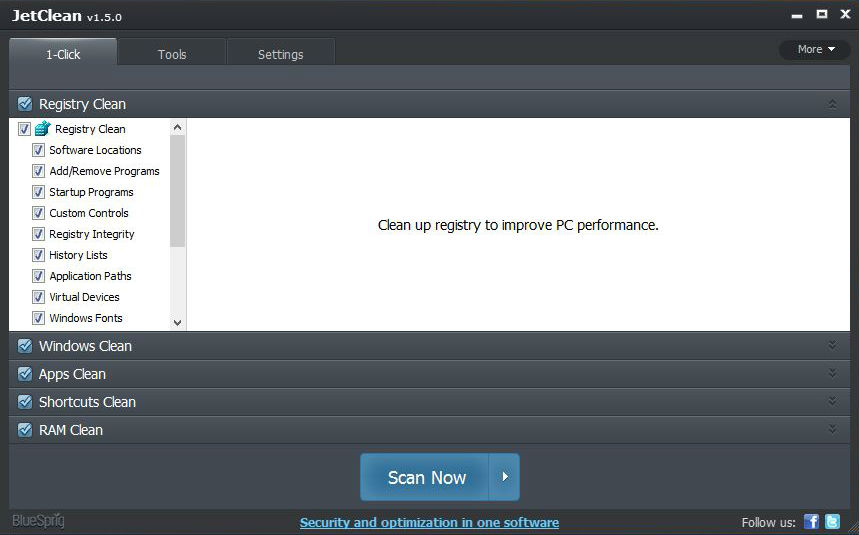 The registry cleaner by BlueSprig has managed to gather some popularity. It also includes shortcuts and windows cleaning options among its offerings. One notable feature of JetClean is you can make a portable version of the software. You can the Portable option in the Tools tab.
These were the top 10 free registry cleaners. Please note that these are freeware. Hence, their installation process may include an invitation for other adware programs. They are also available as paid versions which their makers claim to be better than the free ones. You can buy if feel the need of it.
If you have something to add, tell us in the comments below.