The latest WhatsApp beta is packing more controls for the last seen settings. The upcoming WhatsApp versions will let you hide your last seen profile picture and the about section from some contacts.
WABetaInfo spotted the feature on WhatsApp Beta and said it would be compatible with Android. The 'My Contacts Except' feature is rolling out for beta testers. So it might take some time before it rolls out for everyone.
Better Privacy Controls On WhatsApp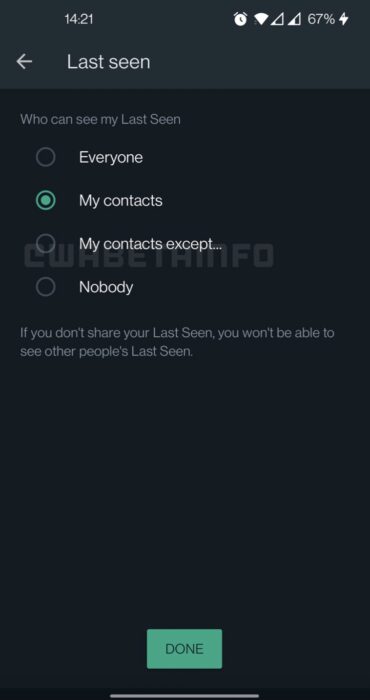 The new My Contacts Except feature gives you more control over who sees your last seen, profile picture, and about on WhatsApp. This lets you keep your information from some contacts without the need to block them.
If you're running WhatsApp beta, you can check if you've received the feature in a couple of simple steps. Open the WhatsApp app and go to Settings > Account > Privacy > Last Seen and see if it shows the "My Contacts Except for…" option.
WhatsApp has recently brought in more features to make the app more accessible and widely available. The platform recently added multi-device support that lets you use WhatsApp on your laptop or other devices without keeping your phone connected.
Before this, the WhatsApp encrypted chat backup feature went live. Unencrypted chats were considered one of WhatsApp's privacy problems, but the company has managed to fix it with this update.
The upcoming WhatsApp feature is expected to include a voice message transcript and pause a voice message while recording. WhatsApp is also trying to become a payments platform by offering cashback on WhatsApp Pay transactions.
All of these new and upcoming features, combined with privacy controls, make WhatsApp a convincing app for messaging, content creation, and consumption.