A couple of weeks ago, WhatsApp announced a new cashback feature for UPI payments, and according to WABetaInfo, the messaging giant is now rolling out the feature for beta testers.
UPI payments are currently the most popular means of wireless payments in the sub-continent, and it's pretty apparent that WhatsApp wants to get more users to use WhatsApp payments than other apps like PhonePe, GPay, and Paytm. Users will be able to get ₹255 cashback by sending money to five contacts.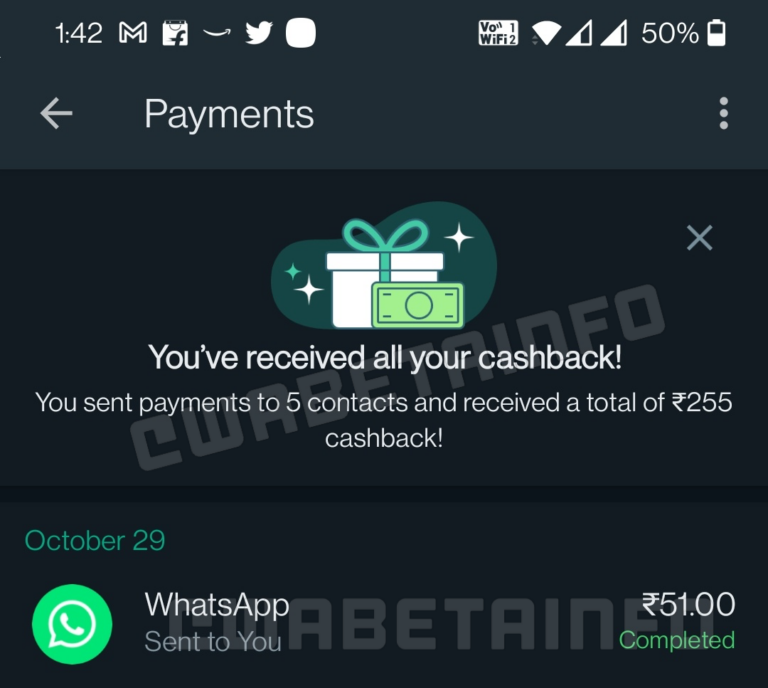 For starters, UPI stands for unified payments interface, which allows you to send money directly from your account to another UPI ID. This decreases the hassle and waiting time that people have to go through during bank to bank transfers.
As of now, we're not sure if the cashback feature for new users is here to stay forever, but it most probably is a limited promotion. WABetaInfo has also mentioned that "there is no way to enable cashback if your WhatsApp account is not included in their promotional campaign, and we don't know how WhatsApp selects users to test this feature. What we can say is that there are high chances to get the feature if you are using the latest version of WhatsApp beta for Android on the Play Store or WhatsApp beta for iOS on TestFlight."
What are your thoughts about this? Will you start using WhatsApp payments, or are you sticking to the app you like the most? Let us know in the comments section below.