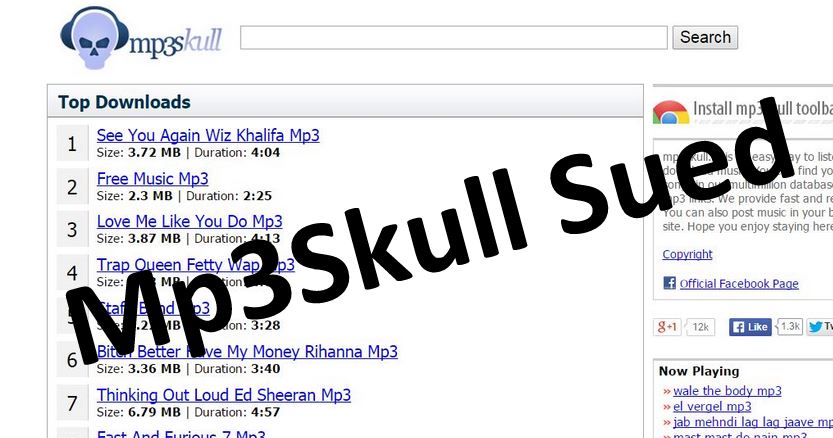 MP3Skull is one of the most popular websites being used by people to download music illegally. TF reports that in a combined effort, a group of music label giants- Universal Music Group, Capitol Records, Sony Music, Warner Bros. Records – have filed a lawsuit against the owners of the mp3 download website MP3Skull. The lawsuit demands millions in copyrights infringement.
As I've mentioned it earlier, MP3Skull is one of the biggest players in the current thriving market of pirated music. In a complaint filed at a Florida District Court, these studios have called the business of MP3Skull a way to encourage the copyright infringement at a massive scale.
Currently MP3Skull operated from a Tonga based .to domain name. The court complaint reads: "MP3Skull is a website that is devoted to the infringement of copyrighted sound recordings on a massive scale, from which Defendants derive substantial revenue every year."
The current owner of the website is unknown, but the studios mention that Russian Monica Vasilenko was previously mentioned in MP3Skull's Whois information.
The court complaint adds, "At the core of MP3Skull is a database that, according to Defendants, contains millions of links to MP3 music files from around the Internet."
The studios have mentioned more than 100 popular tracks the are available for free download on the MP3 downloading website. Due to this, the website could face more than $15 million in damages,
Apart from this monetary recovery, the proposed actions will prevent domain registries, domain registrars, advertisers, hosting companies and other business to deal with MP3Skull. As a result, this could cause a serious trouble for the MP3Skull operators.
Stay tuned for more security and piracy news from fossBytes!
Recommended:
How To Download SoundCloud Songs for Free
How to Download Only Audio from a Youtube Video?