Xiaomi first unveiled the MIUI 12 update in China back in April. One month later, the company announced MIUI 12 globally and released a separate MIUI 12 roll-out schedule for Xiaomi global devices.
It's the end of September, and Xiaomi has still not managed to roll-out MIUI 12 updates to all devices outside China. However, the current status quo will change soon.
According to Xiaomi UK chat support via @Piunikaweb, MIUI 12 Global Stable updates will be issued to all the remaining supported devices by the end of October. It is great news for Mi fans who are still waiting for the MIUI 12 update.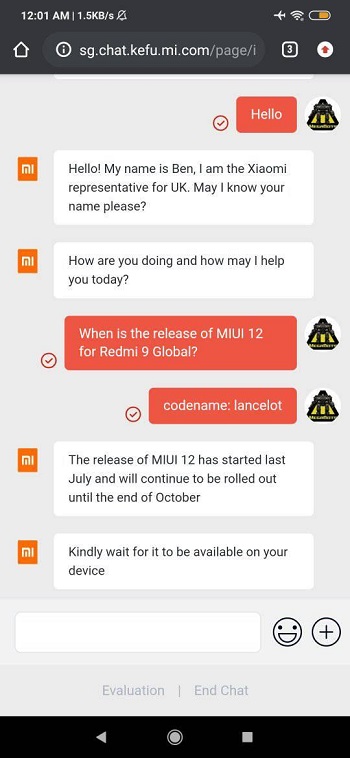 If you head on to our MIUI 12 update tracker, you will notice that several Xiaomi devices are still missing from the list, such as Redmi 8, Redmi 8A, Redmi 7, Redmi 7A, and more. On the other hand, some Xiaomi devices might have received global updates, but their country-specific MIUI 12 update is not available.
If all goes well, Xiaomi will probably release updates to all remaining devices soon.
For those who don't know, MIUI 12 comes with a plethora of features starting with new animations to massive UI changes. There is also a new animated live wallpaper, privacy features, a reformed Dark mode, and changes to the camera app.
In other news, the Xiaomi engineers have already begun developing MIUI 13 and are currently focusing on optimizing animations for a smooth experience.