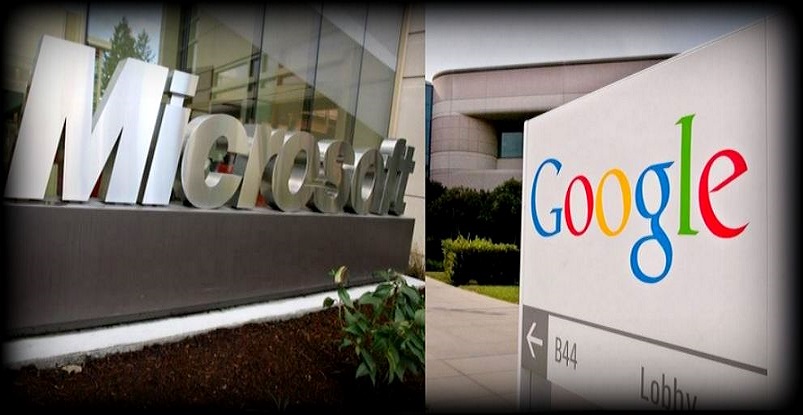 In this never ending battle of supremacy between Google and Microsoft, the latter bragged that theirs is a much better company than Google. Although these companies are fundamentally different including their targeted users, both these tech giants are always compared in fronts of their technology and business sense.
A
t the Microsoft's Worldwide Partner Conference 2015 two days back, the company's COO Kevin Turner spoke that Microsoft was in a great position to take Google's business. Turner proudly said that Microsoft had
won back 1,252 of its business customers last year. 
With the new applications for Android, iOS, Windows and the recently released Office 2016, Microsoft believes it can easily take Google head on in the world of apps. Turner went on saying:
We have better technology, and we have an enterprise-ready cloud, we don't snoop through email, we don't serve you apps, we don't drive cars around listening to your conversations, we are not that company.
At the WPC, Microsoft CEO Satya Nadella said in an interview that Google wouldn't have existed if not for Windows, innumerable software companies have become multi-billion brands due to Windows.
The CEO asserted that Microsoft 'Is and Provides a Universal Platform' for all the applications unlike Mac OS and iOS or Chrome and Android. Microsoft's aim is to provide one experience on all of the devices. Nadella has also explained why Windows 10 upgrade is free.
Windows 10 comes with a feature called "Continuum" that gives users the experience of the desktop on their phone. Windows 10 "Continuum"  allows the users to communicate with all the devices on a single platform. Be it Lumia, or PC, or HoloLens. This will also encourage other companies or start-ups (OEMs) to build their own technologies right over Windows.
Slamming Google for its snooping practices, the COO of Microsoft Kevin Turner suggested that they need to win every deal against Google and rescue the remaining Google Apps users (business).
Windows has made its new OS open to all other service providers and app developers such as making YouTube app for Windows Phones. The company has also called Android a big pile of code in the past.
Such partnerships will lead to amazing technologies and innovations and will ultimately benefit the users.
With inputs from ZDNnet
To stay updated on latest updates and stories. Subscribe to fossBytes newsletter.[newsletter_signup_form id=1]