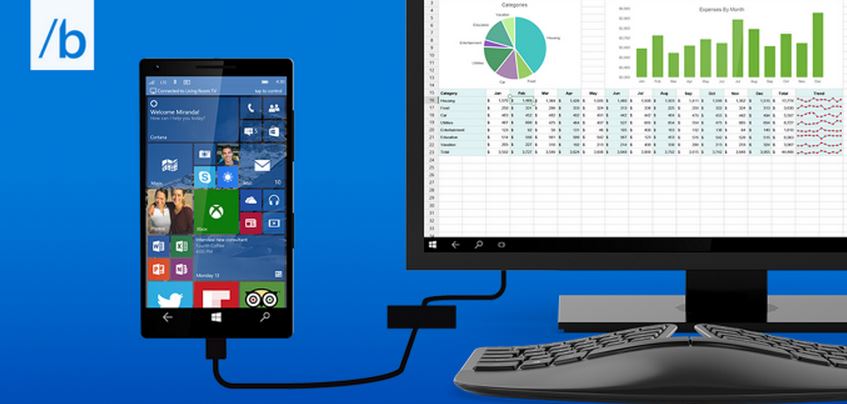 At its 2015 Developer Build Conference, Microsoft unveiled tons of new services and products. Adding to the list, Microsoft showed how you can turn your phone into a full PC and use it with a keyboard and mouse. This is another promising step by Microsoft to realize its dream of One Microsoft.
B
efore explaining Microsoft's jugglery to convert Windows 10 Phones into a PC, let me tell you a bit about Continuum. As
I've written in the past
that Windows 10 Continuum will help the users to change the Windows 10 interface according to the need. Your Windows 10 device will easily make a transition from a tablet to PC mode.
For example: If you're using a laptop-tablet hybrid like the Microsoft's Surface, you'll be provided with standard desktop while using the tablet the keyboard. Once you unplug the keyboard, however, you'll automatically switch over to tablet mode.
Using Windows 10 Continuum, users will have the power to connect your phone and run the universal apps of the phone just like a regular PC. You can also plug in a keyboard and mouse too.
What is Continuum for Phones?
At Build 2015, Microsoft's Joe Belfiore connected a Windows Phone device to a monitor, mouse, and keyboard. As soon as he did this, the user interface was adapted according to the new outputs and inputs. On the bigger screen, the universal apps like PowerPoint looked like that on a desktop.
Here is the picture of Office app working from a Windows Phone, but displayed on a big screen.
With Windows 10 Continuum, the apps can really perform to their fullest as they will work according to the form factor of the device and projected screen. Now you can perform all your work from your phone and eradicate the need of carrying a heavy laptop.
Did you like this idea of Microsoft's Continuum? Tell us in comments!
Related:
Big News: Microsoft Brings Android and iOS Apps to Windows 10
Microsoft Launches .NET Core Preview For Linux and Mac Users