After using iPhones for a while, I realized there aren't many big differences between iOS and Android left when it comes to everyday usage. Of course, both of them have a different UI and set of features. But a few big problems have already been fixed.
For example, the popular apps are now omnipresent; iOS and iPadOS now support external storage media, and Apple is now a part of the Data Transfer Project which will make cross-platform switching a lot easier. All-in-all you won't face any problem in easily doing basic tasks on any one of them.
But still, there is one area where Android is finding it really hard to beat Apple — Continuity or Convergence, whatever we want to call it. It's already a known thing how iPhones work seamlessly with Macs, leveraging Continuity features like Handoff, Universal Clipboard, Instant Hotspot, etc.
For instance, you're wearing earphones watching a movie on your MacBook and a phone call comes, you can simply receive it on your computer without even unplugging your earphones. Unfortunately, the same can't be done if you have an Android phone (Correct me if I am wrong).
The lack of such features on Android is a big turn down, especially when you have used them on an iPhone. But that's not the end of the road.
Microsoft is doing Google's job for 'Your Phone'
The Windows-maker might have lost the game to Android and iOS but it has managed to catch up on a different horizon. It's trying to take charge of what's running on top of Android and iOS. We have already seen many useful apps that Microsoft has released over the last few years. I have mentioned this many times, SMS Organiser is one of my favorite apps.
For Windows 10 users, probably the most useful addition is the Your Phone app that Microsoft released back in 2018. Since then, the company has added a whole lot of useful features that could help Android users achieve cross-device compatibility with Windows 10.
The Your Phone app works with Windows 10 1803 (and above) and on your Android phone, you need to install the app called Your Phone Companion.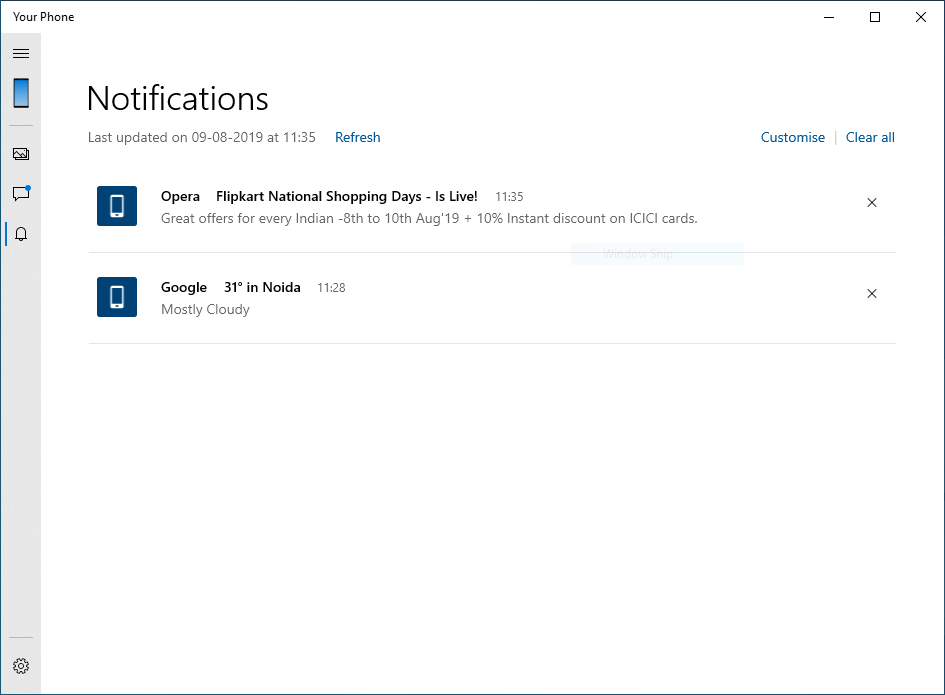 Right now the Your Phone app lets you sync Android notifications to Windows 10, send and receive SMS on your PC, and sync recent photos and videos. It supports both Android and iOS, although, the level of functionality is less in the case of iOS.
So when you click a photo on your phone, it quickly pops-up on the Your Phone app from where you can copy it on your PC. Also, when you dismiss notifications in the Your Phone app, they also get dismissed on your phone.
In fact, you don't need to open the Your Phone app as SMS messages show up as Windows 10 notification banners and you can reply to them there itself. Still, the Your Phone app needs improvements in some areas like the setup process.
I can't comment on the level on of cross-compatibility between Android and Chrome OS. But I would have been more satisfied if such an attempt was made by Google — the company which makes Android. If Google had partnered with Microsoft, setting up Your Phone might have been easier. And the app would have got a much cooler name.
Speaking of Google, it has made some efforts that are scattered here and there. For example, you can use Android Messages web version and Find My Device in your browser, sync Google Drive using Backup & Sync tool, etc.
In reality, it still seems that Microsoft and others are doing Google's job of building a unified convergence hub for Android. And they are doing it well. It would have been a different story if too many people used Chrome OS instead of Windows.
Samsung's and Microsoft's new friendship
Redmond's cross-device compatibility efforts have been picked up by Samsung. As part of a new partnership, the Your Phone app comes pre-loaded on the new Galaxy Note 10 and Note 10+. Also, Samsung has added a new 'Link To Windows' option in the quick actions menu, so users connect their phone to Windows 10 with just a single tap.
On the Note 10 series, users can also mirror their phone apps to their PCs. You can operate your phone with your PC's mouse and keyboard and it also supports many touchpad gestures to do things easily. Hopefully, this feature will arrive for all Android users in the coming future.
Microsoft is trying to make the Your Phone app more feature-packed. Just recently, at the Note 10 launch event, the company hinted that the phone calling capabilities are on the way. However, it remains to be seen whether it's limited to Samsung or available for all Android devices.