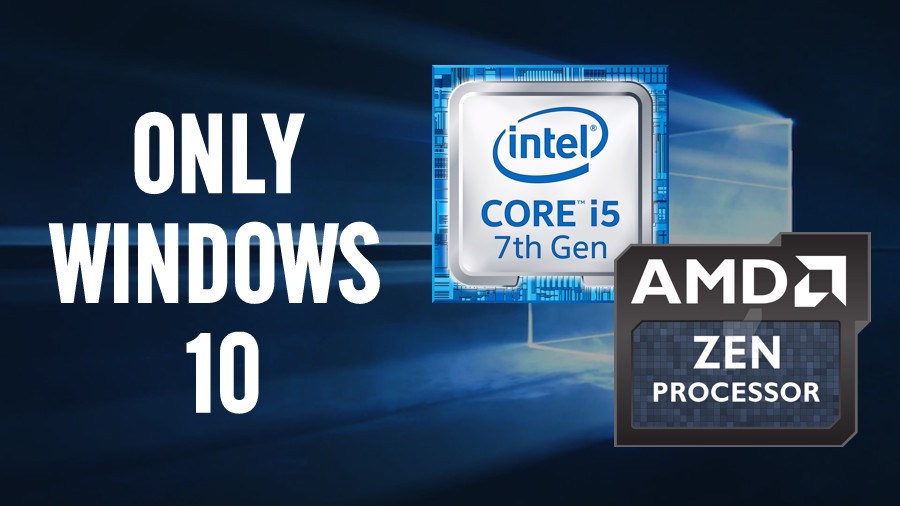 Short Bytes: We know that Microsoft desperately wants you to upgrade to Windows 10. To push the number of installations, Redmond has employed different tactics in the past and became critics' target. To push Windows 10 even more, Microsoft has made clear that the latest (and future) processors from Intel, AMD, and Qualcomm won't support Windows 7 and 8.
B
ack in January, based on Microsoft's announcement, we
published a report
 regarding Microsoft's plans to shorten the Intel Skylake lifecycle for Windows 7 and 8 PCs. But Microsoft changed its mind after much objection.
However, one thing that Microsoft has made clear repeatedly in its statements — the latest generations of processors from the likes of Intel, AMD, and Qualcomm will be only be supported by Windows 10 (and Linux and OS X, of course).
Here's the exact statement from Redmond:
"Windows 10 will be the only supported Windows platform on Intel's upcoming "Kaby Lake" silicon, Qualcomm's upcoming "8996" silicon, and AMD's upcoming "Bristol Ridge" silicon."
Microsoft calls it a way to focus deeply on new features and integrate Windows and silicon seamlessly. It looks like Microsoft is ready to push Windows 10 even further, even if it means leaving behind some loyal Windows 7 and 8 users.
Intel and AMD have got no choice!
Here, chip manufacturers don't have much to say in Microsoft's decision. According to PCWorld, an Intel spokesperson said–
"We are committed to working with Microsoft and our ecosystem partners to help ensure a smooth transition given these changes to Microsoft's Windows support policy…. No, Intel will not be updating Win 7/8 drivers for 7th Gen Intel Core per Microsoft's support policy change."
Similar remarks were also made by AMD CTO Mark Papermaster. He said —
"AMD's processor roadmap is fully aligned with Microsoft's software strategy."
So, what if I try to install Windows 7 or Windows 8 on Kaby Lake or Zen?
Well, we won't know the answer to this question before the real world tests. However, one source "guessed" that while your computer would boot, the driver and security updates would be "a bit glitchy", PCWorld reports. It's possible that for certain apps that need dedicated processing logic within CPU might crash.
On the other hand, some computer experts deny the possibility of any problem. Whatever might be the final outcome, we'll have to wait and watch.
Did you find this article helpful? Don't forget to drop your feedback in the comments section below.
Also Read: Blue Light Reduction — This Could Be The Next Big Feature Coming To Windows 10