Short Bytes: A good data recovery software can save you in bad times when you lose your data due to your own mistake or some other reason. EaseUS Data Recovery Wizard Pro is the savior in such situations. It can get your data from multiple types of storage media with ease.
T
here are many reasons you can put up to justify why you lost your valuable data. For instance, you couldn't control your bad habit of doing keyboard shortcuts like SHIFT + Delete every time and ended up losing some cherished memories. It could be some malware attack, your operating system crashed, or you accidentally formatted your hard drive or other storage media.
The reality is, whatever reason might be used to justify why you lost your data, your valuables won't be coming back on its own. You need to make some efforts to get it back from the dead. That's when data recovery software should be called for help.
There are many free data recovery software available. They may be a choice for recovering files but they have their limitations. Like, they don't support a wide range of storage media. They might not be effective beyond a limit. So, you must consider a paid data recovery software if you have some serious amount of data to be recovered.
For Windows, there is a good data recovery software known as EaseUS Data Recovery Wizard Professional. In this article, we have tried to put the pros and cons of the EaseUS Data Recovery Wizard Pro to ease up your decision process if you're planning to purchase the EaseUS Data Recovery Wizard Pro.
The Look and Feel of EaseUS Data Recovery Wizard Pro
After a quick install, we started the EaseUS data recovery wizard pro. In terms of visual appearance, generally, a person doesn't expect a data recovery software to pack much fancy stuff. You won't be greeted with any animation or a moving logo.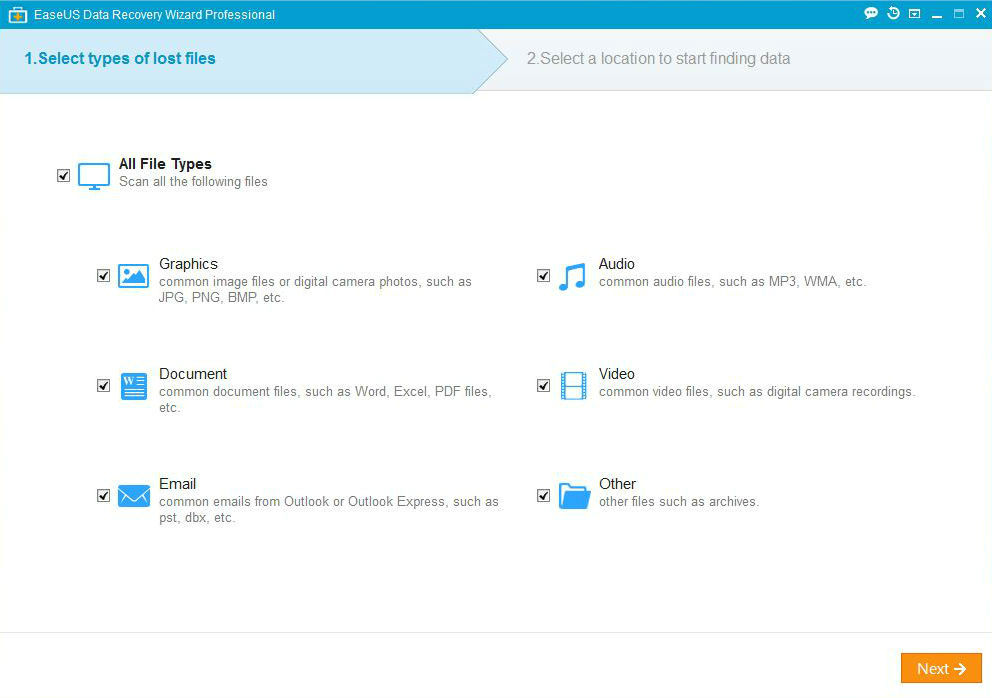 The EaseUS Data Recovery Wizard has taken its name quite seriously. It shows up in front of you with a straight to business kind of attitude. All you would see is some categories to choose the type of lost files and a Next button. There are options in the toolbar which would lead you to other stuff. Like you can make a feedback, contact the customer support, access the online help, etc.
EaseUS Data Recovery Wizard is available in multiple languages. That doesn't sound much surprising considering the fact that the digital world has started to create multilingual products to cater different parts of the world. EaseUS is a known name in the data recovery software market. So, it becomes a must for its makers to create a product that supports multiple languages.
The Real Deal – Recovering the data
Now, let's get to the actual stuff. As we mentioned earlier, its main screen asks you to choose the type of files to be recovered. There is an All File Types check box if you want to recover everything from your storage media or you are confused about the file type of the data to be recovered.
If you know what you want to recover, you can go ahead ticking the individual option for images, audios, videos, documents, and archive files. You can even recover your lost emails from clients like Outlook. Click Next to proceed further. In the next window, you need to select the storage media from which you want to recover data.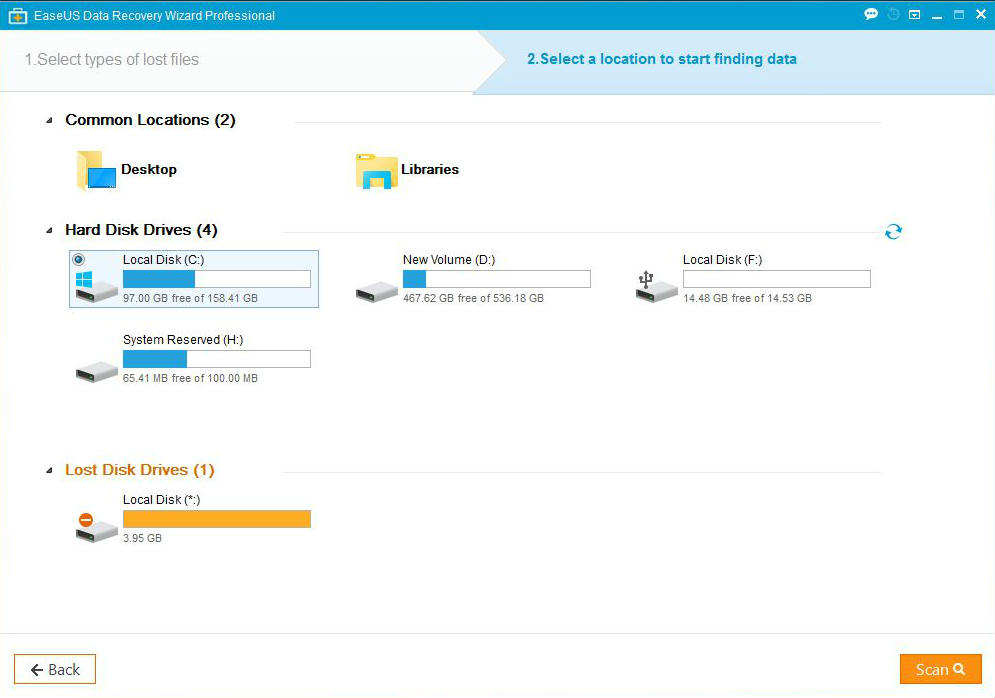 After a quick scan, you'll be presented with a list of recoverable files according to the type you selected in the previous step. You can tick the checkboxes for stuff you want to recover and click Recover. Then, choose the folder where you want to store the recovered files.
One good thing about the scan results is that EaseUS Data Recovery Wizard manages to show the original folder hierarchy. It helps you to easily navigate to the folder where your file(s) used to exist. However, it may be tiresome, if you don't remember the location of the files and hundreds of folders show up in the scan results. Well, you do have the privilege of narrowing down the scan list according to the file type.
You can also save your recovery session if you want to recover the files at a later stage or do the recovery process in parts for a large amount of data. There is a preview option which allows you to have a glimpse of a scanned file. However, it is effective only in the case of images and text files. If you try to preview an audio or video file, you will only see some weird characters and numbers.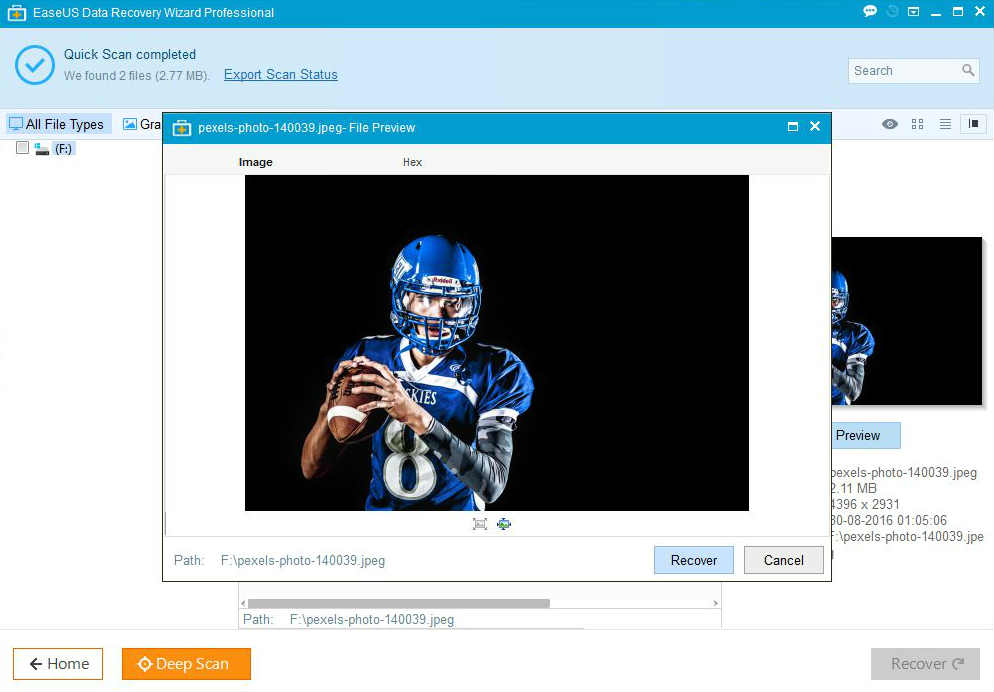 There is Deep Scan mode which is effective when you can't find your file after the quick scan mode. However, it will take some time, even hours depending on the size of your storage media because it scans every sector of your storage media thoroughly. You can see the scanned files even while the Deep Scan mode is running. It will keep adding newly scanned files to it.
We copied stuff to our pen drive and deliberately deleted it to check the effectiveness of the EaseUS Data Recovery Wizard Pro. And it did meet our expectations. We managed to recover different types of files. We even formatted it and still managed to get back the stuff. The folder hierarchy of the scan results of a formatted media might appear slightly different. But be assured, it contains your data.
Pros of EaseUS Data Recovery Wizard Pro:
Supports multiple file types.
Recovers lost emails.
The graphical user interface is simple and distraction free.
Support for multiple devices like flash drives, hard drives, solid state drives, memory cards, music players, etc.
Preview option for scanned files.
Store scan results to recover files later.
Recover files from a formatted or inaccessible partition.
Cons of EaseUS Data Recovery Wizard Pro:
Individual folders can not be scanned. You need to scan the whole media.
Preview option has 100 MB file size limit and doesn't work for video and audio files.
Deep Scan mode can only be accessed after the completion of the quick scan process.
Fails to detect Android phones, although, the website mentions support for mobile phones.
Final Words
EaseUS Data Recovery Wizard Pro is a good data recovery software. It provides support for multiple storage media types and effectively recovers lost data. The Deep Scan mode of the data recovery software is effective even if the storage media is formatted or inaccessible. It comes with a neat and clean interface but does have little downsides. It can be a great option over the free ones if you have to buy a data recovery software. If  the software fails to meet your expectations and couldn't recover your data, you can claim for a refund.
EaseUS Data Recovery Wizard Pro Giveaway(Ended)!
We are also giving away some premium key for EaseUS Data Recovery Wizard Pro. To take part in the giveaway, here are three steps that what you need to take:
Follow us and share this article on your Facebook profile
Message us the screenshot of the shared post on our Facebook page.
These three steps will make you eligible for the giveaway. We'll be announcing the winners on Sunday, i.e. September 4 (Note: The giveaway has ended).
Important: This article is sponsored by Ease US. However, to deliver an informative and impartial article to our users, we have tested the software and added our experiences.