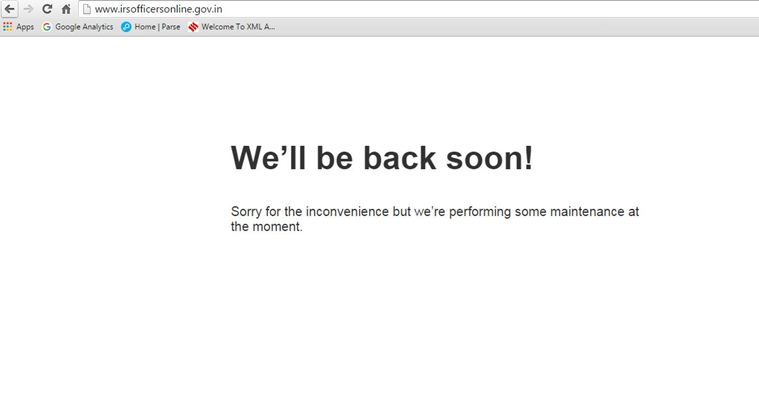 Short Bytes: It seems that Cyber war between India and Pakistan has taken a new turn with more online attacks reported in the past days. Recently, Indian Revenue Service website was attacked by suspected Pakistani hackers. The IRS official website is still down at the moment. However, no important information loss has been reported by CERT-In.
I
t looks like Pakistani hackers have taken the revenge of the incident when
Indian hackers attacked Pakistani websites in response to Pathankot terror attack
as a tribute to Lt. Col. Niranjan Kumar. In a recent attack to Indian revenue service's official website by suspected Pakistan-based groups, the messages like "Pakistan Zindabad" and "we are team Pak cyber attacker" were posted.
This website acts as an official communicator for the official government works between the Central Board of Direct Taxes and the IT department field offices in the country. After the attack, IRS website had put up a message saying, "We'll be back soon! Sorry for the inconvenience but we're performing some maintenance at the moment."
A report has been sent to the Computer Emergency Response Team of India (CERT-In). CERT-In is the official nodal agency to combat hacking, phishing and to fortify security-related defences of the Indian Internet domain. According to CERT-In, a security audit is being undertaken of the online portal. They have further clarified that no sensitive or secret information was uploaded on the URL of the IRS website.
Cyber wars between India and Pakistan has been seeing some more fresh attacks in the past. In late November 2015, Indian hackers attacked Pakistan government and defence websites while Indian government was warned about the Pakistani hackers planning Online attacks on Indian government websites.
We checked for the status of the website and it is still down. Here is a link to the official IRS website which was attacked recently.
Also read: Pakistani Intelligence Planning Hacking Attacks, Warns Indian Government