Are you looking to change your old Twitch username? Not sure if you can change your Twitch display name? Well, you can, and in this guide, we'll guide you through the steps to change your Twitch username.
However, before moving forward, there are some things to be cleared. Twitch username and Twitch display name are two different things entirely. Also, changing your Twitch display name will not make any changes to your account. On the flip side, changing a username sure does change many things. One of them is an altered URL of a Twitch channel.
Now, this might not seem like a big issue when a channel is comparatively new; but once the channel picks up, it's not advised to change a channel's username. Take a look at what other alterations changing a username can bring you to your Twitch channel.
Things to keep in mind before changing your Twitch username
As discussed earlier, altering your username will result in a change to your Twitch channel's URL. To elaborate, this could very well result in followers finding a way to your streams; or the links you've posted elsewhere that redirect to your Twitch channel will be defunct.
Although not a major one, at least for some; another change that happens to the channel is the inability to change the username for the next two months. To put it simply, users can only change the Twitch channel's username once every 2 months.
The next one is for the megaminds out there. If you were thinking of getting away from a ban or timeout, think again. Changing your Twitch username won't save you from a ban. Sure, it changes your URL, but trying to fool Twitch? Yeah, not happening.
This one's for Twitch partners. Changing your Twitch username can affect your ad revenue. On the brighter side of things, the ad revenue will not be delayed and will not be permanent. The ad revenue might be affected by the day you make changes to your channel's username.
Lastly, be really sure before choosing a new username for your Twitch channel. Once you make the change, there's no going back. As prescribed by Twitch, users might not be able to get their old usernames back. Importantly, the old username will be recycled after 6 months and be made available to other users.
How to change your Twitch username
Now that we have everything about the rules regarding username change cleared up let's get straight to the part for which you came here. Changing your Twitch username is a piece of cake, given you've read the warnings. And since you're reading this, you might also read about how you can host other people's streams on your Twitch channel.
To make things easier for everyone, users can change their Twitch channel's username on a web browser, desktop app, or mobile. The steps are more or less the same; however, we'll make sure to list all three below.
Change Twitch username on Web browser
Before you change your Twitch username, make sure to verify the email address associated with your Twitch account. If the email address is not verified, it won't let you change the username.
1. Of course, go to your Twitch profile and click on your profile picture.
2. From the drop-down menu, click on Settings.

3. In the "Profile section," scroll down to your profile settings. There you'll see the username and display name boxes.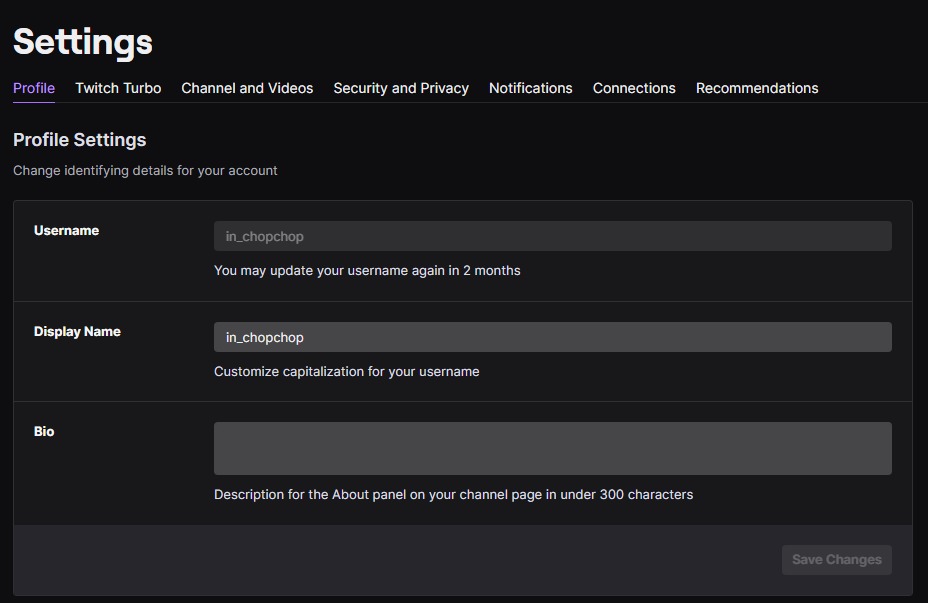 4. Type in the name you've chosen and click on "save changes." As you can see, I've already changed the username; that's why it's not highlighting the save changes button. However, that will not be the case with you, given you've not changed your username in the last two months.
5. In the pop-up window, type in your password and click on update.
6. Once again, you can only do this once every two months; make sure to choose the username carefully.
How to change your Twitch username on your desktop app
Changing the username on the desktop app is more or less the same. However, let's follow these steps to make sure you're going right and not wasting time squandering around Twitch's settings.
1. Launch the Twitch desktop app.
2. Click on your profile picture in the top right corner.
3. Click on Settings.
4. Now, in the profile section, scroll down to "profile settings" and type in the new username.
5. Click on update, enter your password, and click Save Changes.
That was easy, right? Wait until you hear the steps to change the username on your mobile.
How to change Twitch username on mobile
It may sound disappointing to some, but Twitch doesn't let you change your username on the Twitch mobile app. So how does one do it? How do you change your username when you don't have access to your desktop or laptop in some rare bizarre case and need to change the username?
Well, you can do it via the web browser on your mobile phone. Make sure to request a desktop site before going on with the steps. Once you've requested the desktop site, the steps will be the same as those mentioned above. After all, you're doing it on a web browser, on your phone, instead of a laptop or a desktop.
So there you have it, the simple steps to change one's Twitch username or display name. Make sure to read the pointers given before the steps; since you don't want to screw up this simple task now, would you?