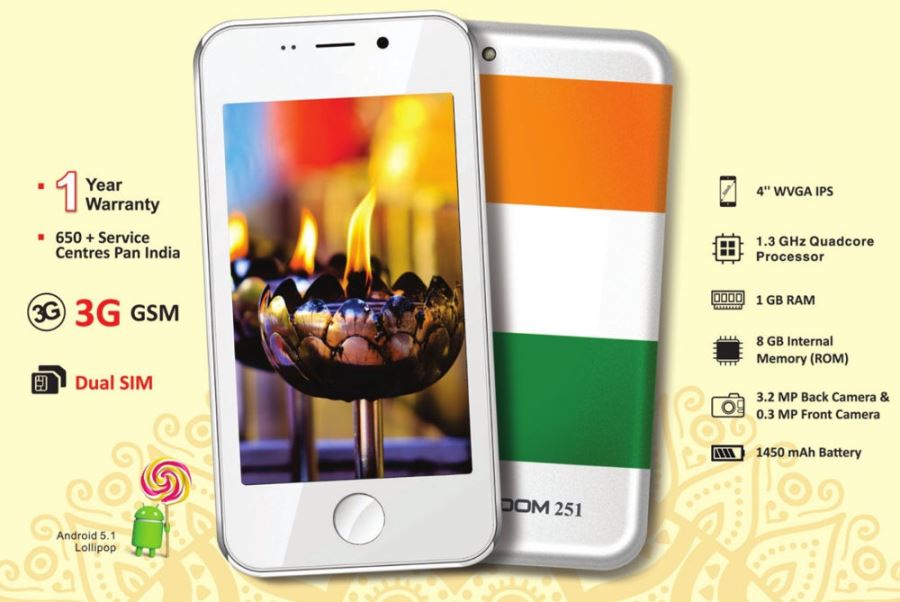 Short Bytes: Online booking link for the world's cheapest smartphone, Freedom 251, is now open. But, it looks like their site server is overloaded because of the overwhelming response from the online shoppers. Freedom 251 is available for online booking from 6 Am, 18th Feb to 8 PM, 21st Feb.
F
reedom 251 has been launched in India for Rs. 251 that converts to almost $4, making it the cheapest smartphone in the world. Another thing, Freedom 251 is the cheapest smartphone in the world which is also capable of 3G. The phone has been made a company from Noida called Ringing bell under the Indian government's project of 'Make in India' and 'Digital India'.
Freedom 251 will be available for online booking from 6 Am, 18th Feb to 8 PM, 21st Feb. Here is the link to Buy Freedom 251 online.
Freedom 251 is coming with Android 5.1 operating system with a four-inch display. It has a 3.2-megapixel rear camera and 0.3 Megapixel front camera. Freedom 251 also has 1.3 GHz of Quad core processor, 1 GB RAM and 8 GB internal memory. It comes with an external memory slot of 32 GB. Freedom 251 will have a battery capacity of 1450 mAh and it will get help from about 650 service centers spread across the country,
This phone will already have some apps already installed in it like Swachchh Bharat, Women safety, WhatsApp, Facebook, Twitter etc. We also tried booking Freedom251 online, but it seems their server is overloaded and they are displaying the below message:
Dear friends, we are very grateful for your enormous response and your kind patronage and would submit that as of now we received approx. 6 Lacs hits per second as a result of your kind overwhelming response, servers are overloaded.
We humbly submit that we are therefore taking a pause and upgrading the service and will revert within or before 24 hours. Once again our respectful thanks and gratitude for your support and patience. We look forward your return as soon as we are back online well within 24 hours.
Did you try booking a Freedom 251? Tell us in the comments below.
Also read: Jupiter IO 3 Is The World's First Smartphone You Can Smoke