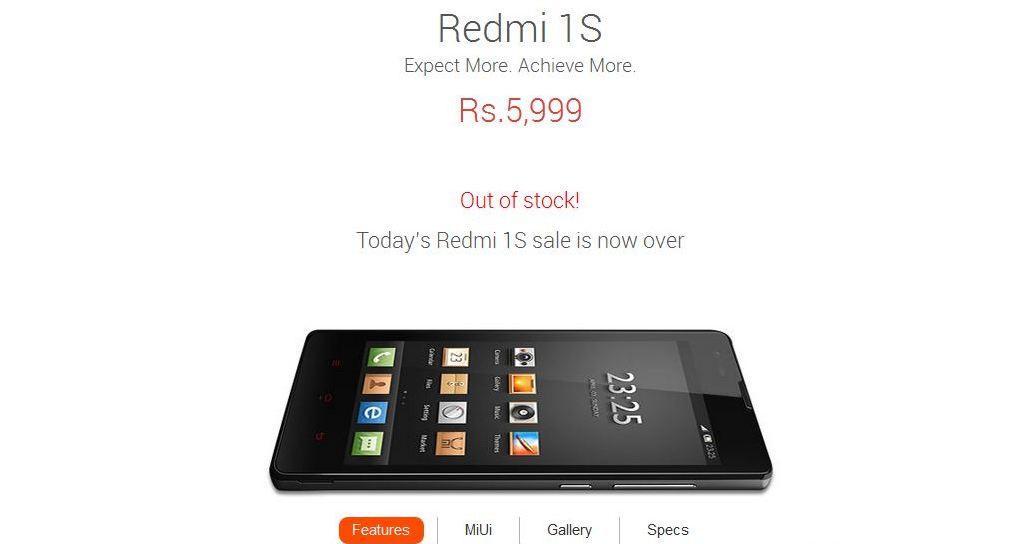 The growing Chinese smartphone maker Xiaomi has announced that it sold out 40,000 units of its new Redmi 1S Android phone. 40,000 was the total number of phones which were made available for sale. The cellphone is priced at Rs 5,999 ($99, £60, AU$106).
Xiaomi has launched itself in India recently and is dependent on such flash sales which help it to create sensation in media and social networking sites.
Xiaomi has partnered with Indian e-commerce leader Flipkart to sell its smartphones. Users have to register themselves in advance and on the day of sale they are able to make the purchase. Due this queue, it has been reported that over 250,000 users have shown interest in buying the phone.
People can be seen complaining on the company's Facebook page about the limited stock. The Redmi 1S is competing with phones like Moto E and Asus ZenPhone4 in India.
The Chinese smartphone maker has so far sold 1,35,000 smartphones, which includes 95,000 Mi3 smartphones in India spread across seven flash sales.
Key Features of Redmi 1S:
4.7-inch 1280 x 720 (HD) IPS display
1.6 GHz quad-core Qualcomm Snapdragon 400 processor with Cortex-A7 core
1 GB RAM
8GB internal flash memory with external microSD
Dual SIM (3G+2G)
8MP rear camera and a front 1.6MP camera.