Google has previously announced that it will terminate the free unlimited high-quality storage option for its Photos app from June 2021. Hence, you might be looking for some Google Photos alternatives and how to download all photos from Google Photos.
There was a time when Google allowed unlimited original quality uploads on its Pixel devices. But that was also taken away from the users. From June 1, any photo or video you upload will count towards your 15GB free storage quota. So, if you have maxed it out, then you might want to download all the images and videos and take a fresh start.
How to download all Google Photos data?
The process to get all your images and videos in one go is buttery smooth. Google offers a feature called Takeout that lets you export your Google Photos data. Here's how to use it:
1. Go to myaccount.google.com on your PC.
2. On the left pane, click on Data & personalization.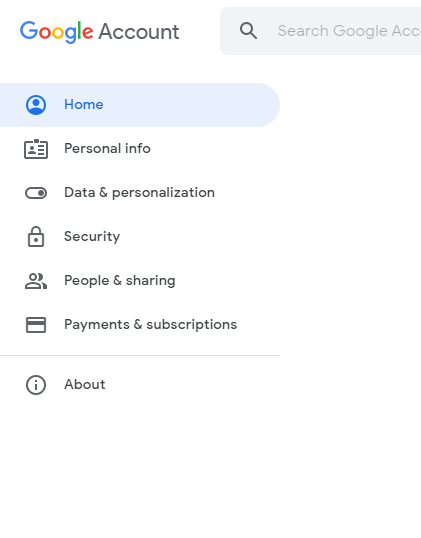 3. Scroll down and click on Download your data.

4. Next, Google Takeout will display a list of what stuff you can export. Click on deselect all option.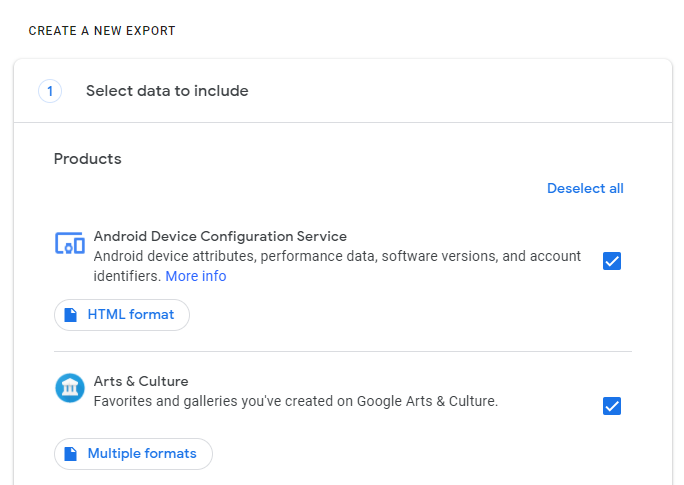 5. Then scroll down and tick the Google Photos checkbox.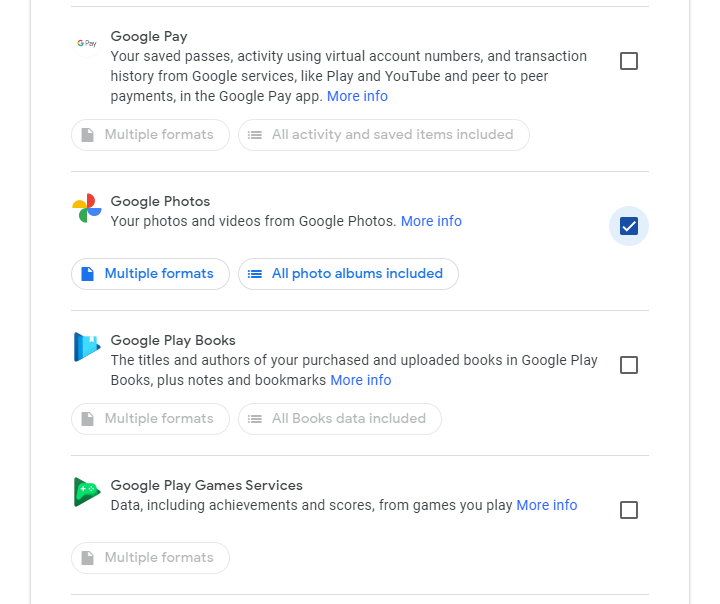 6. Here, you can also download individual Google Photos albums by clicking on the All photo albums included button.
7. Now, scroll down and click on the Next Step button.
8. Next, you need to choose from delivery methods links like getting an email link or transfer data directly to Dropbox or other cloud storage. You can also decide the upload frequency, file type, and minimum file size after which the data will split into multiple files.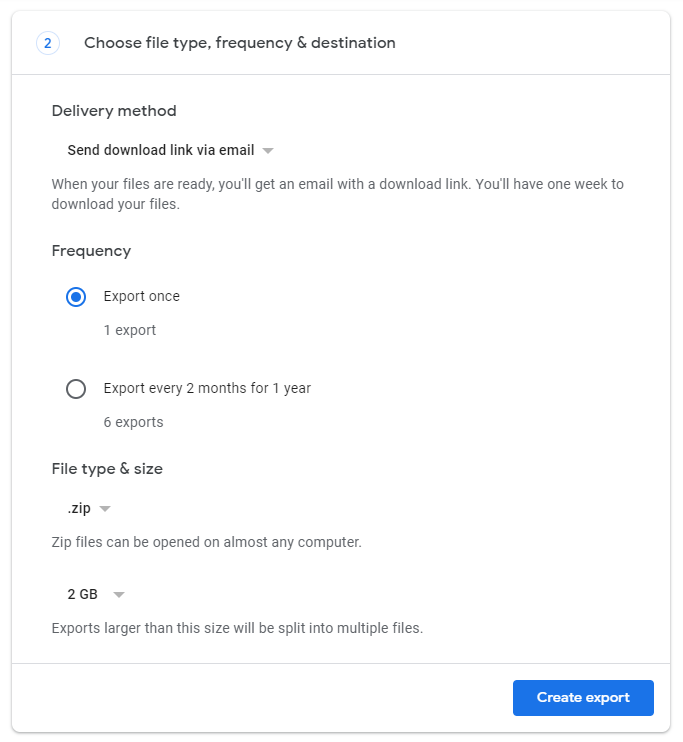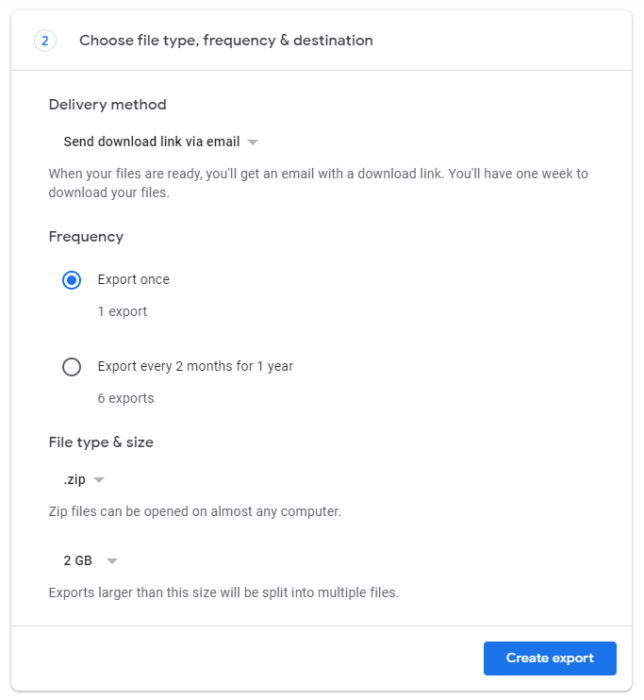 9. After you're done, click on the Create Export button. Depending on the amount of data, it might take Google several hours to days to create the export file.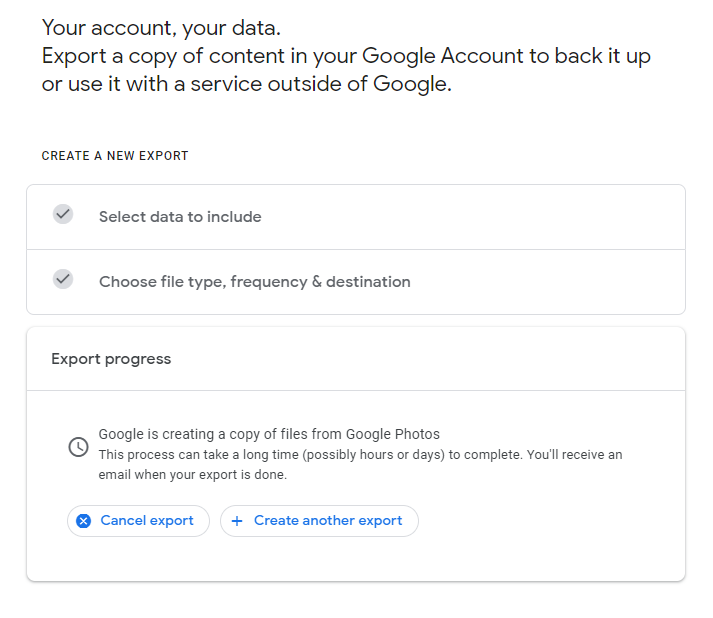 So, that's how you can download all of your Google Photos images and videos to backup them elsewhere. You can go back to the Google takeout page again to check the status of your export file.
Speaking of exporting data, you can read our tutorial on how to transfer photos and video from Facebook to Google Photos.
How to transfer my Google Photos data to other cloud services?
If your Google storage is getting filled, you can transfer your images and videos to other cloud services. You can refer to Step 8 above, Google can directly transfer your data to cloud services, including Dropbox, OneDrive, and Box.
For unsupported cloud storage like Apple iCloud, you'll have to download the data on your device and then reupload it manually.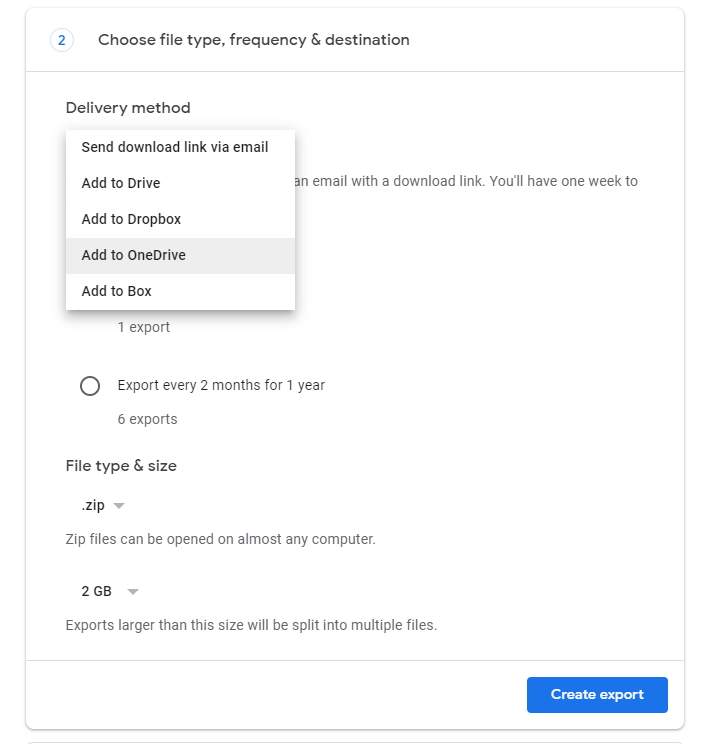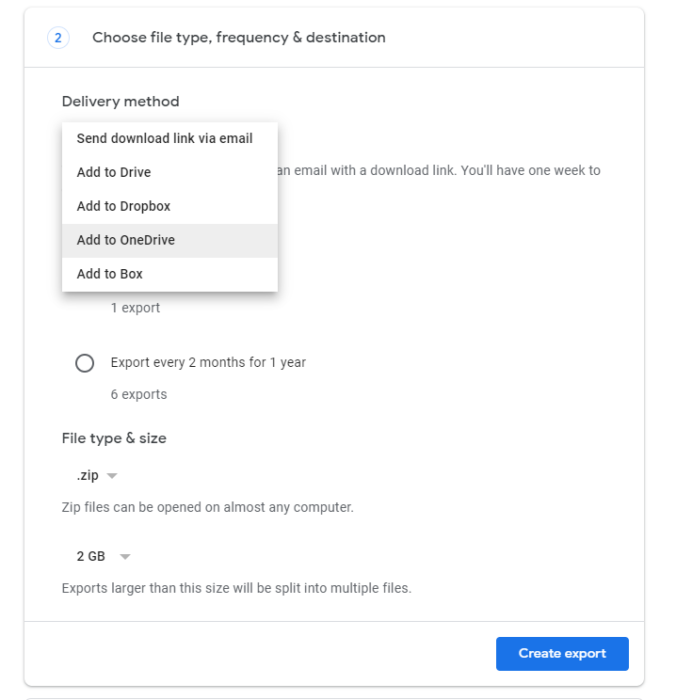 How to get more Google Photos Storage?
Now that the free unlimited Google Photo uploads are going away, the other option is to go for the paid storage. You can subscribe to any of the Google One storage plans depending on your needs.
Frequently Asked Questions (FAQ)
How many times can I export my Google Photos data?
Using Google Takeout, you can create as many Photos exports as you want. It's just that you'll have to bear with the time it takes to deliver the data.
How do I transfer photos from Google photos to my computer?
Once you create an export, the zip will be mail to your inbox. You can download it, extract it, save it at the desired location on your computer's hard drive.
Will my Google Photos data go away after June 1?
No, the existing photos and video you have uploaded to Google Photos will remain as it is. But if you're Drive storage has maxed out then you won't be able to upload anything new.