There are no two doubts about AirPods being one of the most in-demand wireless earbuds on the market; similarly, the same can be said for a PS5. Meanwhile, if you own both of these fine pieces of technology and are looking for ways to connect AirPods to PS5, read on, as this guide will tell you everything you need to know about pairing your AirPods with a PlayStation 5.
Meanwhile, it doesn't matter which AirPods you're trying to connect to, be it AirPods gen 1, gen 2, gen 3, or AirPods pro; the process remains the same. Whether you own a PS5, PS4, or PS4 Pro, you'll still follow the same steps to connect the AirPods to a PlayStation.
Connecting AirPods to PS5
Before getting started with the pairing process, you first want to make sure that the AirPods are fully charged; also, make sure to switch off the Bluetooth of your phone or any other nearby device to which the AirPods were previously connected.
If you've ever tried connecting AirPods to a PS5 before, you know what's coming next; however, prepare for a bit of disappointment if you're new to this. When you try to connect your AirPods to your PS5 within the Bluetooth settings, you'll be greeted with a message saying, "The PS5 doesn't support Bluetooth audio accessories."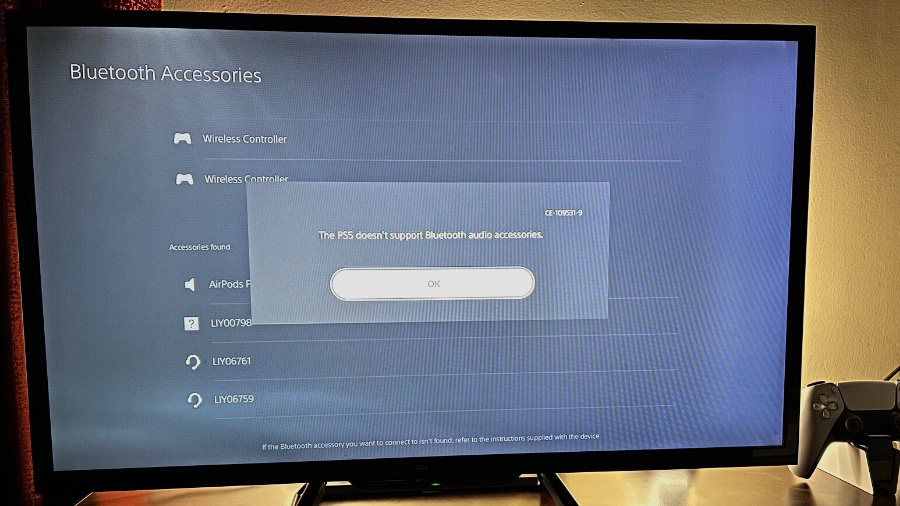 While the PS5 does support audio accessories over Bluetooth, it doesn't support third-party audio gadgets, except Sony's PS5 Bluetooth headphones. This is Sony's way of making sure people buy official Bluetooth headphones, a move to create a PlayStation ecosystem, something that Apple does with its devices.
Fret not! For there's a workaround
The workaround for connecting your AirPods to your PS5 is a Bluetooth adapter; if you have one lying around the house, it probably won't work. Why? In our testing, Bluetooth adapters with Bluetooth v4.2 or up, preferably Bluetooth v5.
If you do not already have a Bluetooth adapter with v5, you can buy one over at Amazon, plug the adapter into your PS5 and put your AirPods in pairing mode by pressing the button on the backside until the light starts blinking white. After that, press the pairing button on the Bluetooth adapter, and your AirPods will connect to the PS5.
Meanwhile, you might not have to go to the lengths of buying a compatible Bluetooth adapter if you own a smart TV. Since all smart TVs come with the latest Bluetooth connectivity, you can connect your AirPods to the smart TV you're running your PS5 on.
To connect AirPods to your smart TV, you need to go to the device section in your TV's settings. Since every TV has a different layout of its settings, it's hard to cover the steps here. However, we're sure you'll find the pairing option under Device or Bluetooth connection in your smart TV's settings.