You might have often experienced an outage of Google services where Gmail, YouTube, or Google Search stops working. One might wonder whether it's just happening with them or is Google down for everyone. You can go through the methods mentioned below to check if Google services are down or not.
How To Confirm Whether Google Services Are Working?
1. Visit 'Google Workspace Status Dashboard'
Google Workspace Status Dashboard monitors the status of individual Google services. Here, general users and businesses can view the status of individual services such as Gmail, Google Calendar, Google Docs, Google Sites, and Google Video and confirm whether there is an issue at Google's end.
The outages are denoted by a red dot for a specific date. So if you a red dot for the current day adjacent to any service, it means the particular service is down.
Administrators of Google Workspace Premier Edition, Standard Edition, Partner, and Education Edition can also view the status of the Admin Control Panel here.
2. Check the internet for Google outage
There are times when Google services are down because of a technical error. Just recently, several Google services like Gmail, YouTube, and Google Search went down, so before thinking that your device is not working probably or ISP provides a shitty connection, you should check whether it isn't working just for you or everyone else.
To check for a possible Google services outage, you can visit certain websites that show parts of the world where people are experiencing such outages. Here are a couple of such websites you can browse:
These websites can also tell you if any other service or platform is facing outages across the world.
3. Check Out Google's Official Twitter Handle
You should keep an eye on various Google's official Twitter handles for various services where they report if a specific Google service is down or all of them. In case the problem cannot get fixed quickly, you will receive the official confirmation there:
Google Workspace: This is the official Twitter account for conveying any outages or technical issues going on
Team YouTube: For YouTube specific outages
Gmail: For Gmails specific updates
4. Or You Can Just Ask Google!
Yes! I am serious. If you don't believe it, try searching "Is Google Down" on Google, and if all's good, Google will reply something like this: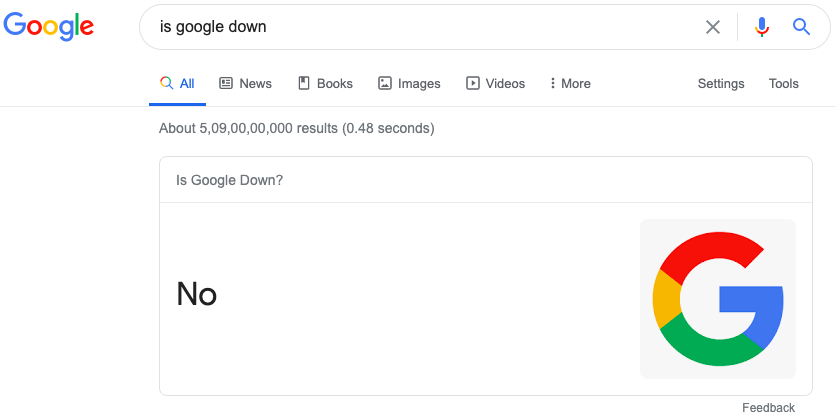 That's pretty cool, right? 😄
Common FAQs
2. Why Is YouTube Not Working?
Check out the methods mentioned here to fix your YouTube problems in 2020.
3. How to Check Gmail Issue Status?
Visit G Suite Status Dashboard web page. Look for Gmail and check the Current Status column. A green button indicates Gmail no issues, an orange button means a service disruption, and a red button indicates a service outage.
Is Google down?
Do let me know if this article helped you in finding whether Google is down just for you or everyone. Meanwhile, if you have any other tips or resources on the same topic or maybe even further queries, do share them with us! And keep scrolling on Fossbytes for more such helpful articles.