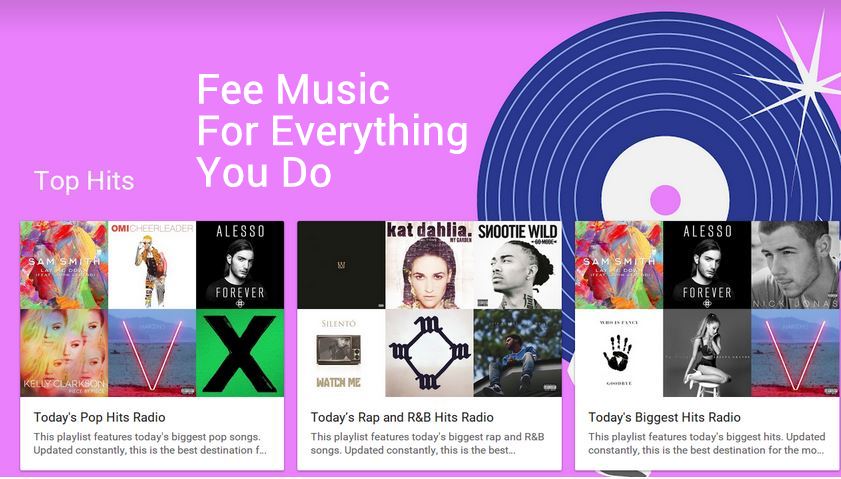 With the ever increasing competition in the music streaming industry, Google has launched a new free and ad-supported version of Google Play Music to lure the paid customers. This news has come in the wake of open war going on between Apple and Taylor Swift over the 90-days free trail of Apple Music without paying the artists. Now they are back together and Apple has agreed to pay the artists.
T
o me, this seems as another masterstroke of Google where it is going to combine its online advertising and the vast user base to provide free music streaming service. The Google Play Music was started in 2013 as a subscription services costing $9.99 a month and users were able to access about 30 million songs and store
50,000 songs for free.
This new move by Google is being seen as the direct competition to the music streaming services like Spotify and upcoming Apple Music.
The Google Play free music streaming service will be available to users with limited capabilities. You will be offered curated music sorted by mood, genre, decade or activity (yea, songs for working, for working out and songs to working it on the dance floor). You can search your favorite artist, album or song and Google Play will stream the related digital channel for you.
When you'll get started, don't forget to check the top 10 most popular activities on Google Play Music and each one offers several radio stations. Different activities are:
Brand New Music
Driving
Working Out
Boosting Your Energy
Having Friends Over
Having Fun at Work
Entering Beast Mode
Waking Up Happy
Unwinding
Bedtime
This free music streaming service of Google Play Music is launching today first in the U.S.
Access it here on the Web and on Android and iOS later this week.
Does Google Music stand a chance with its free tag? Tell us in comments below.
Recommended: Google Translates 100 Billion Words Each Day, Reveals Top 3 Translated Phrases