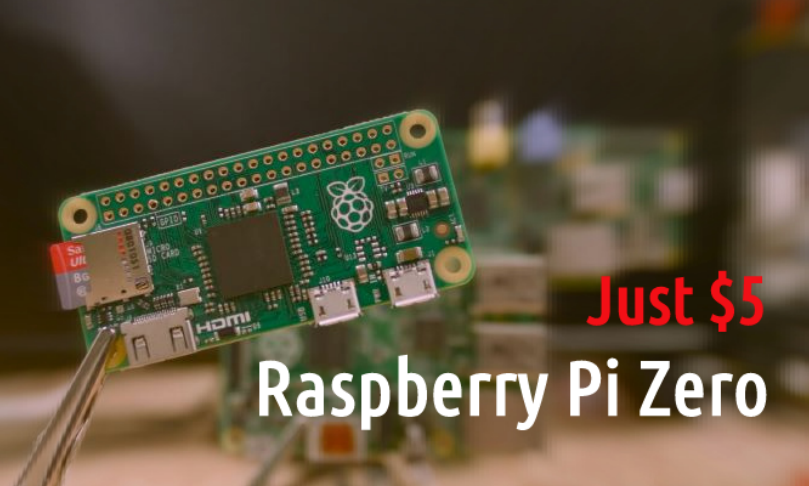 Short Bytes: The Raspberry Pi Foundation has surprised everybody once again with its new and world's cheapest computer, costing just $5. Raspberry Pi Zero is a full-fledged member of the Pi family and is about 40% faster than Raspberry Pi 1.
W
hile multi-billion corporations are making the high-end devices more costly and trying their best to empty your pockets, single-board computer makers like Raspberry Pi and CHIP are striving to make the cost of computing more and more affordable.
Along the similar lines, the Raspberry Pi Foundation has just announced its latest wonder in the form of Raspberry Pi Zero. This $5 computer goes on sale from today and could easily be called the world's cheapest computer.
When the Pi Foundation launched the original Raspberry Pi Model B and the subsequent models, anyone was able to grab one for $20-35. Then came the Kickstarter-funded CHIP, costing just $9. Today, making the computing even cheaper, the Pi Foundation has announced the Raspberry Pi Zero – a full-fledged member of the Pi family and about 40% faster than Raspberry Pi 1.
Let's take a look at its complete specifications of Raspberry Pi Zero below:
A Broadcom BCM2835 application processor – 1GHz ARM11 core
512MB of LPDDR2 SDRAM
A micro-SD card slot
A mini-HDMI socket for 1080p60 video output
Micro-USB sockets for data and power
An unpopulated 40-pin GPIO header, identical to Model A+/B+/2B
An unpopulated composite video header
Pi's smallest ever form factor, at 65mm x 30mm x 5mm
These specifications make the Raspberry Pi Zero a perfect contender for your next electronics projects.
To create a Raspberry Pi Zero buzz, the Pi Foundation has also decided to give away a free Raspberry Pi Zero on the front of each copy of the December issue of The MagPi.
The Raspberry Pi Zero is now available at Adafruit, Micro Center, element14, The Pi Hut, and Pimoroni stores in the US and UK.
Add your views in the comments below.
Source: Raspberry Pi Zero