The Pixelbook Go is a thin and light laptop powered by an Intel Core series processor chip. The new Pixelbook takes a lot of inspiration from the older Chromebook model in terms of keyboard and design.
Google's Ivy Ross introduced the new Pixelbook Go with an aim to create a thin and powerful laptop that was really fast and also lasts all day.
The Pixelbook comes with a bigger battery, a faster processor and an ultra reliant Linux-based Chrome OS. With a price tag of $649, the new Pixelbook Go is seeking to dominate the market segment of Apple Macbook Air.
Here's everything you need to know about the Pixelbook Go:
Google Pixelbook Go Specs, Features, Launch Price And Release Date

Pixelbook Go comes with three CPU options Intel Core m, Core i5, and i7. It is particularly interesting to see the Intel Core m here on this list as the chip is mostly seen on ultra-small PCs and relatively powerful Single Board Computers (SBC).
The top-spec model of Alpha Panda Latte Panda SBC comes with this chip. In addition to the new processors, Google has also equipped the new Pixelbook Go with a larger battery which lasts around 12 hours.
"Pixelbook Go is lighter than Pixelbook but we still managed to add a battery that is 15% larger, making it easier to keep working all day," said Ross.
The Pixelbook Go will have the option to choose between an 8GB/128GB version and a 16GB/256GB variant. My guess is that the RAM used will be LPDDR4 running at around 2666 MHz to conserve as much battery life as possible.
All of this is housed within a new Magnesium chassis which incorporates a wavy design at the bottom for better grip when you use it on the "Go." Oh, I see what Google did there.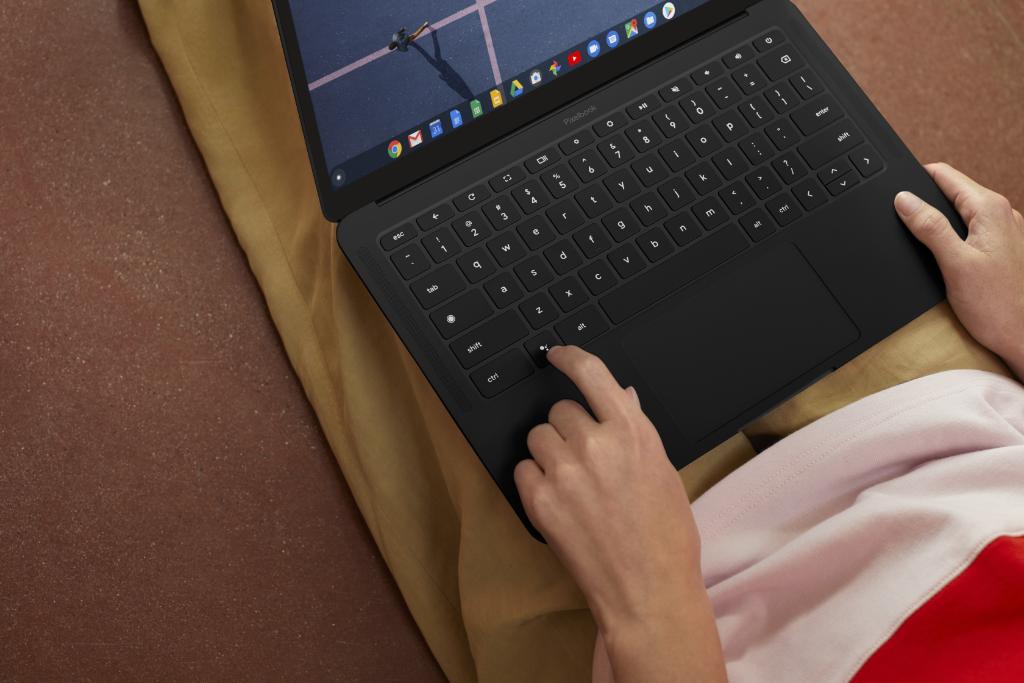 Other new features about the Google Pixel Go include a thin light body with only 13 mm in width, a brand new Hush keyboard which is quieter to type on and some new colors.
The Pixelbook Go will be powered by Chrome OS featuring inbuilt virus protection, instant startup, and automatic updates.
Ross said, "I actually believe you can be more creative when designing within constraints."
The Pixelbook Go is available in two colors: "Just Black" and "Not Pink."
The Killer of Apple Macbook Air?
Apple Macbook Air remains a hugely popular laptop for 2019. The older version of the Macbook Air, the one with the glowing logo, is still preferred by a number of users preferably because of its amazing battery life and superb software optimization.
With the Pixelbook Go, Google is ticking the right boxes, at least in terms of hardware. They offer 12 hours of battery life, up to 16 GB of RAM and a pretty decent 256 gigs of storage. Add to that the thin and light natural nature of the Pixelbook, Go and Google, almost has a winner on its hands.
I can't comment on the software capabilities of the Chrome OS though. However, time will tell whether the Pixelbook Go can make a name for itself or not?