Short Bytes: Glass Enterprise Edition is the new version of the head-mounted wearable display for businesses, earlier known as Google Glass. Designed by Alphabet's X, the new Glass has received improvements regarding processor, camera, software, etc. Various partner companies are providing custom-designed Glass devices that suit different kinds of businesses.
T
he Glass was one ambitious Google moon shot that couldn't land on the heads of the user base it was intended for. The search giant had to
scrap off their plans for Glass
in early 2015, even before it saw its first commercial launch.
Google Glass reappeared in the news headlines later in 2015 as Project Aura, and again, almost a year later in the form of a patented design which also included a touchpad.
Sadly, the touchpad couldn't make it to the newer version of the Google Glass which most of us didn't think would be designed for businesses, not common people. But Glass appears to fit better into the commercial space, helping businesses improve their productivity.
The new smart eyewear is known as Glass Enterprise Edition which went through a low-profile development under the roof of X – a subsidiary of Google's parent company Alphabet.
Jay Kothari, Glass' Project lead, wrote in his medium post that the head-mounted display device could find its utility in various field including logistics, field services, healthcare, manufacturing, etc.
Before revealing it to the public, Glass was secretly used by the employees at General Electric, DHL, Dignity Health. But, according to Wired, the employees were asked not disclose the existence of the newer Glass to anyone.
Various improvements have been made to the Glass Enterprise Editon which includes a faster processor, camera upgraded from 5MP to 8MP, battery life up to 8 hours, improved WiFi, etc.
Another significant change made to Glass is its modular design, allowing the glass to be attached to various kinds of eyewear including prescription glasses, industrial safety glasses, etc.
The voice command support of Glass Enterprise Editon is triggered by saying "OK Glass," allowing the wearer to operate the device without touching it.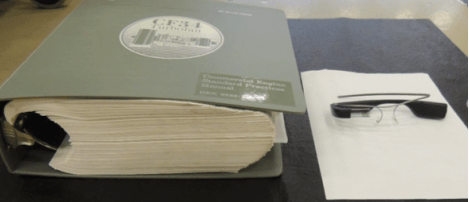 A user can also connect to the Glass device worn by other workers. The camera present on the device can transmit a live video feed which can help in easier collaboration and troubleshooting.
X won't be selling Glass on their own but through various Glass Partners who can design a custom version, including specialized software solutions and tech support, according to the requirements of businesses.
As far as the price is concerned, according to BBC, one of the partners Ubimax is charging around 1500 euros per unit for their variant of the Glass.
Got something to add? Drop your thoughts and feedback.