Everything, no matter how good it is, has an expiry date attached to it. So is the case of the older Android versions that are a thing of the past now. We are now about to get Android 12 in a couple of months but there are users who still keep devices running versions as old as Android 2.3.7 Gingerbread.
It's about time that Google is about to pull the plug on them (indirectly). The search giant discontinued security updates long ago, now it's time to disable app logins.
Old Android will loose access to Google apps
A Reddit user posted (via Neowin) the screenshot of a Google email stating that "signing in to your account on Google apps will no longer be supported on phones with Android version 2.3.7 or lower starting Sep. 27."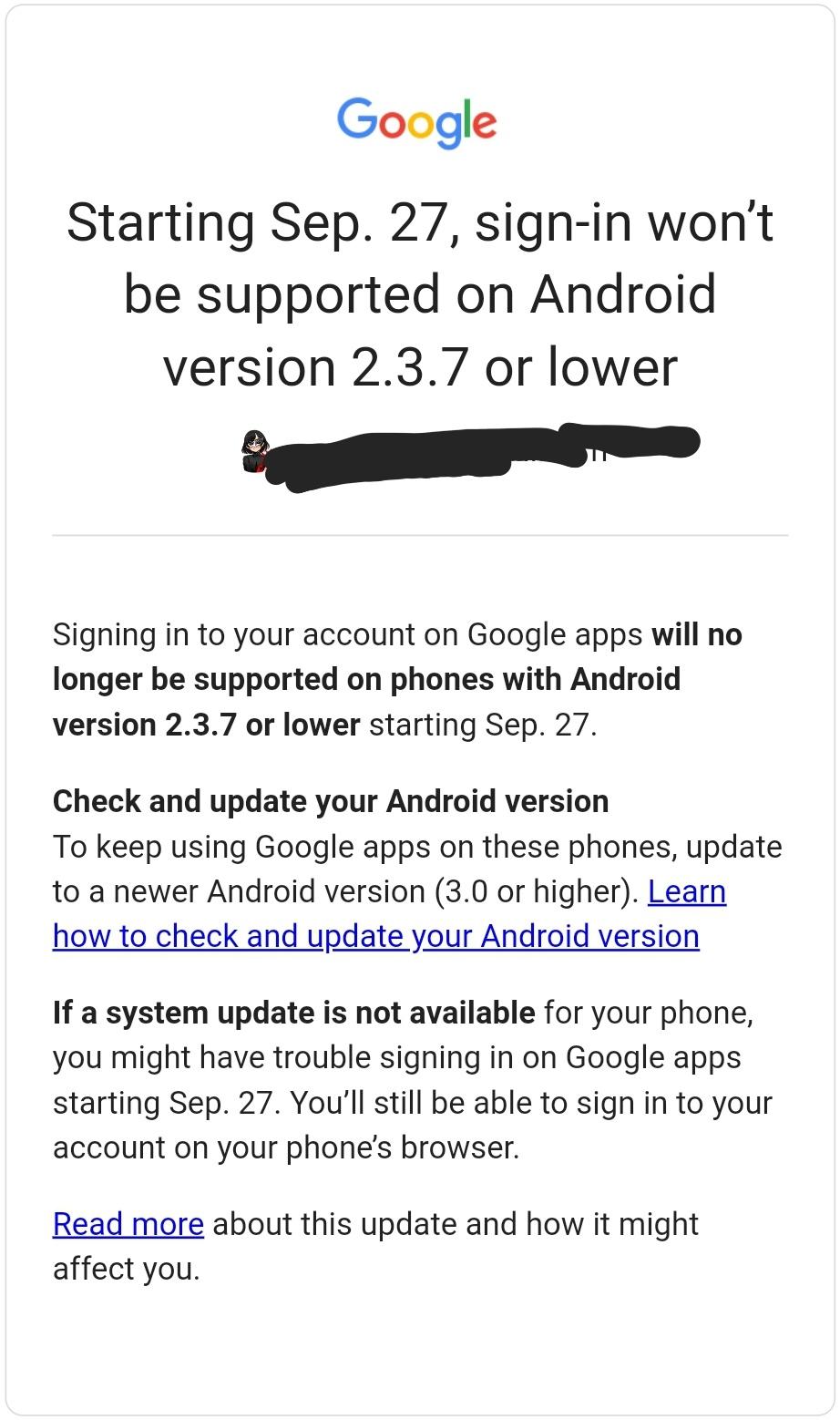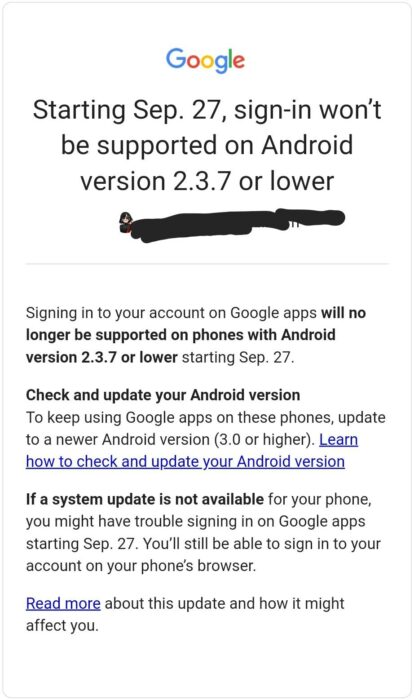 Google says you need to have Android 3.0 Honeycomb (or above) running on your device to continue using its apps. However, Honeycomb was a tablet-only OS, so the oldest version you can run on your smartphone is Android 4.0 Ice Cream Sandwich.
If your smartphone has a pending Android update, maybe you should head over to the software update section now.
The list of Android versions older than 2.3.7 are:
(2008) Android 1.0
(2009) Android 1.1 Petit Four
(2009) Android 1.5 Cupcake
(2009) Android 1.6 Donut
(2009-10) Android 2.x Eclair
(2010) Android 2.2.x Froyo
(2010-11) Android 2.3.x Gingerbread
Known as Gingerbread, Android 2.3 is one of the most popular Android versions Google has released over the years. Google says users won't be able to log in to Android apps for services like Gmail, YouTube, and Maps.
The Redditor's claim was confirmed by Android Help community manager Zak Pollack in a post, which states that the action is taken to protect the security of the users' accounts.
An interesting thing is that decision won't affect many users, as the market share of Android 2.3 was effectively zero as per the Android distribution numbers released by Google in 2020. So, there might be a limited number of users running the ancient update.
Can I keep using Google services on Android 2.3.7?
While the move was inevitable, it is not the end of the road. You can still log in to Google services via the web browser on the phone. However, a wiser option would be to go for a new Android smartphone according to your budget.
The older Android version was good but it will only remain in our hearts now. Do let us know how was your experience with Android 2.3 Gingerbread in the comments below.