As part of the yearly test, research firm Loup Ventures, recently conducted a smart speaker IQ test, whose winner comes out to be the Google Assistant.
According to the research, Google Assistant stands first with 88 percent correct answers, following which Apple's Siri is at the second spot with 75 percent correct answers, Amazon Alexa at third position with 73 percent contribution, and Microsoft's Cortana at the last spot with 63 percent correct answers.
Compared to last year, all the four smart assistants have performed well; Google Assistant was at 81 percent, Siri at 52 percent, Alexa at 63 percent, and Cortana at 56 percent.
The questions involved in the test were 800 in number and were based on five categories such as Local, Commerce, Navigation, Information, and Command.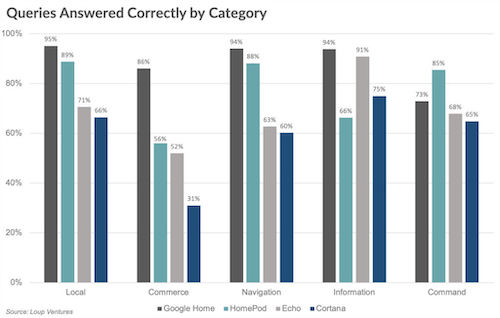 The test was conducted on smart speakers such as 2nd generation Amazon Echo (with Alexa), Google Home Mini (with Google Assistant), Apple HomePod (with Siri), and Harman Kardon Invoke (with Microsoft Cortana).
While the Google Assistant understood all the 800 questions, Siri, Alexa, and Cortana misunderstood three, eight and five questions, respectively.
Despite Amazon being an e-commerce platform, Alexa lagged in the Commerce category with Google Assistant performing well in it.
Siri had a command in the Command category, with its not-so-good performance in other categories accredited to its lesser toll on HomePod as compared to the iPhone. 
Additionally, Both Siri and Google Assistant did well in the Local and Navigation categories.