Apple Silicon has made several accomplishments in chip performance and set a new industry standard. While Samsung's newly launched Galaxy S22 series is among the world's 'fastest' Android phones, it still can't compete with Apple's A15 Bionic in the iPhone 13 Pro models when it comes to performance benchmarks.
As per performance benchmarks conducted by PCMag, last year's iPhone 13 Pro outshines this year's Galaxy S22. Samsung uses the Snapdragon 8 Gen 1 SoC in the U.S. and Exynos 2200 in Europe and Asian markets. Likewise, PCMag used the Galaxy S22 Ultra and the S22+ equipped with the Snapdragon SoC in their tests.
iPhone 13 Pro performs better than the Galaxy S22 in benchmarks
In Geekbench 5, the S22 Ultra scored 3433 in multi-core tests, 1232 in single-core tests, and 448 in machine learning. On the other hand, the iPhone scored 4647 in multi-core, 1735 in single-core, and 948 in machine learning tests.
While the Snapdragon 8 Gen 1 is behind the A15 Bionic, it improves significantly over the Snapdragon 888.
There is definitely improvement from last year's Snapdragon 888 to this year's Snapdragon 8 Gen 1. We saw a 13% rise in Geekbench single-core scores and a 9% rise in Geekbench multi-core scores. On the GFXBench graphics benchmark, we saw an improvement of 20% or more depending on circumstances.

PCMag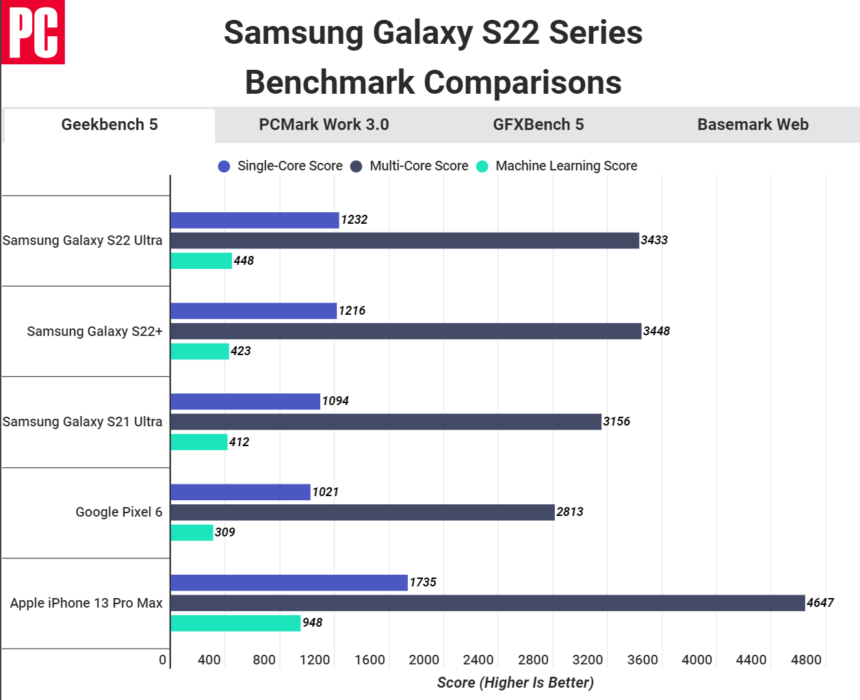 Further testing revealed that the Galaxy S22 series could have some performance throttling and thermal issues. Likewise, the S22 Ultra "quickly became warm, and as soon as it became warm, it returned much lower results."
However, it's important to note that benchmarking results solely do not make smartphones superior to one another. Hence, the performance bias should be taken with a pinch of salt while comparing any two devices, especially when they don't even run the same OS.
If you're only considering the raw performance benchmarks, it's important to note that the A15 Bionic came out last year, and Apple's next chip will offer more power. Apple has its silicon game strong and maintains a strong lead over the competition.