After iMessage, Apple's FaceTime is probably the most desired app on the Android platform. And why shouldn't it be? In the Android vs iPhone cold war, if there is one thing that both sides agree on is that FaceTime is the best video chat apps ever.
Before we talk about FaceTime on Android, a quick intro for people who have no clue about the FaceTime app — It is a video calling app designed by Apple. Launched by Steve Jobs in 2010, the app remains one of the most popular videos calling app to date. FaceTime is an integral part of the Apple ecosystem and works only on Apple products as the iPhone, iPad, and iMac.
Given the nature of Android, it goes without saying that many Android developers have attempted to bring an Android version of FaceTime. So, the question is —
How to use Facetime For Android?
This is one of the most popular questions among Android users. But we believe a more relevant question would be: Is FaceTime for Android even possible? Short answer: No! If anyone on the Internet says otherwise, they are probably making a fool out of you.
Apple's FaceTime app is a closed software which means until the original developers choose to, the app will never reach non-Apple platforms. But why does Apple keep FaceTime away from Android devices? We will talk about that at the end of this article.
For now, the fact is FaceTime on Android is a pipe dream. However, there are a few video chat apps on Android whose quality is at par with the FaceTime app on iOS devices.
7 FaceTime App Alternatives 2019
1. Google Duo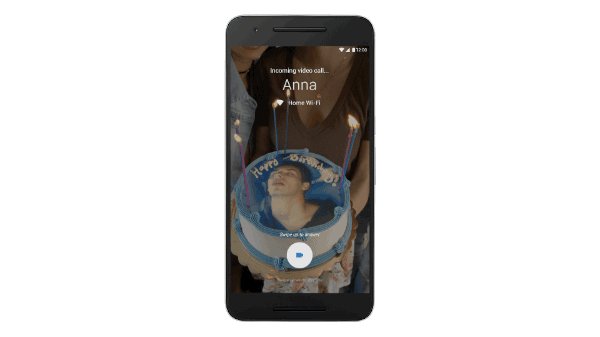 Google Duo is the most identical alternative to FaceTime. Similar to its iOS counterpart, video calling a person is extremely easy on the Google Duo Android app.
In fact, the video quality on the Google Duo app is comparative with Apple's FaceTime. However, there are a few differences in terms of features. FaceTime allows you to apply Animojis on your face, add text and stickers in-between live chats.
Google Duo has its own set of features such as sending a video message or the "Knock Knock" feature to get a live preview of the person calling. The only major feature missing on Google Duo is the video conferencing that is available on the FaceTime app.
Availability: Android, iOS, and Web
2. Skype
Skype from Microsoft is decade old yet it is counted among the best video chat apps for Android. The FaceTime like app allows you group call to up to 25 people.
Other than video calling, you can chat in Skype, read normal SMS; basically a combination of FaceTime and iMessage. One of the best features of Skype on Android is that you can get live subtitles on the video screen.
There is also a FaceTime like feature in Skype where you can instantly capture a screen during the video call. The best part about the Skype app on Android is that you can get a Skype number for a nominal fee. Overall, Skype comes quite close to replicating the concept of FaceTime on Android.
Availability: Android, iOS, Windows, and Mac
3. Facebook Messenger
Facebook Messenger is a good alternative to FaceTime app. While it's primarily a messaging app for Facebook users, you can also use it for video calling your friends.
One of the biggest advantages of Facebook is the number of users on the platform. Coming to the video calling part, the  Messenger app allows you to take a screenshot, play interactive games, and even lets you apply cool filters in-between the call.
The only problem with Facebook Messenger is that the app takes a toll on memory. Therefore, the app doesn't work smoothly on several less performing smartphones.
Availability: Android, iOS, and Web
4. WhatsApp
A major reason behind the success of the FaceTime app is that it is used by millions of users. WhatsApp also falls under a similar category. It might not be the number one video chatting apps but it is certainly used by billions of people across the world.
Since the app is the go-to chatting app for many, the app's video calling feature has become quite popular. The best part about WhatsApp is its simplicity. The chatting app is extremely easy-to-use, free from clutter and ads.
WhatsApp is good FaceTime alternative but it lacks many additional features available in other video chat apps. Although, there is no compromise on the video feed quality.
Availability: Android and iOS
5. JusTalk
Although FaceTime on Android is a long shot, its features are not. JusTalk is a video chat app that has many FaceTime app-like features.
Just like FaceTime app, it lets you interact via doodling, sending stickers, and even playing games during the video chat. JusTalk also permits video conferencing with up to 16 people.
Apart from that, you can also make international calls by spending a few bucks. JusTalk also has an online meeting option where you set-up closed conferences or join stranger's chats.
Availability: Android and iOS
6. IMO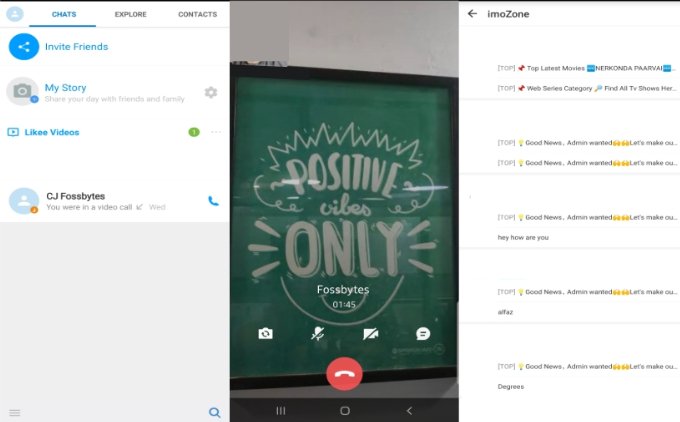 Imo is another popular video chat app for folks seeking FaceTime for Android. The app is trusted by a number of Android users. It is a quite popular video calling app since it offers good quality video quality even at low data connection.
In the Imozone, you can join hundred of chats. You can enter chat groups in the local area. You can also jump in live casts of random strangers. The only issue with IMO video app for Android is it is laced with ads.
Also, there aren't enough features while video chatting with the person. But unlike other apps, IMO allows international calls at no extra cost.
Availability: Android, iOS, Windows, and Mac
7. Viber
Viber is another messaging app that enables high-quality video calls. With a good internet connection, you can make free audio and video calls to other people using Viber on their smartphones.
Other than being a good FaceTime alternative, the app has a Viber Out credits for making calls to people not on the app. I personally liked the Viber Local feature where you can buy a local USA/UK/Canada number for a few dollars.
Similar to Whatsaap, it is a good messenger overall with all the vital features. However, video chatting on Viber lacks many of the cool features in the FaceTime app on Apple devices.
Availability: Android, iOS, Windows, and Mac
Why Facetime for Android never occurred?
When Steve Jobs launched the FaceTime app in 2010, he promised that the video calling app would be an open industry standard. But it's been long 8 years and the tech giant never took the leap.
There could be a number of reasons behind Apple's decision of keeping FaceTime closed. Market competition could be one; tech giants such as Google and Microsoft could leverage FaceTime integration to increase their market dominance.
CNET's Sean Hollister speculated one reason could be Apple's legal troubles with VirnetX. "Apple was forced to majorly change how FaceTime works to avoid infringing on the patents of a company called VirnetX. Instead of letting phones communicate directly with each other, Apple added "relay servers" to help the phones connect." Sean writes.
So, will FaceTime for Android ever get released? Probably never. Over the years, FaceTime has become a core integral part of the Apple eco-system. In fact, iPhone users even consider it a "plus point" for switching from Android to iOS.
Unless there is a solid gain on making FaceTime open standard, it is highly unlikely FaceTime on Android will become a reality.