WhatsApp has become a global phenomenon. At the time of writing this article, it is the most popular messaging app globally, with over 1.6 billion users accessing the WhatsApp messenger on a monthly basis.
With so many people communicating via this messenger, taking a WhatsApp chat backup has become a necessity. The backup helps users in many different ways. It can help you retrieve deleted messages from WhatsApp. One can restore chats if the person has accidentally deleted the Android app.
The Whatsapp chat backup also comes handy when a user is switching smartphones. One can easily restore WhatsApp chat on their new phone. The caveat is that it only works when a user is switching from one Android phone to another.
How To Transfer Whatsapp Chats From Android to iPhone (iPhone to Android)
The WhatsApp restore feature becomes useless when a user tries to transfer WhatsApp chats from Android to iPhone or vice-versa. The issue arises due to the incompatibility of Google Backup with iOS devices and, similarly, iCloud with Android devices.
While you can't officially transfer WhatsApp from iPhone to Android or vice-versa, we have discovered a few workarounds —
1. via E-mail Chat
E-mail Chat is a Whatsapp feature that allows users to e-mail an entire WhatsApp conversation. You can save all your WhatsApp conversations as drafts. Here is what you need to do —

Jump to Whatsapp settings
Go to chat settings > chat history > E-mail chat
Choose the target chat
Choose with media or attach media (whether you want the mail to include photos and videos shared with the user)
In the email app, you can either write an email address or choose to leave it empty.
Leaving it empty will automatically save the email as a draft.
On your new smartphone (iPhone/Android), open the email app and check out the conversation.
The catch with e-mailing WhatsApp chat is that it doesn't exactly transfer WhatsApp from Android to iPhone. While you can read all your previous conversations, you won't be able to view them on the WhatsApp messenger app.
2. via Dr. fone software
Dr. fone falls in popular data recovery software. It offers a wide range of tools for iOS and Android devices such as recovery, backup, data transfer, etc. Dr. fone is also a great tool for transferring data from Android to iPhone, particularly if you are stuck at the Move To iOS error.
Here we will use Dr. fone Restore Social App tool to transfer WhatsApp messages from Android to iPhone. Here are the steps –
Note: Make sure you have backed up your chats to Google Drive.
Download Dr. fone Restore Social Tool for Mac or Windows
Open the software and click on "Transfer WhatsApp messages"
Connect your Android device and your new iPhone to the computer
(Allow USB debugging on the Android device. You can find the setting in the Android device developer options)
Follow the instructions in the pop-up window in the software.
In the end, you will get a message, "Your iPhone restore compelted"
Now eject your SIM from the Android phone and insert it into your iPhone.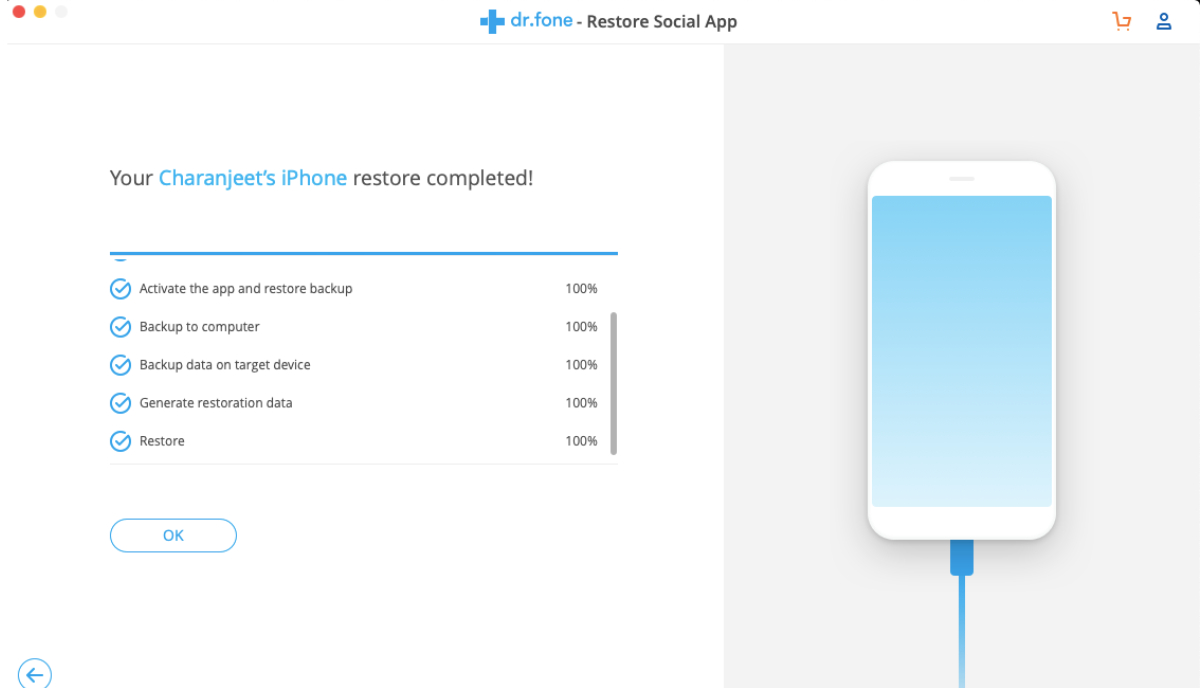 You can also look at this official dr. fone guide while restoring WhatsApp on your new smartphone. Now one thing you should know before transferring Whatsapp chats from Android to iPhone is that Whatsaap doesn't recommend this method. Hence, you can use it at your own risk.