Facebook has announced Facebook Messenger services on Instagram. Now you can access all the features of Instagram DMs in your Messenger app.
Bringing Messenger to Instagram means you'll get all the customization features from the original Messenger for Instagram chats too. Facebook has also added vanish mode, selfie stickers, animated messaging effects, and other features to the new service.
Facebook Messenger on Instagram: How it work?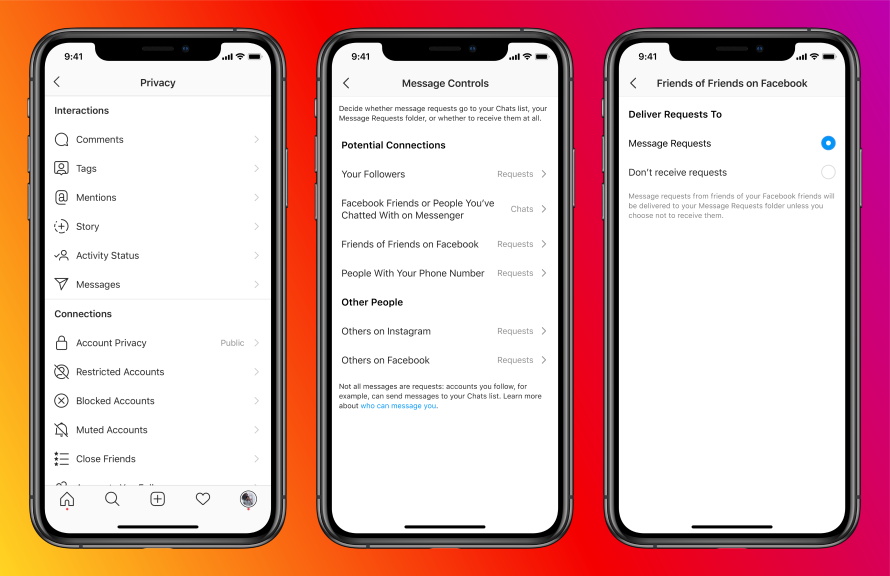 You use your Facebook account to log into Instagram. Facebook is simply bridging your Messenger and Instagram DMs. This means you can now reply to messages and join video calls using any of the two apps. Also, it'll definitely save time in finding that one chat which is always lost because we can't remember where it was.
The company has also added some new features that'll roll out for both Instagram and Messenger. Here's what you'll get with Facebook Messenger on Instagram —
Vanish Mode and Message Controls
Facebook is adding vanish mode and message controls to the new platform. If you're chatting in vanish mode, the messages automatically get deleted once they're seen or you've closed the chat. Message controls let you decide who can message you.
You can also choose where to receive your message and call requests, or to not receive them at all.
Co-watching, Selfie Stickers, And More
Group watching has become particularly popular since COVID-19 locked down people in their homes. The new "Watch Together" feature will let you co-watch videos on IGTV, Reels, Facebook Watch, TV shows and movies, while having a video call. The feature will be added later.
Facebook Messenger on Instagram also gets a selfie sticker feature. This will let you take a boomerang selfie, add filters and animations to it and use it as stickers in a chat. You can also customize chat colors and add custom emoji shortcuts now.
Animated Message Effects have been added too. This means you can send messages with iMessage-ish animations and custom effects. You can also forward a message to up to 5 people or groups at once. Just like WhatsApp, Facebook Messenger will now let you reply to specific messages.
Facebook Super Sync
We like to call the integration of Facebook-owned apps as 'Super Sync.' It basically applies to the levels of synchronization that Facebook can achieve by integrating all its products and services.
Facebook owns Instagram, WhatsApp, Messenger, and well, Facebook. It means two heavyweight social media platforms and two widely used messaging services. It's a matter of time before Facebook synchronizes all these services and makes it super convenient.
Facebook recently started testing an Accounts Center to manage your Facebook, Instagram, and Messenger accounts. Imagine switching between Instagram DMs, Facebook messages, and WhatsApp conversations with the tap of a button. We're almost there with Facebook Messenger on Instagram.