One of the advantages of having a Chromebook device is the fact that you can utilize Instant Tethering — a Chrome OS feature that allows you to share an Android phone's cellular connection with a Chromebook.
Today, Google announced that the feature is expanding to 15 additional Chromebooks and 31 Android phones, on top of Google's Pixel and Chromebook devices, where it's already functional.
Instant tethering comes useful when you have no Wi-Fi access point for your Chromebook. Although a phone hotspot is a feasible option, Instant tethering is much faster and includes a bunch of features.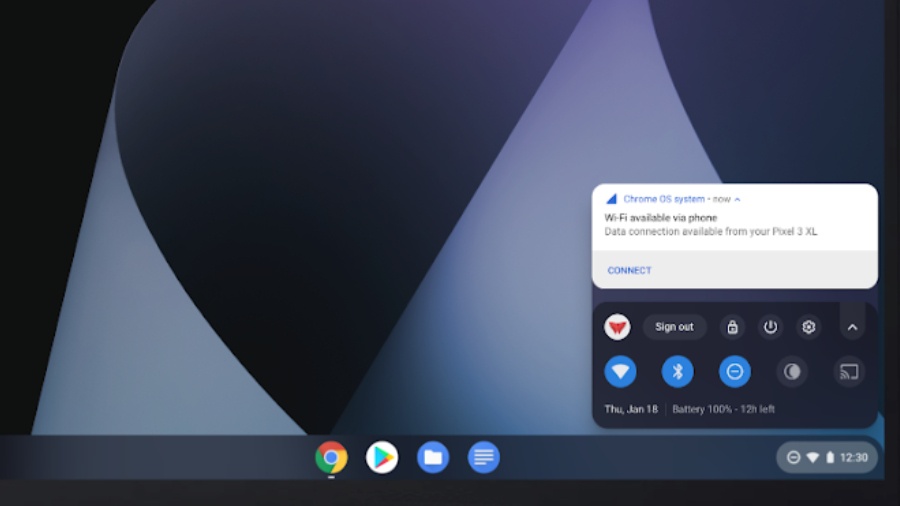 The initial setup will require pairing your Android phone with Chromebook and then enabling the feature under connected devices. After the initial setup, one can unlock Chromebook via the Android phone or send and receive Messages through the web.
Moreover, the network strength and phone battery also appear on the Chrome OS device. And, after 10 minutes of Chromebook inactivity, the feature will automatically disconnect.
Instant tethering is a part of "Better Together" initiative through which Google aims to improve the user experience of those who own a Chromebook as well as an Android device.
Here is the list of devices that now supports Instant Tethering —
Chromebooks
Acer Chromebook 13
HP Chromebook 11 G5
Acer Chromebook 14
HP Chromebook x2
Acer Chromebook 15
HP Chromebook x360 14
Acer Chromebook R11
Lenovo Yoga Chromebook C630
Acer Chromebook Spin 13
Samsung Chromebook 3
ASUS Chromebook C423
Samsung Chromebook Plus V2
ASUS Chromebook Flip C302
Samsung Chromebook Plus V2 LTE
Dell Inspiron Chromebook 14
Android Devices
HTC U11, U11+
HTC U12+
Huawei Mate 10, Mate 10 Pro
Huawei Mate 20, Mate 20 Pro, Mate 20 X
LG G7 ThinQ
LG V30, V30+, V30S ThinQ, V30S+ ThinQ
LG V35 ThinQ
LG V40 ThinQ
Motorola Moto Z
Motorola Moto Z2 Force
Motorola Z3
OnePlus 5, 5T
OnePlus 6, 6T
Samsung Galaxy S7, S7 Active, S7 Edge
Samsung Galaxy Note 8
Samsung Galaxy S8, S8+
Samsung Galaxy Note 9
Samsung Galaxy S9, S9+
If your device is not listed in here, you will have to wait a while as Google plans to roll out the feature to more Chromebooks and Android devices in coming months.