Call of Duty Mobile fans speculated that after being delayed, Season 9 might release by the end of this week. Well, it looks like the rumors were indeed true.
It's finally confirmed that Call of Duty Mobile Season 9 will launch on August 16th. It further means that players will be able to see all the amazing new content by Saturday.
Call of Duty Mobile confirmed the release date for Season 9 through an in-game banner. The banner flaunts the upcoming Shipment 1944 map along with the message that 'New Season arrives August 16th."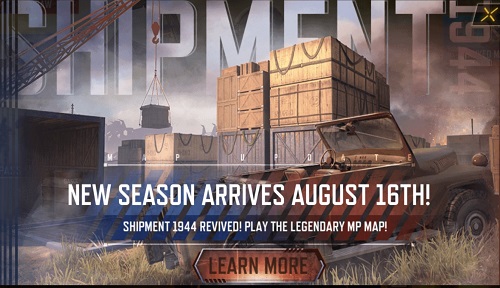 Interestingly, the Season 9 is rumored to be called 'Conquest' with a World War II theme. However, Call of Duty Mobile didn't confirm any title or theme for Season 9 as of yet.
If the Shipment 1944 Multiplayer map is arriving along with the new season, then it means that the rest of the new content would also arrive on Saturday. Generally, the content update arrives before the launch of the new Season. So, there is also a possibility that you might see the major update before Saturday.
Call of Duty Mobile teased a lot of new content for the upcoming season, including the much-awaited Gunsmith feature.
Other than that, Call of Duty Mobile will introduce some major changes in the Battle Royale mode. For starters, there will be four new locations in the 'Isolated' Battle Royale map. Also, the airdrops will contain players' customized loadout, which is quite exciting.