Rockstar Games is still tight-lipped on anything regarding GTA 6. However, fans have been looking everywhere to find at least something on the much-awaited sequel of GTA 5.
One fan who goes by the name ItsThatOrangeGuy on Reddit managed to find a hint for GTA 6 location in Super Bowl 54 broadcast. He presented a compelling piece of evidence confirming that GTA 6 will take us back to Vice City.
This evidence came after FOX News and BBC used Vice City callbacks in the Super Bowl broadcast.
The Super Bowl 54 broadcast by Fox News showcased the Vice City Heads Up Display(HUD) to display the kick-off time. The HUD we are talking about here shows things like star level, money, time, and health in GTA Vice City.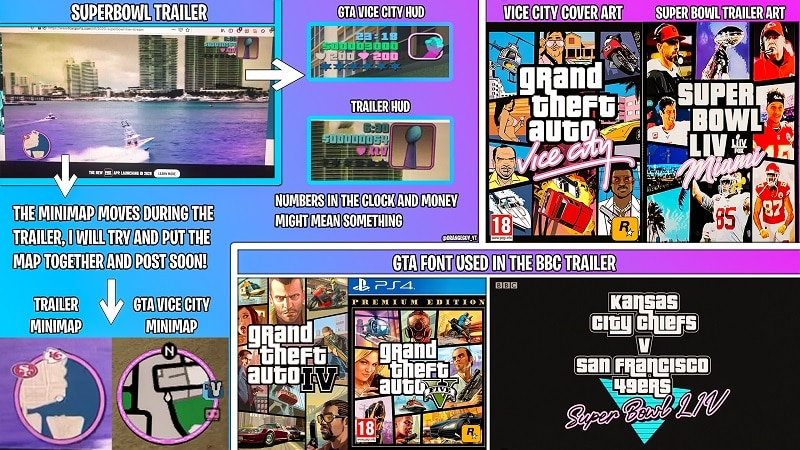 The fact that makes this even more interesting is that FOX News used a map to show the locations of two teams, which looks exactly like the map in Vice City.
Of course, the BBC followed a similar trend by using the Vice City's blue and pink font in the Super Bowl trailer.
Also, the decor of Vice City cover art and Super Bowl trailer art looks insanely similar.
People also pointed out that this Vice City reference in the Super Bowl trailer can only be possible if Rockstar arranged it. It's not merely a coincidence that this reference came around the time when we are getting close to the release of GTA 6.
There are already several rumors on GTA 6 locations floating on the internet, most of them hinting towards Vice City. So, after the Vice City reference in Super Bowl 54 broadcast, let's add one more rumor to the list.