Aliens: Fireteam Elite, a third-person shooter game, finally has a release date. The game, previously called Aliens Fireteam, made a minor adjustment to the name by adding "Elite." The game will launch on August 24th, 2021.
Aliens: Fireteam Elite is an upcoming co-op shooter game set in Ridley Scott's Alien trilogy. This upcoming Aliens game is set 23 years after the original film's events; players will engage as new recruits upon the UAS Endeavor.
You can check out the trailer below.
Aliens: Fireteam Elite
As a cooperative PvE, players will be dropped in a fight to contain the xenomorph threat. The players will engage 20 different types of xenomorph threats, each with unique abilities to ambush, outsmart, and finish the marines.
Moreover, the pre-order announcement has its perks, "Pre-order any edition of Aliens: Fireteam Elite and receive the Hardened Marine Pack, which includes the Bandana Head Accessory, Digital Red Camo Weapon Color, 3 Weapon Decals, and "Chestburster" Joke Emote."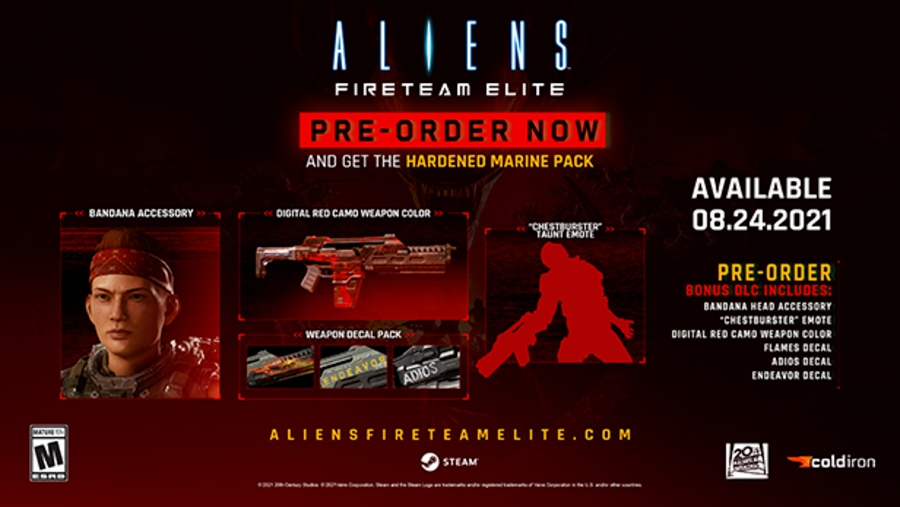 Along with this, a Digital Deluxe Edition will be available. It will include the Endeavor veteran pack and Endeavor pass, containing additional DLC bundles. The DLC bundle will contain class kit skins, weapon colors, head accessories, etc.
The gameplay of Aliens: Fireteam Elite is already out, and thanks to it, we know that the game is everything an Aliens game should be. While the game does justice to the original Aliens trilogy, it does well on the graphics too.
Moreover, you constantly get an eerie feeling while playing, thanks to an excellent job that the developers have done with the sounds. Frankly, fans of the Alien franchise would love the game, considering this sort of game should've been made earlier.
The game will release for Xbox One, Xbox X, PS4, PS5, and PC. Furthermore, the game will cost $39.99, regardless of the platform you choose to play it on and is currently up for pre-order.