Over the past few years, YouTube has grown from a simple online video platform to an entire streaming house. Apart from long YouTube videos, you can rent out movies, watch YouTube originals, and tune in to hours of streams from your favorite creators.
But why do it all alone when you can watch YouTube together with your friends, even if they are miles away from where you are. In this article, we will look at some of the best sites that let you watch YouTube videos together with your friends. Let's begin —
7 Best Sites To Watch YouTube Together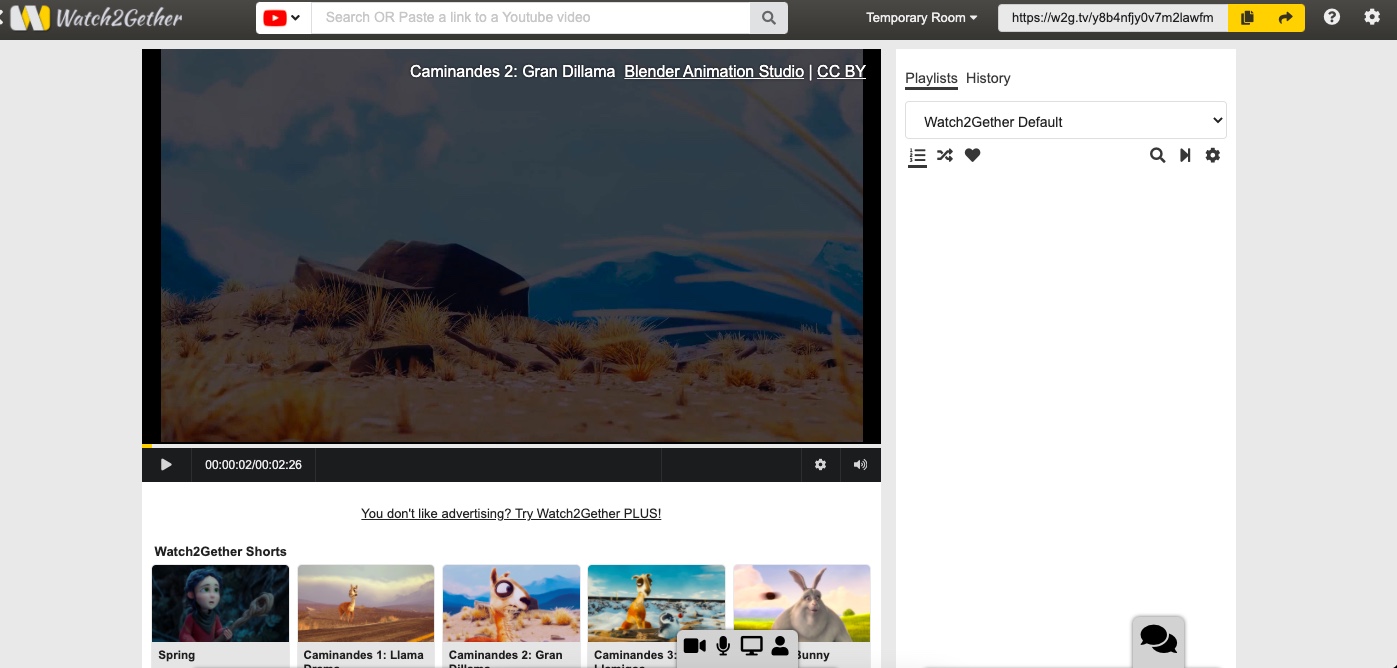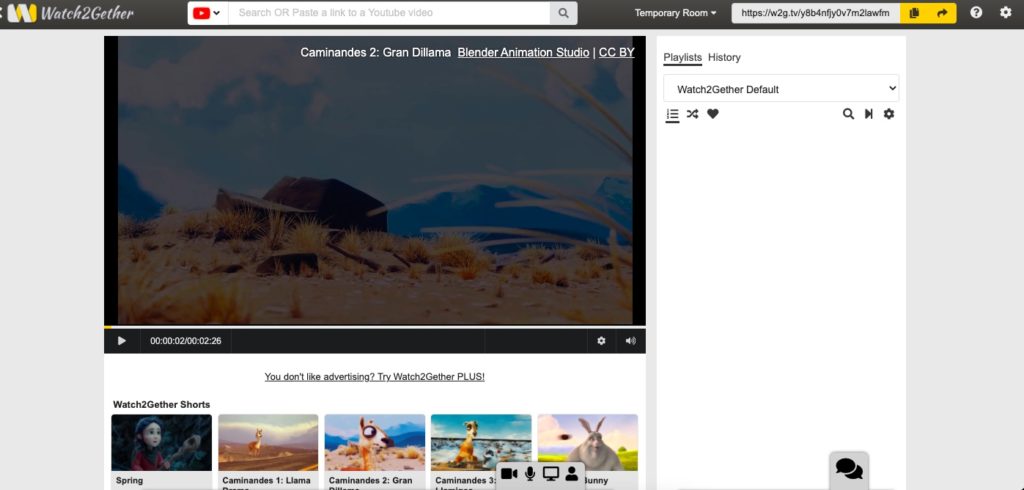 First on our list is Watch2Gether: One of the top sites if you are planning to watch YouTube together.
The best part about the site is that you don't have to sign up. Just create a room and send the room link to your friends. They can start watching videos together with you as soon as they open up the link.
On Watch2Gether, you can chat with people, video call them, or even share your screen. In its settings, you can limit the number of controls other members have. There is also an option to change the background image.
One big problem with Watch2Gether is that the temporary room page feels cluttered, which can be off-putting. The website also has ads but that can be removed by buying the premium version of Watch2Gether.
Apart from YouTube, you can browse together Facebook, Instagram, Vimeo, Dailymotion and several other websites like YouTube. Overall, it's one of the best places to watch YouTube with your friends.
Why use Watch2Gether?
Works on both PC and smartphones
No signup required
You can change the background of the webpage
Support voice chat and video chat
Popcorn for YouTube and Netflix is a Google Chrome extension that can be installed on any system. That means if one of your friends is using a smartphone, avoid using Popcorn to create a watch party.
On the bright side, once the Chrome extension is installed, you can start watching YouTube videos together with your peeps on the official YouTube site. You will see a simple Popcorn toolbar right below the YouTube video which includes options to start a party, schedule a party, draw, play games, and send texts.
There is also a Popcorn menu where you can see other public parties. The menu can be turned into a floating toolbar. Overall, it's a good way to watch YouTube videos together, however, all people joining the party would have to sign up.
Why use Popcorn for YouTube and Netflix?
You can watch videos together on the default YouTube website
Simple to use and the menus are not intrusive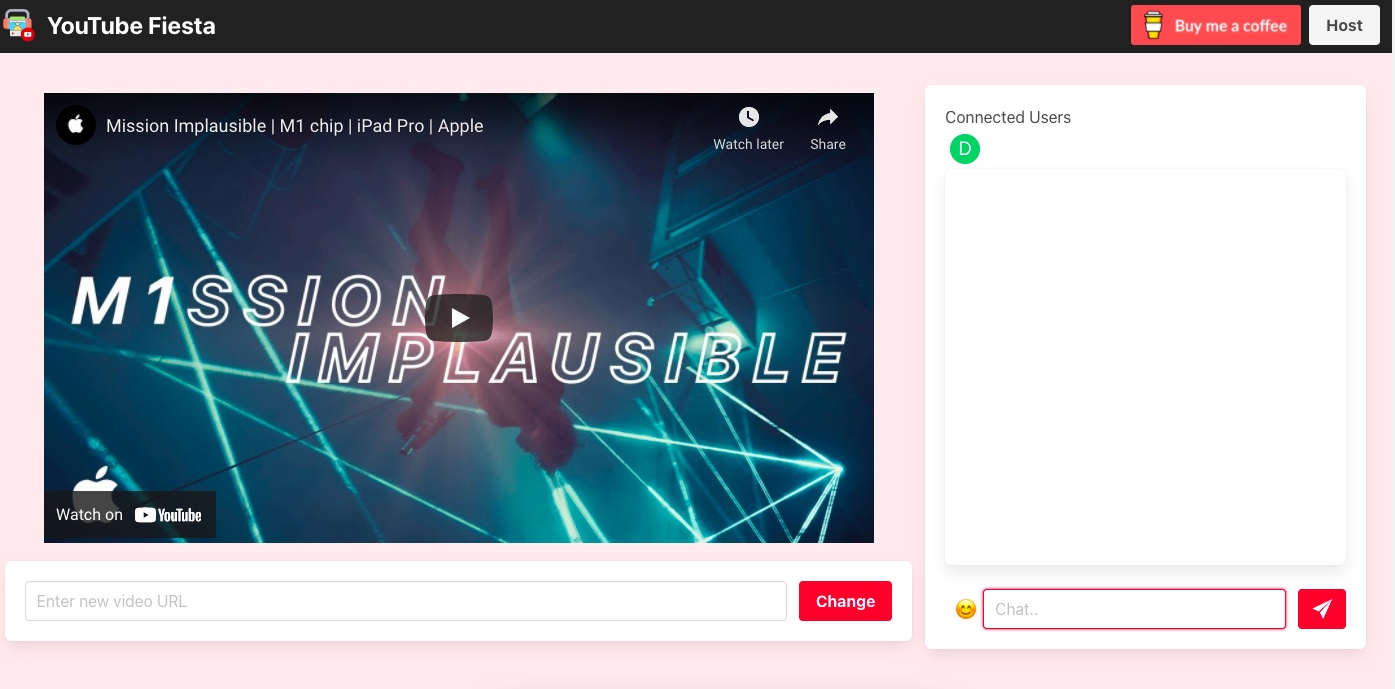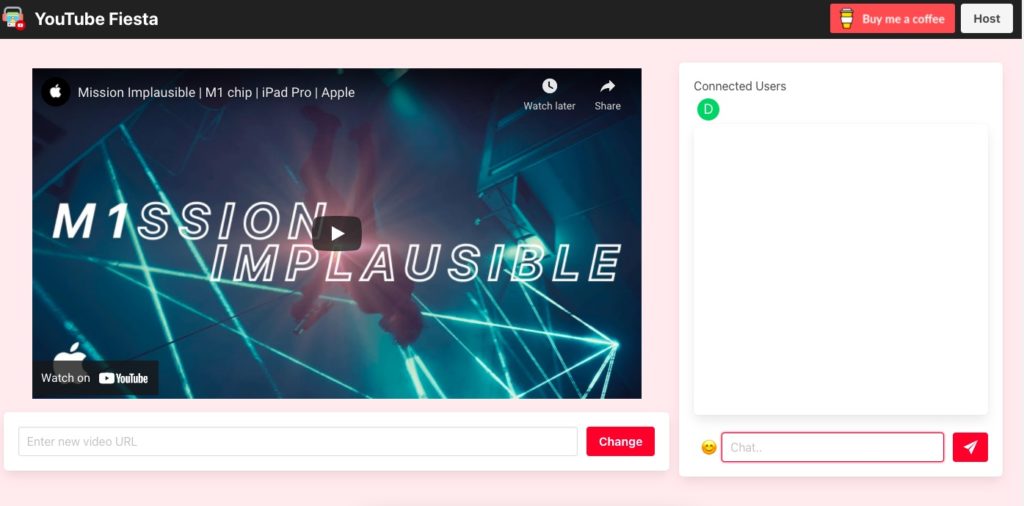 Another site where you can watch YouTube with friends and one of my favorite is YouTube Fiesta.
The site greets you with this animated and colourful webpage. The page features an option to either host a YouTube watch party or join one. You just need to put in a username and a YouTube link to start watching videos together. The website doesn't require users to sign up. Before hosting a party, you have the option to keep the player controls only in the hands of the host.
Some users may find YouTube Fiesta's minimalistic approach problematic as you can only chat with other users while watching the video.
Why use YouTube Fiesta?
No ads and sign-up required
Works with PCs and smartphones
Has an easy-to-use interface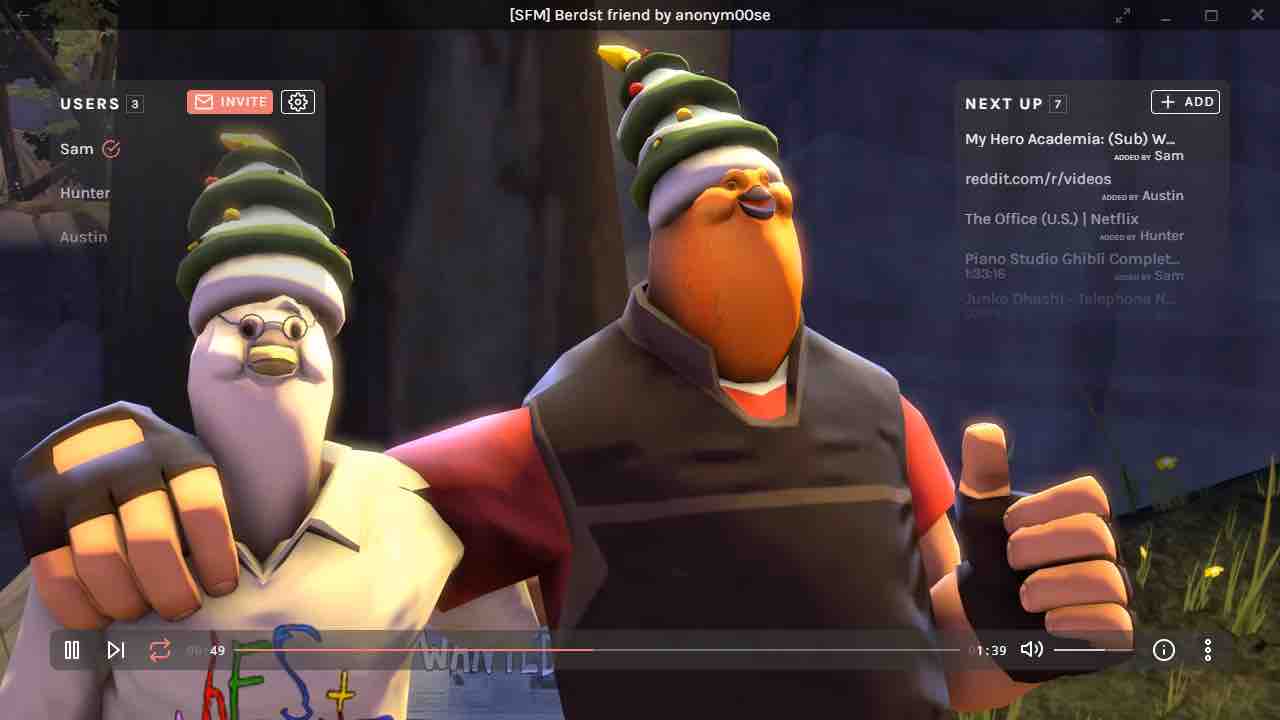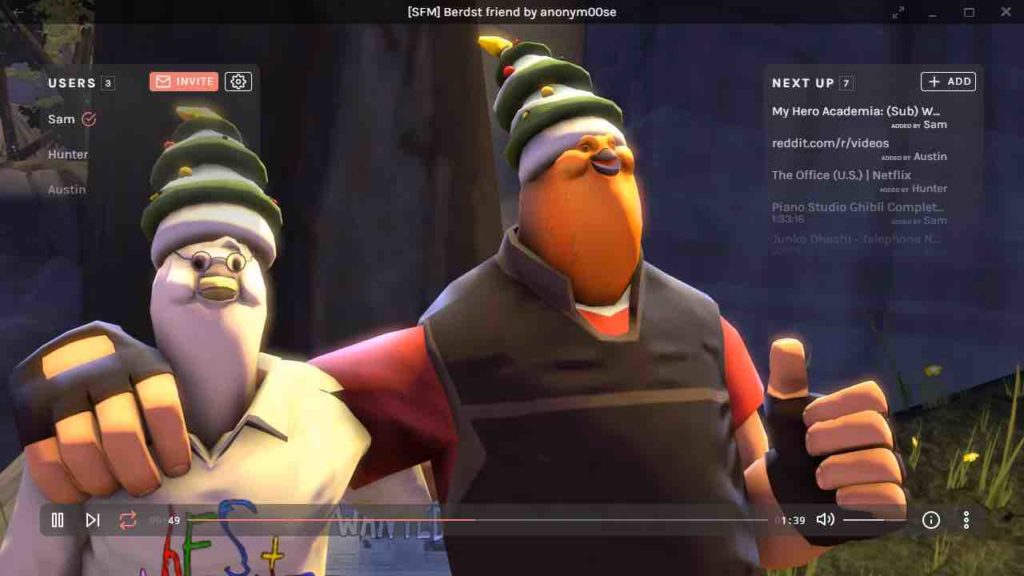 Metastream is another cool website where you can watch YouTube videos at the same time as your friends. It's a small open-source project developed by Samuel Maddock and it's ad-free.
To host or join a YouTube party session, users will have to install the Metastream Chrome or Mozilla extension. Metastream supports real-time chat and WebRTC peer-to-peer connections.
The session can be made public, private, or offline and the host can determine the number of users that can enter the session. Aside from YouTube, you can stream Netflix, Hulu, Twitch, Crunchyroll, Disney+, and more.
Overall, Metastream is a great intuitive site for watching videos together with your folks.
Why use Metastream?
The project is open-source and ad-free
No sign up required
Sessions can be turned private and no. of users can be limited
Similar to Metastream, users will have to download the Twoseven Chrome or Firefox extension in order to watch YouTube with friends. But this one requires signing up.
On the plus side, the YouTube synchronization in Twoseven is smooth. Other than real-time chatting, people can share voice chat and video chat. Twoseven supports a ton of streaming services, including Netflix, Apple TV, HBO Max, Vimeo, Crunchyroll. You can even watch personal videos together and share a screen.
The watch together app also supports Hulu and Disney Plus but that requires paying a small subscription fee.
Why use Twoseven?
Supports voice chat and video chat
Supports a ton of other streaming services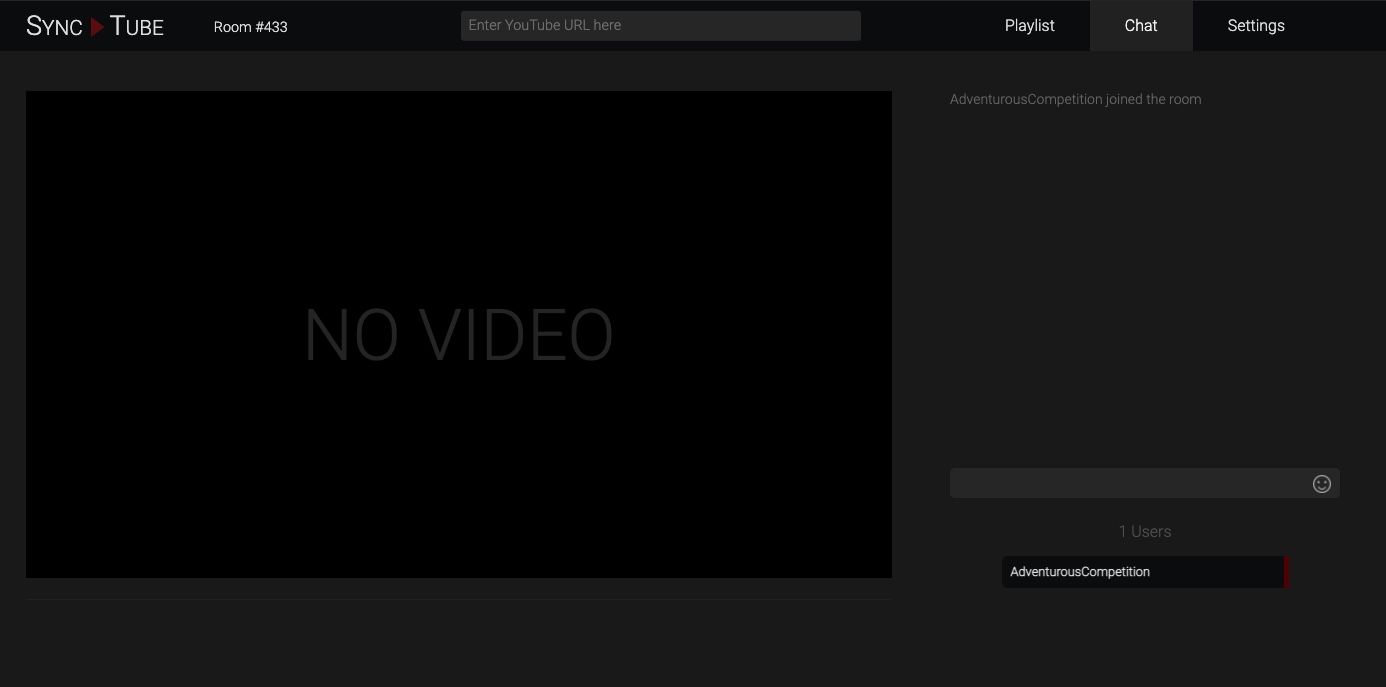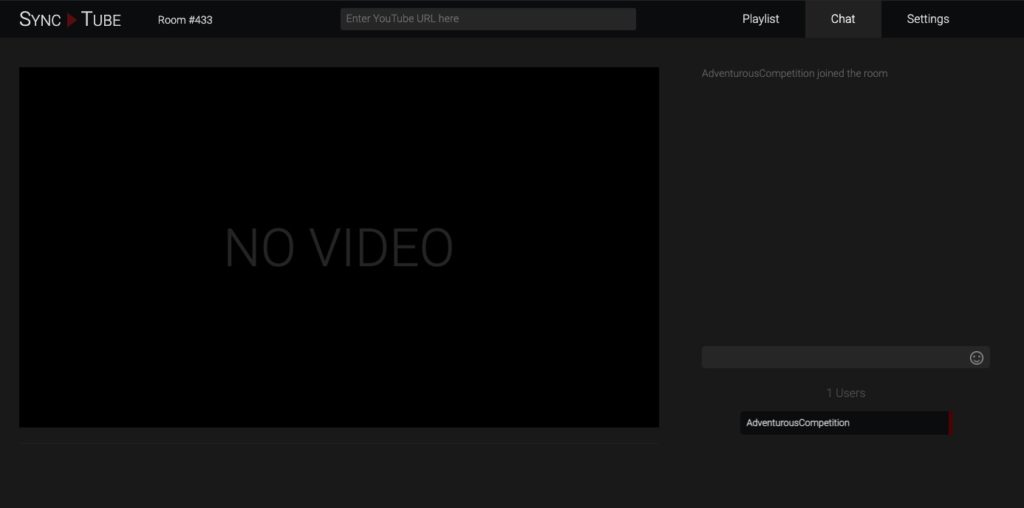 If you want to skip sign-ups and creating usernames, SyncTube is best for you. The homepage is extremely minimal and has the option to host a room and browse rooms out front.
You can get started by posting the YouTube link and sharing the webpage link with your friends. You can change your username afterward if you wish to do so.
SyncTube has a lot of moderation options in the settings for the guest, owner and the moderator. The room can be made public and its name can also be changed.
Sadly, the website only supports real-time chat. People looking to video chat with their friends while watching YouTube together can look at other options mentioned in this list.
Why use SyncTube?
No sign up or username input required
Extremely minimal with important options out front
No ads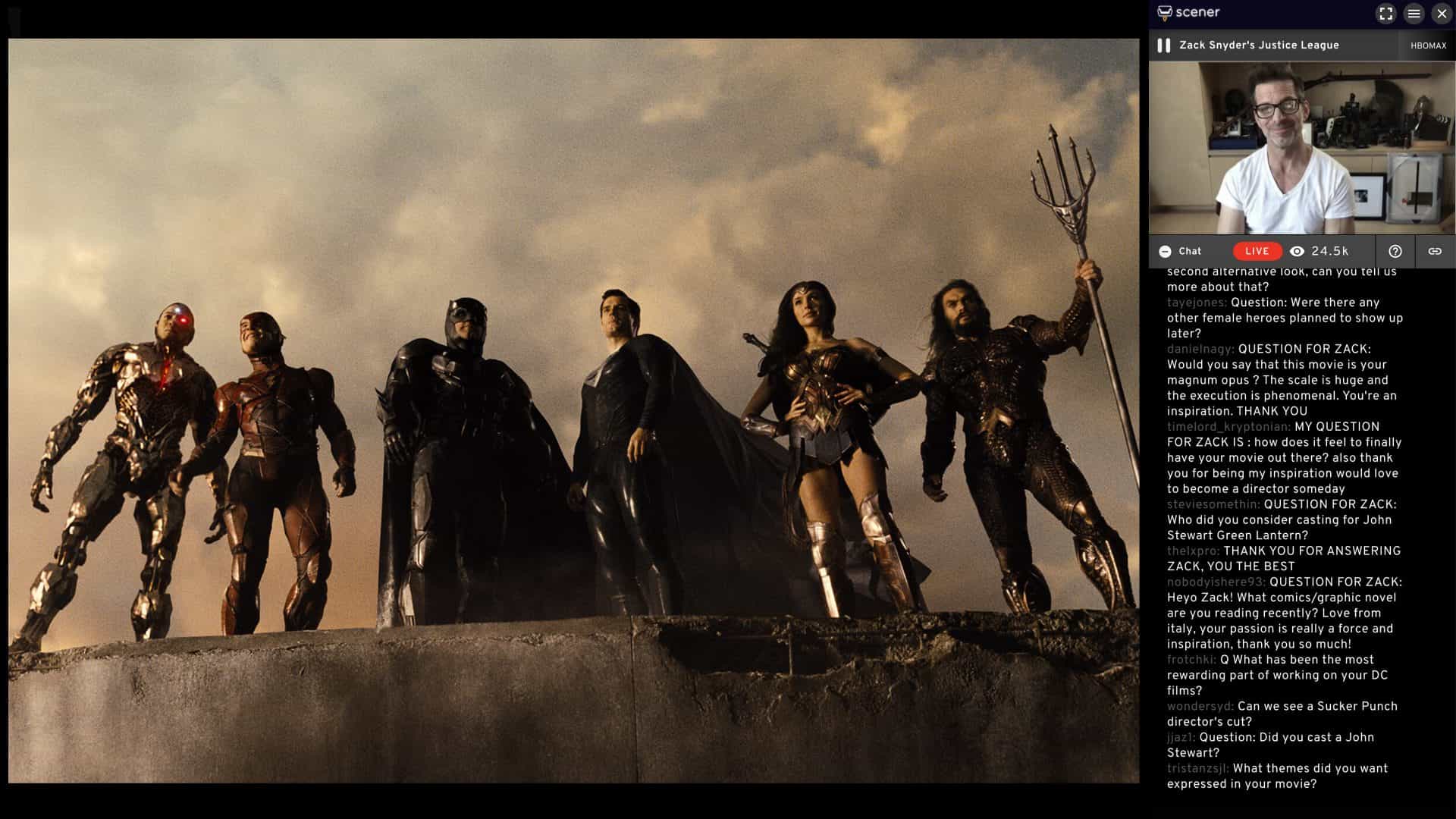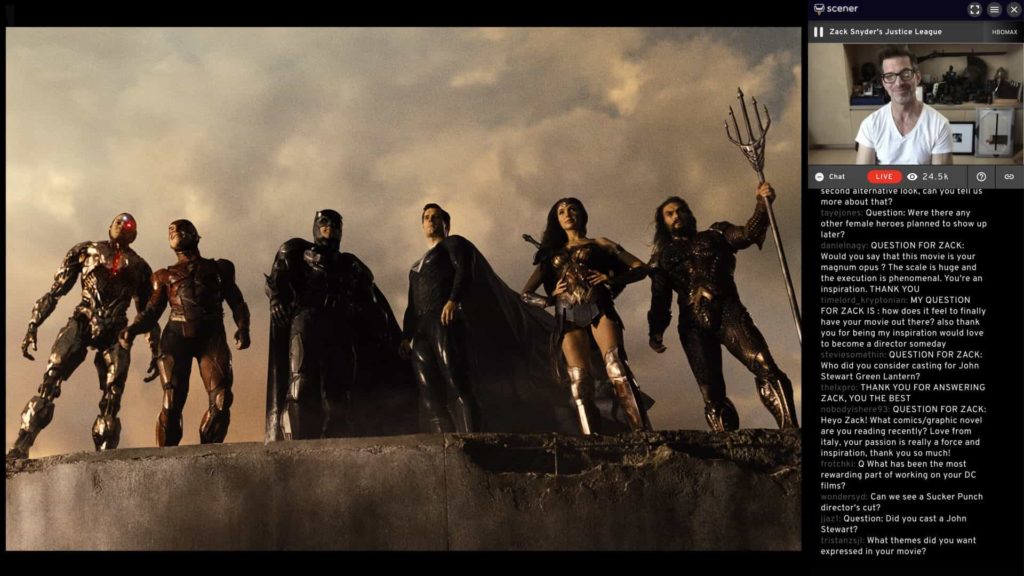 Scener is another ad-free website where you watch YouTube videos together with friends. You will need to download its Chrome extension in order to host a session or join one. Also, the website requires users to sign up before they can watch YouTube together.
Scener supports real-time chat, audio and video chatting as well. One can also join the YouTube party from a smartphone or tablet but can only chat with other users.
While YouTube synchronises perfectly, Scener's heavy interface can slow down the overall performance of the website. Other than YouTube, Scener supports Netflix, Vimeo, Prime Video, HBO Max, Hotstar and more.
Why use Scener?
Support multiple streaming services
Can join a session from a smartphone
So these were some of the best watch YouTube together sites that you can use. Apart from the above sites, you can also use standard video conferencing apps to watch YouTube together by sharing the screen.
Still, a dedicated watch YouTube site or extension would be much wiser, especially if the network speed is an issue.