Video content has evolved over the years and is one of the major sources of entertainment these days. Gone are the days where videos were only available in 3GP and MP4; many new formats have surfaced now to support high-quality videos.
For playing such videos on a smartphone, you would need a video player that supports different video formats. If you are an iPhone user, then you must have suffered at the hands of incapability and lack of features of the inbuilt video player.
Thankfully, there are plenty of third-party video player apps for iPhone that is feature-rich and enhance your video watching experience. If the number of options is making it difficult for you to choose the best video player app then here is a list you can refer to.
We have compiled a list of 10 best iPhone video player apps that offer seamless video watching experience. Features and supported formats are also mentioned with each app for your consideration and judgment.
In case you're looking for media players for other platforms, do read our articles for Android and Windows.
Best iPhone Video Player Apps | 2022 Edition
PlayerXtreme Media player for iPhone and iPad is a feature-rich video player app. It supports almost all the formats in which video content can be viewed, which means you don't have to worry about the format of the video you are playing. The interface of the app makes it easy to browse the content stored on your device to play.
Features of PlayXtreme Media Player
Videos can be played from a wide range of network devices, including NAS devices, Wi-Fi hard drive, Mac, PC, DLNA/UPnP app without converting them.
The app supports casting through AirPlay and Google Chromecast.
Gesture controls for increasing/decreasing volume and seek.
The Premium version of the app also offers the feature to add a password to the app.
Subtitles can be downloaded in real-time.
PlayXtreme Media Player is one of the best video player apps for iPhone. It is a free app and offers tons of features with support for most formats.
Supported Formats
3gp, asf, avi, divx, dv, dat, flv, gxf, m2p, m2ts, m2v, m4v, mkv, moov, mov, mp4, mpeg, mpeg1, mpeg2, mpeg4, mpg, mpv, mt2s, mts, mxf, ogm, ogv, ps, qt, rm, rmvb, ts, vob, WebM, wm, wmv, iso, wtv, video_ts
2. KMPlayer – Best Player For iPhone To Play 4K Content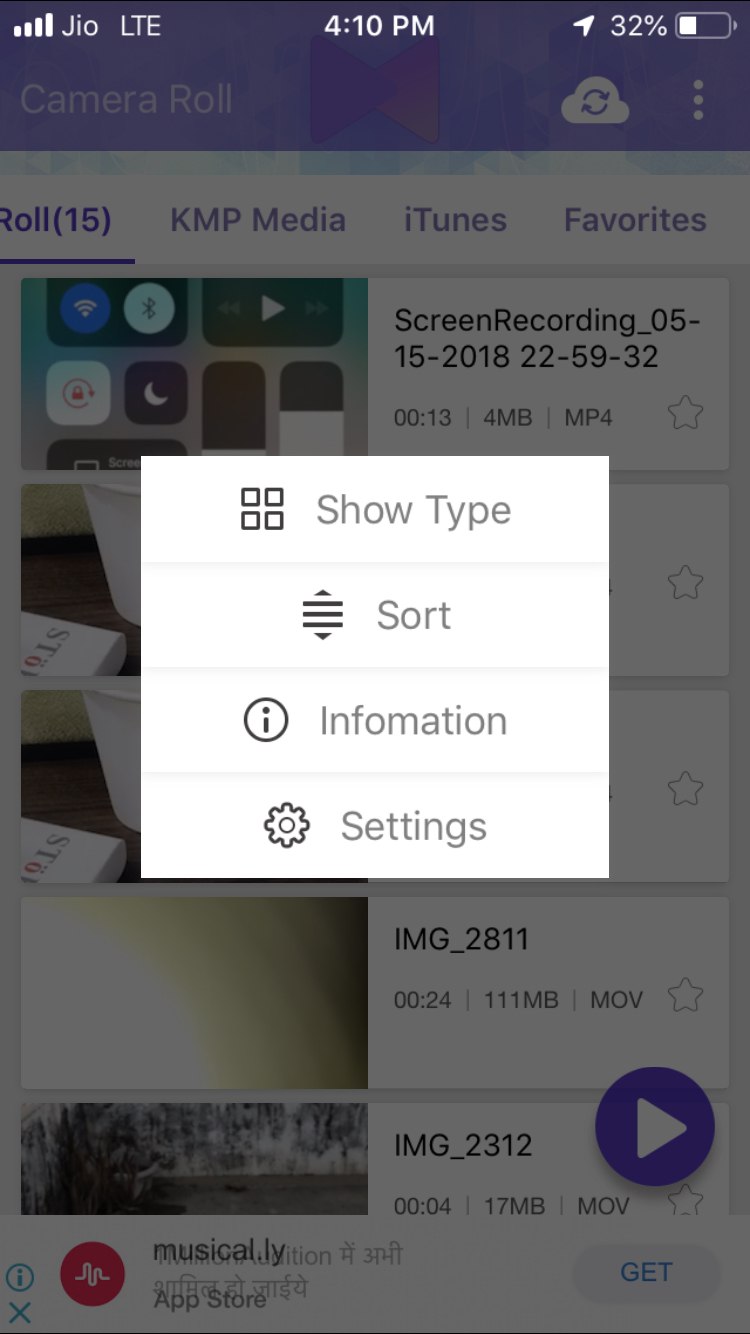 If you are looking forward to a video player on iPhone that supports 4K videos, then your search ends at KMPlayer. It allows you to watch videos flawlessly without worrying about the format and encoding of video as it supports a variety of formats.
Videos can be played from cloud storage and network services. An easy-to-use interface combined with rich features makes this app special.
Features of KMPlayer:
Gesture functions for speed video playback and controlling volume.
Network services such as Google Drive, FTP, and Dropbox are supported.
This video player supports different codec formats such as H.265, VP9, etc.
3D, 4K, and UHD videos can be easily played in KM player.
KMPlayer is one of the best free iPhone video players given its features and well-designed interface. The app is available in more than 230 countries and can be accessed in 36 languages.
Supported Formats
3gp, 3gp2, 3gpp, amv, asf, avi, axv, flv, f4v, gvi, gxf, m1v, m2p, m2t, m2ts, m2v, m4v, mks, mkv, moov, mov, mp2v, mp4, mpeg, mpeg1, mpeg2, mpeg4, mpg, mpv, mt2s, mts, mxf, nsv, nuv, oga, ogg, ogm, ogv, ogx, spx, ps, qt, rec, rm, rmvb, tod, ts, tts, vob, vro, webm, wm, wmv, wtv, xesc.
3. OPlayer Lite – Best Video Player for iPad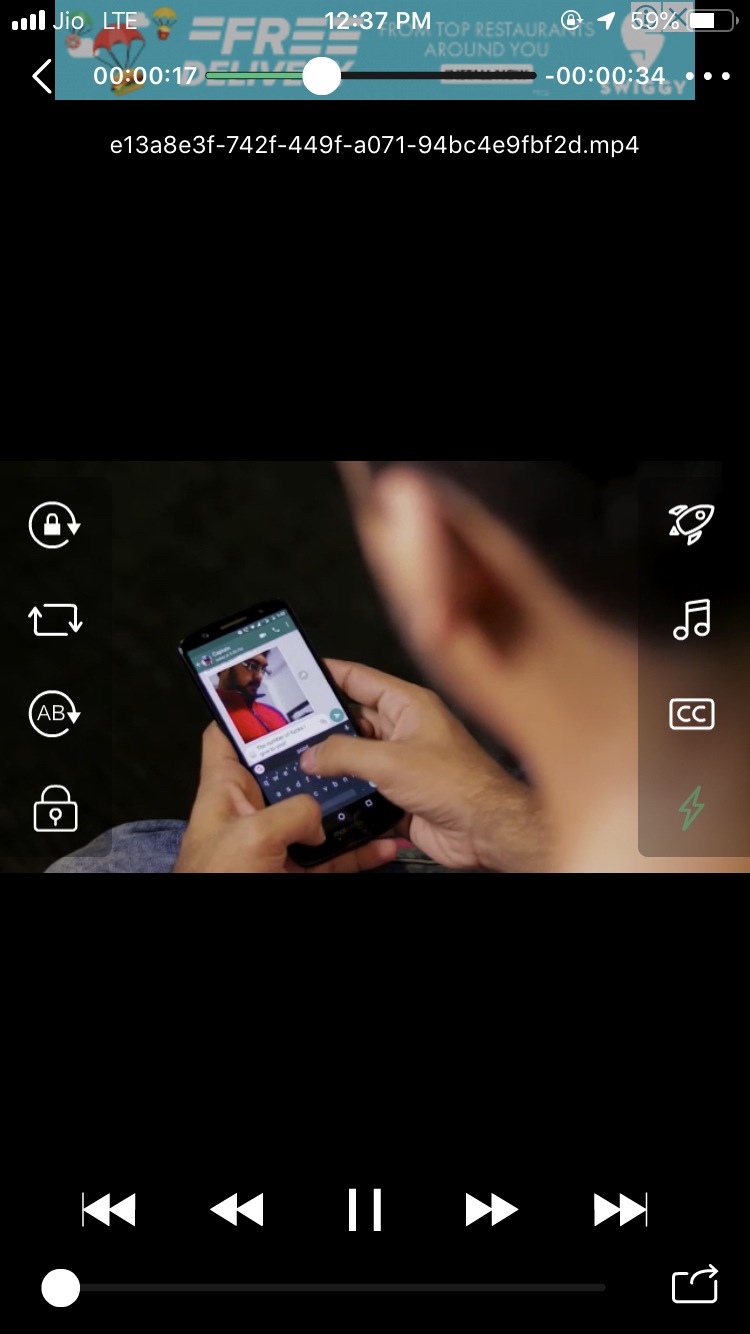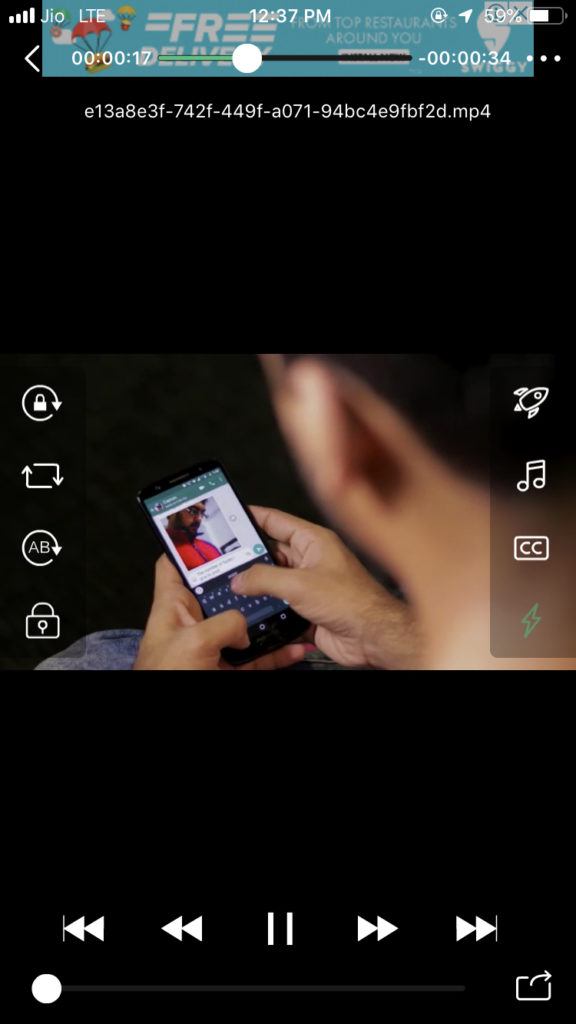 Enhance your video watching experience on iPad with the OPlayer Lite video player app. With support for multiple formats, this media player app has many features to make it your favorite app.
The interface might seem cluttered to some, but you get all the features on a single screen, which means you don't have to stop the video and press buttons for accessing settings.
Features of OPlayer Lite
The app supports streams, including http, ftp, samba, rtp, stsp, mms, etc.
Videos can be played in the background, unlike other video players for iPhone.
Single-handed mode for controlling video playback with just one hand.
Supports AirPlay, Mirroring, and, HDMI wire.
OPlayer Lite is largely used by many gamers to stream games with the built-in browser of the iPhone player app. The free version of the app offers a decent set of functions. If you want to use the app to its full potential, then you need to buy the premium version.
Supported Formats
mkv, wmv, avi, divx, xvid, rmvb, rm, flv, mp4, 4k, mov, 3gp, m4v, blu-ray, ts, m2ts, swf, asf, vob, h.265 (hevc), webm.
However, if you are an Android user, you can check out our list of the best android video player that you can use in 2022 here!
4. Infuse 7 – Best iPhone Media Player For Watching Movies
Firecore's Infuse 7 has to be included in this list of best iPhone video players for its features and consistency over the years. The video player has the capability to play a large number of video formats without any issue.
With commendable AirPlay and subtitle support, you can use it to stream videos from network-connected devices as well. One of the most interesting features of this movie player is its clean and organized interface.
Features of Infuse 7
The app syncs with Trakt that allows you to track TV and movies you're watching.
Infuse 7 media player for iPhone can play video files of almost all formats without any delay and lag.
An elegant dark theme is a delight for night owls and movie watchers.
iTunes can be synced, and files can also be transferred via FTP.
There are two versions of the app, free and Pro. Pro is the paid version. The paid iPhone video player gives you access to premium features such as support for 4K format, HD quality audio, and cloud streaming.
The version is also equipped with decent features to make it one of the best movie players on iPhone. Infuse 7 Pro also offers lifetime updates and you can buy it on a monthly or annual subscription, or one-off lifetime purchase.
Supported Formats
3GP, AVI, ASF, BDMV, DIVX, DVDMEDIA, DVR-MS, FLV, ISO, M4V, MKV, MOV, MP4, M2TS, MTS, OGM, OGV, TP, TS, VIDEO_TS, WEBM, WMV, WTV.
5. VLC For Mobile – A Free And Open Source Video Player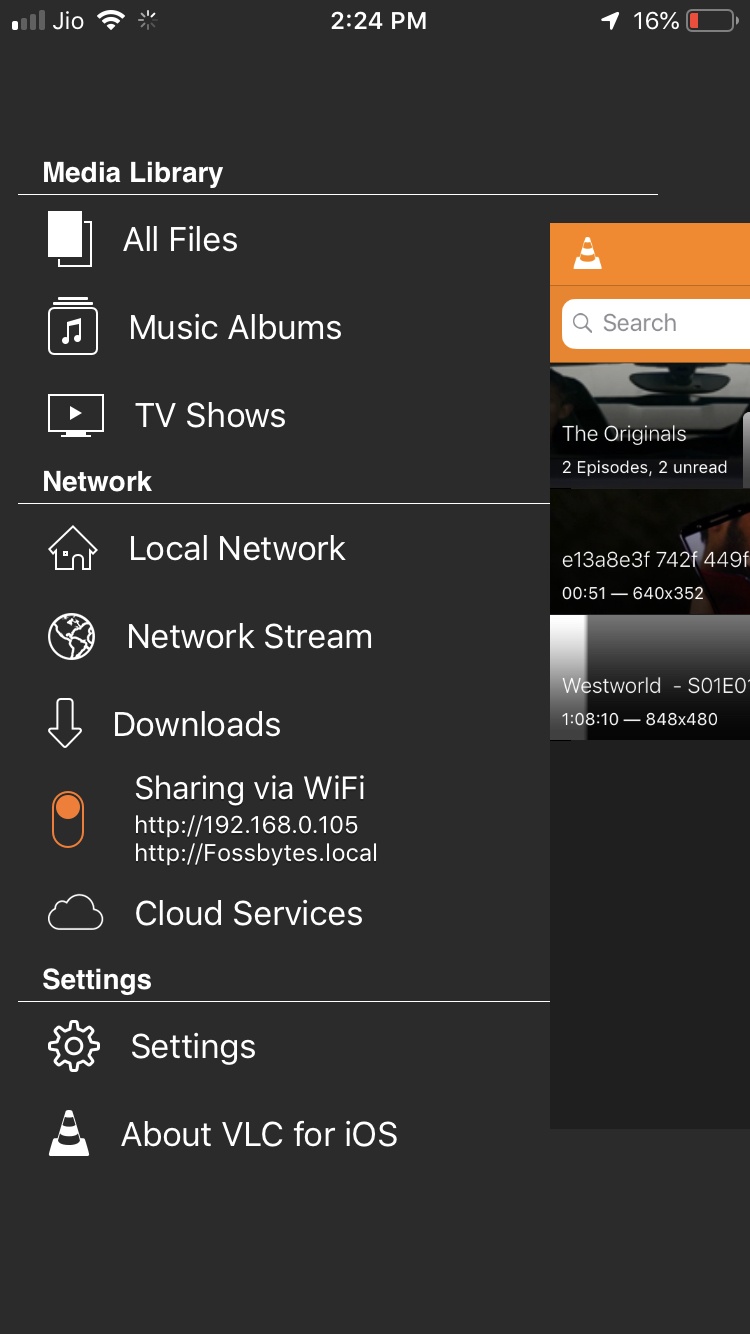 Any list of iPhone video players is incomplete without mentioning the VLC media player. The famous video player already rules desktops, and so VLC's iOS app doesn't disappoint at all.
You can play videos of any format without converting, and multiple codecs can also be played without downloading external codec packs. The minimalist design of the player also adds to its popularity.
Features of VLC For Mobile
Video files can be synced from Dropbox, Google Drive, One Drive, iCloud, and iTunes.
Support for advanced subtitles, including full SSA compatibility.
Gesture control for volume control and seek control.
Network stream is also allowed with support for HTTP, RTSP, RTMP, MMS, FTP, or UDP/RTP.
The media player app can be locked with Touch ID or passcode.
VLC media player for iPhone is undoubtedly one of the best video players for iPhone and iPad. Subtitles can be imported from the internet by entering a URL. You also get DTS and Dolby AC3 codecs on the app, which are usually not found on other iOS media players.
Supported Formats
MP4, MOV, M4V, MKV, FLV, etc.
6. 8Player – Much More Than A Video Player
8Player is not just a video player; it is a universal multimedia application for your iPhone, iPad, and Apple TV. It can work as a DLNA/UPnP, SMB, FTP player & controller. However, the doesn't support all the major formats, which is a limitation.
Users have also reduced ratings complaining about slow streaming speeds. But if you don't mind those, the app's customization options deliver a user-friendly video watching experience.
Features of 8Player
You can control media files playback on Chromecast devices and DLNA players.
The iOS media player app allows you to create and edit music playlists.
You can remotely access DLNA /UPnP servers over 3G/4G network.
A neatly designed user interface.
8Player app does not offer support for uncommon video formats. But if you want to control your Chromecast devices remotely then, there can be no better app than 8Player.
Supported Formats
avi, mkv, mp4, mov, mpg, vob, wmv, m4v, asf, flv, ogg, 3gp, divx, dv, dat, gxf, m2p, m2ts, m2v, moov, mpeg, mpeg1, mpeg2, mpeg4, mpv, mt2s, mts, mxf, ogm, ogv, ps, qt, rm, rmvb, ts, webm, wm etc.
nPlayer is one of the best video player apps for iPhone and iPad. It plays videos in almost all formats, which makes it special as you don't need to convert video files. This also allows you to stream videos from remote devices.
It ensures that movie watching on the iOS video player app. You can adjust things like volume, brightness, and seek with simple swipes on the screen. It also syncs your iPhone's videos automatically in the app.
Features of nPlayer Lite
It can import videos from cloud services, including Amazon Cloud Drive, Box, Dropbox, Google Drive, OneDrive, Yandex, etc.
The app also allows Specific section repetition, which means you can repeat from A to B.
The app supports 3D video mode and HVEC/H.264/MPEG4 hardware acceleration.
nPlayer Lite not only allows you to play videos on your iPhone/iPad but also ensures that your files are neatly arranged and organized with the inbuilt browser and file manager. It can be a good option if you want to get rid of the boring native iPhone video player.
Supported Formats
MP4, MOV, MKV, AVI, WMV, ASF, FLV, OGV, RMVB, TP, etc.
8. CnX Player – Best Video Player To Minimize Battery Drain
If excessive battery drain during binge-watching videos is your concern, then CnX player can be a handy media player app.
This lightweight video player app for iPhone can play 4K Ultra HD videos easily. All popular video formats are supported by the app so that you don't have to scramble through different video converters.
Features of CnX Player
Hardware optimized and 64-bit optimized software video decoders to reduce the battery drain.
Video casting support on AppleTV, Chromecast, and Amazon Fire TV.
WiFi file transferring feature for moving videos from PC, laptop to iOS devices.
Themes can be chosen according to your liking.
CnX Player is a good video player for playing high-quality videos without any lag. The app supports multiple video formats and helpful features such as Wifi transferring, quick switch video decoder, speed control, etc., make this a decent video player for iPhone and iPad.
Supported Formats
MKV, MP4, 3GP, MOV, AVI, TS, and many more.
9. MX Video Player – A Simple Video Player App
MX Video Player app for iPhone and iPad is a simple video player app that supports many commonly used video formats. The app's clean and easy-to-use interface is the most attractive feature is you can start playing videos right away.
It is an open source-based video player app that packs many interesting features. The iOS app is optimized for Retina display, which highlights colors and makes movie watching experience delightful.
Note: Don't confuse it with the original MX Player app that now offers originals web series and other content as part of its newly launched video streaming service.
Features Of MX Video Player
Videos saved in Google Drive and Dropbox can be played by logging into your account.
Gesture controls to adjust volume and brightness in video playback.
Option to trim video if you want to watch only your favorite part from a video.
The screen can be captured during playback and saved in the form of an image in the gallery.
MX Video Player is a free iOS video player app so you can expect occasional ad popups. Apart from this, it is undoubtedly one of the best video players for iPhone with intuitive controls and exciting features.
Supported Formats
mp4 mpeg-4, mov quicktime movie file format, avi, m4a, m4v iTunes video file format, mpeg, mpeg-2-video, aifc-audio, aac-audio, mpeg-4, au-audio, aiff-audio, mp2, 3gpp2, ac3-audio, mp3, 3gpp, -audio and etc
10. Power Video Player – Neat Video Player for iPhone And iPad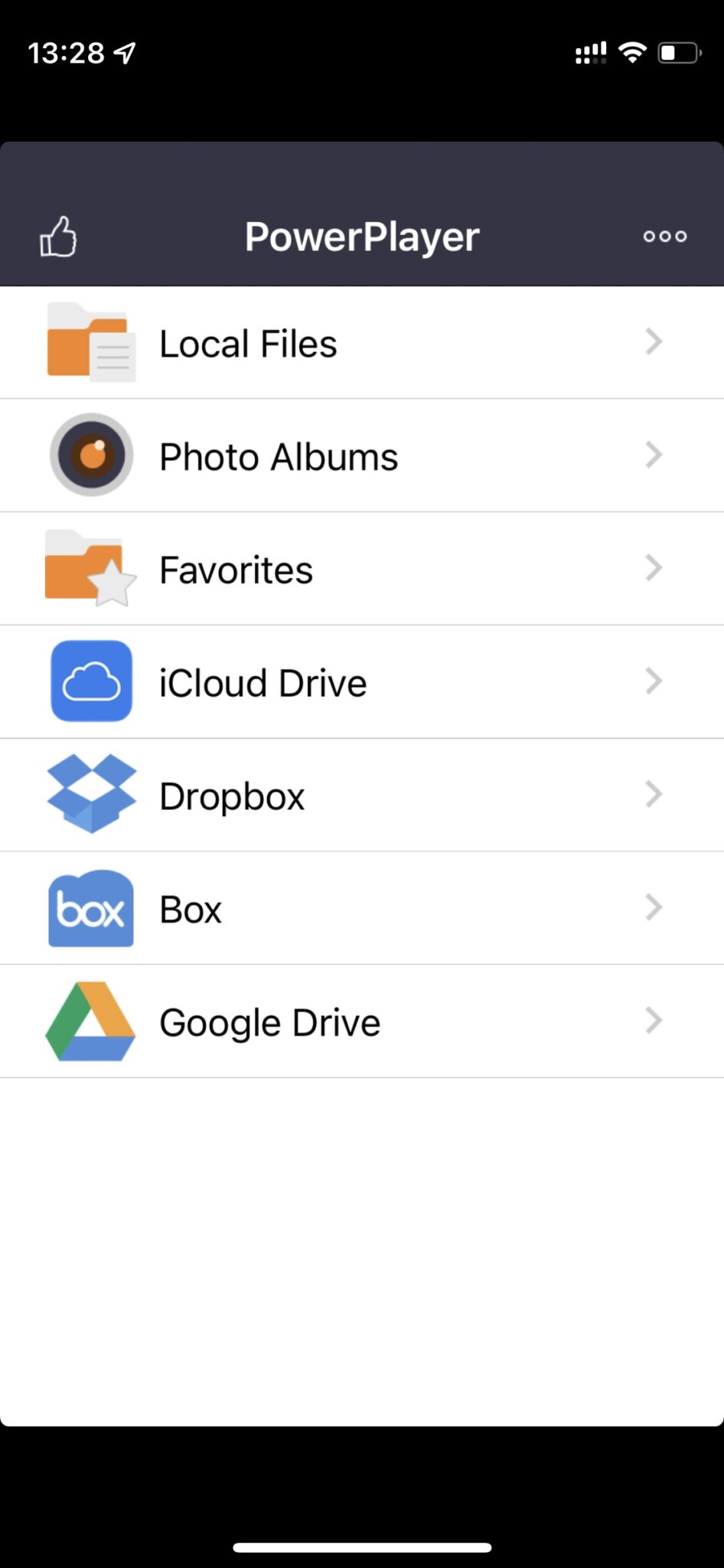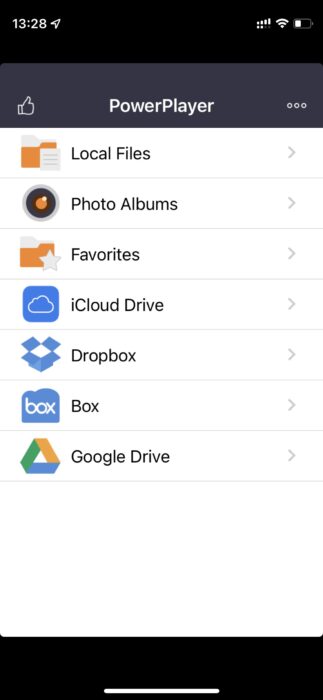 PowerPlayer is a simple and feature-packed video player for iPhone as well as iPad. The app has a neatly listed file browser and a clear player.
The free version of PowerPlayer lets you play files from your iPhone, photo albums, and iCloud Drive. You can upgrade to the paid version, PowerPlayer Pro to remove ads and unlock streaming via Google Drive and Dropbox.
Features of Power Video Player player
Clean and uncluttered interface
iCloud, Google Drive, and Dropbox integration
Picture-in-picture mode support
Supported Formats
3GP, ASF, F4V, FLV, M4V, MKV, MOV, MP4, MPG, RM, RMVB, VOB, WMV etc.
Paid Video Player Apps For iPhone
The above-enlisted apps are free to download and use. However, many premium options are also available that offer advanced features to enhance the video watching experience on iPhone and iPad. Some of the best paid video player apps for iPhone and iPad are OPlayer, MCPlayer HD, Cine XPlayer, GoodPlayer, and Power Video Player Pro.
Conclusion: Which iOS media player to choose?
The above-given list of best iPhone video player apps shows that video players are feature-rich, unlike the default video player of iPhone. You can choose a media player according to your requirements.
We have enlisted features against each player, and all the players given in the list can be downloaded from the official Apple App Store without any charge. These video players for iPhone can totally change the way you watch video content on your iOS device.
If you like this list, you should also check out our list of best photo editing apps for iPhone. We've also curated other lists like the best iPhone web brosers, best iPhone keyboards, best wallpapers apps for iPhone, and best note-taking apps for iPhone.
If you think we have skipped any awesome video player for iPhone in this list, then enlighten us in the comments. Also, for more useful iOS app lists, keep reading Fossbytes.
FAQs
Does MX Player work on iPhone?
Yes, MX Player works on iPhone. However, MX Player and MX video player are different apps. You can stream MX originals on MX Player, while MX Video player is a dedicated video player for iPhone
Which video player for iPhone has the subtite option?
All major video players support subtitles. You can also download a separate subtitle (.srt) file and add it to a video.
Which is the default video player on iPhone?
iPhone has a native video player with basic scrubbing, volume, and playback speed controls.
Should I get a video player for iPhone?
You should get a video player for iPhone if you're not satisfied with the native player and want more controls while watching videos.