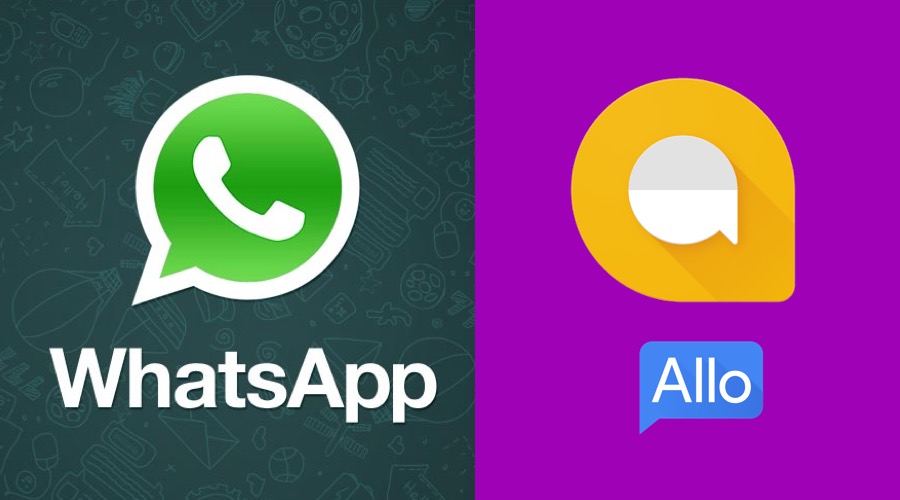 Short Bytes: The new instant messaging app Google Allo has amazing features like Smart Reply, Incognito mode, Shout/Whisper, and Google Assistant AI bot. But it faces tough competition from the Facebook-owned veteran WhatsApp. Can Google Allo take the place of WhatsApp? Here are 5 reasons why Google Allo is better than WhatsApp.
G
oogle Allo is a
recently launched
instant messaging app that could be thought of as a competitor to the champion WhatsApp. Why I'm saying this because it has some killer features which can put it ahead of other players. Allo will also avenge Hangouts and Gmail which are Google's failed instant messaging attempts.
WhatsApp is the most popular instant messaging app with around 1 billion monthly active users. That's why the newest entrant in the instant messaging space needs to defeat WhatsApp in order to become the king. So, here are five reasons Google Allo can replace WhatsApp:
1. Google Assistant
The search giant's biggest play is Google Assistant which announced at the Google I/O. Assistant is included in Google Allo as a preview version. Unlike WhatsApp, you can search people, places, food joints, etc. inside your instant messaging app.
WhatsApp's daddy Facebook is working to enable alerts for various purposes like flight timings and bank notifications. This intention was revealed when WhatsApp announced that they will be sharing your contact number with Facebook.
The Assistant is directly aimed to compete with other virtual assistants like Siri and Cortana. But the Google Assistant has a lot to learn before it could challenge the biggies. Google has plans to put Google Assistant in place of Google Now in its Android OS.
2. Smart Reply
The smart reply feature analyzes your conversations and then suggests reply texts accordingly. This comes handy when you don't want to type much for instance while you're driving. Although, I won't recommend you to do that. The smart reply feature can also analyze images and make a reply suggestion about them.
Two of my friends had a chat by the smart reply suggestions only. The best part of the conversation was that the smart reply feature started giving text suggestions in Hinglish – a combination of the Hindi and English language used in India. And they ended up having a chat which made sense.
3. Send Free SMS
You can message your friends who have a WhatsaApp account. But what if you want to contact someone who doesn't have the WhatsApp installed on their device. You won't be able to send the message. But you can do so in Google Allo. Your contacts who don't have the Allo app installed can receive texts as SMS. And it will cost nothing to you or the recipient.
4. Incognito Mode
News has been floating around that Google will not be sticking to their earlier decision of not keeping user conversation details on its servers permanently. Earlier, Google said it would be beneficial to users' privacy if the data is stored temporarily. With Allo coming into existence, it seems Google doesn't care about the aforementioned privacy drama. Now, the company gives the reason that the conversation would be used to fuel their Smart Reply feature and make it more efficient and useful.
At least, Google Allo has the advantage of the "Incognito Mode". Using incognito mode in Google Allo would disable Google from storing any of your messages on its servers, in fact, reading them at all. Also, the messages would disappear from the recipient's device after the specified time limit.
5. Whisper/Shout, Emoticons, and fresh Stickers
Google Allo has got some amazing formatting features which you'll love and one of them is Whisper/Shout. Press and hold the send button to change the size of the text and emoticons using the slider. The app also has some great emoticons and fresh sticker sets out of the box. On the other hand, WhatsApp also has some cool text formatting features which most people don't know.
Allo Vs WhatsApp
Google made Allo from scratch, not as a successor to the Hangouts. The messaging app has received appraisals for including the AI chatbot and the smart reply features. But it has also faced backlashes from whistleblowers like Edward Snowden who has been tweeting about the security concerns Allo can pose in front of the users. But some Twitteratis are asking Snowden why a normal user should care about data being stored in data centers.
It's good that the Google Allo has some amazing features. But WhatsApp is more mature and has an experience of six years. Allo will have to prove itself to a large number of WhatsApp users who put up the question, Why should I leave WhatsApp?
If you have something to add, tell us in the comments below.
Also Read: This 280-Year-Old Algorithm Powers New Google Trips Apps