The wallpaper you put on the home screen is one of the most noticeable things on your phone. A high-quality wallpaper can transform the outlook of your device. If you own an iPhone, then I am sure that the limited options for wallpapers might be a little disappointing.
You can only choose from a handful of good wallpapers. You can search Google using terms like 'cool background HD' or 'best 4k wallpaper,' but adjusting their resolution to make them fit the iPhone wallpaper size is a real task.
Thanks to so many free wallpaper apps living on the App Store, you can choose your favorite iPhone backgrounds from a myriad of choices. App Store is flooded with options, but not every app is worth downloading.
We have curated a list of best wallpaper apps for iPhone that can be helpful in case you are having a tough time selecting an app. All these iPhone wallpaper apps are tried and tested. In the past, we've published a similar wallpaper apps list for Android as well.
11 Best Wallpaper Apps for iPhone: 2020 Edition
Vellum Wallpapers
Everpix
WLPPR
Icons Skins & Themes
Kappboom
Live Wallpapers For Me
Magic Screen
Papers.co
Walli
Pixs
Unsplash
1. Vellum Wallpapers: Best App for Artistic Wallpapers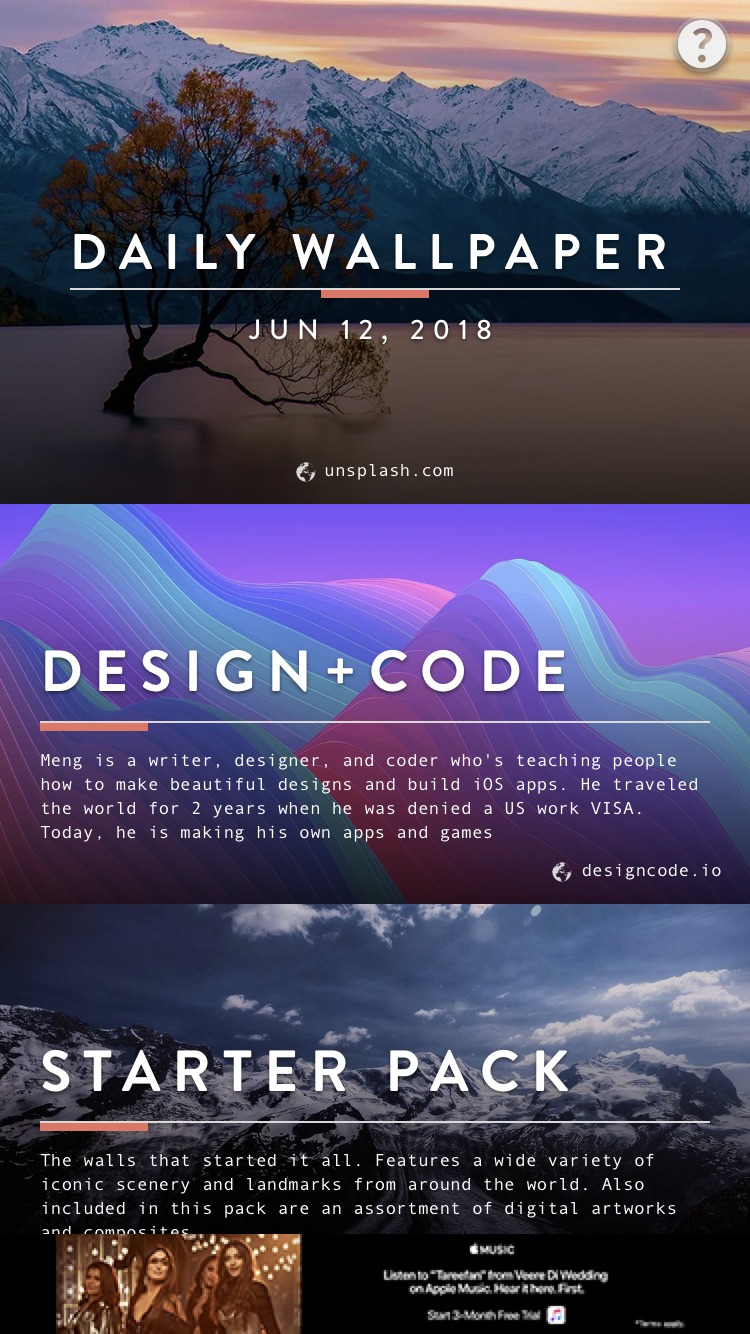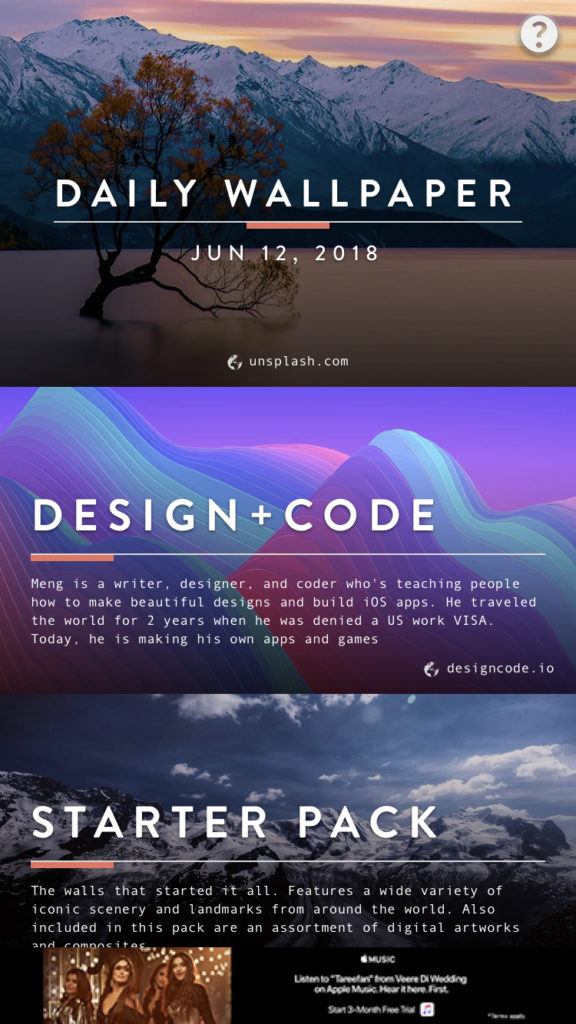 Vellum Wallpaper app features at the top of this list of best wallpaper apps for iPhone, and there are multiple reasons for it. It not only presents you with a plethora of options for choosing your favorite background, but the manner in which wallpapers are displayed in the app is a treat for eyes.
In this wallpaper app, you find hundreds of stunning scenic views, visualizations, and what not? Daily Wallpaper is a special and recommended feature of the app as a new picture is presented every day, and it will not disappoint you.
Features of Vellum Wallpaper App for iPhone
The option of previewing wallpapers on Homescreen and Lock Screen without exiting the app.
Blur filter can be applied to wallpapers.
Each wallpaper is neatly organized into different themed packs for easy accessibility.
Overall, Vellum is one of the best wallpaper apps for iPhone you will come across. There is no shortage of options inside the application. Moreover, themed packs are updated on a daily basis. One setback in the application is frequent advertisements that are justified as the app is free to download, and advertisements are the only source of revenue for the developers.
2. Everpix – Best App for HD Wallpapers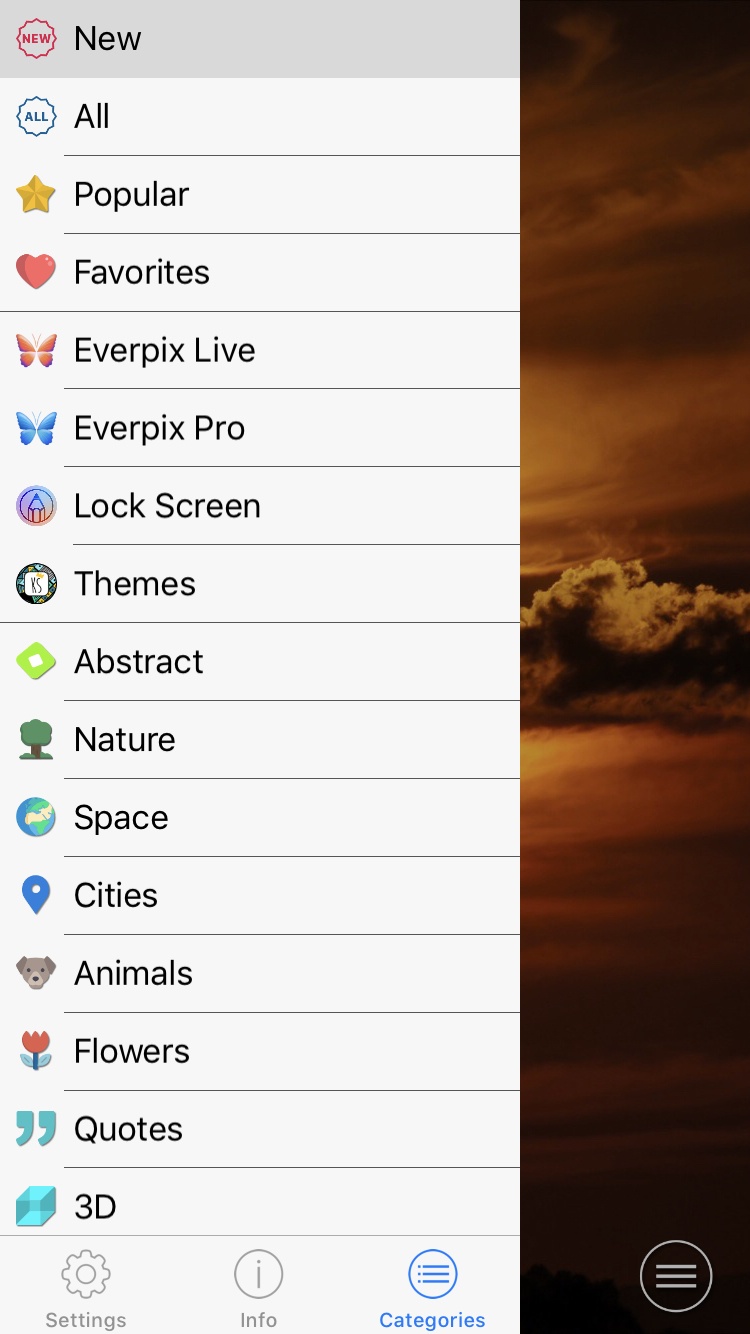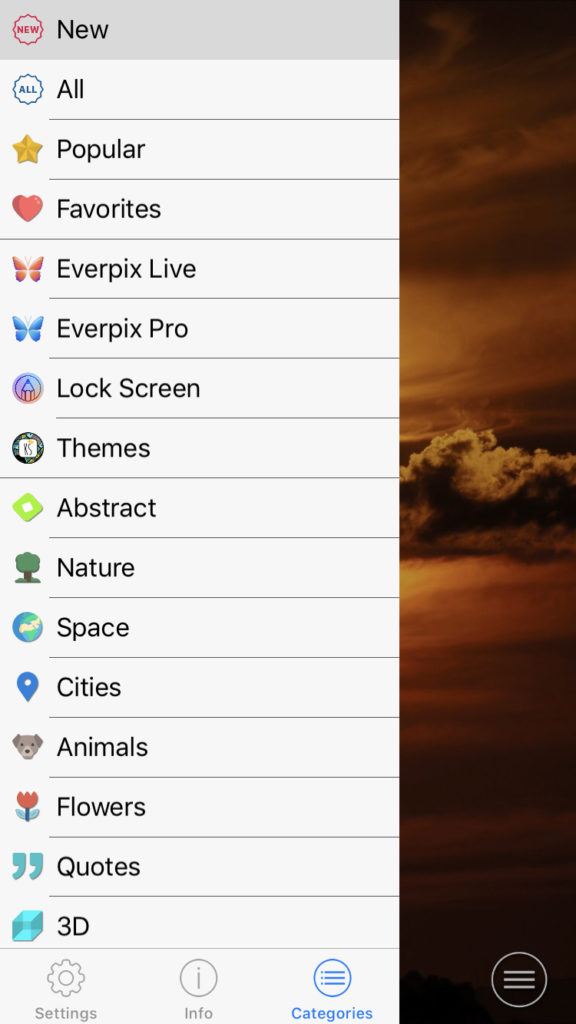 If you are looking for cool iPhone backgrounds in 4K, then download the Everpix app. Currently, there are more than 4000 wallpapers available on the app, and the collection is regularly updated.
You can browse categories and choose the desired wallpaper from the given categories. All the images featured in the application are of high definition quality, and you will surely find some of the best wallpapers for iPhone X, XS, or newer 11 series.
Features of Everpix App
Categorization of wallpapers will come handy if you are looking forward to applying a wallpaper of a particular category.
With 'Favorite' option you can mark your favorite wallpapers to access them later.
You can preview the wallpapers to get an idea of how your iPhone's background and the lock screen will look upon applying a wallpaper.
One of the best things about Everpix wallpaper app for iPhone is the number of options you have. This free app has occasional advertisements that can be ignored, given the quality and quantity of wallpapers available. You can opt for the ad-free version by paying $2.36.
3. WLPPR App – Best for iPhone Lock Screen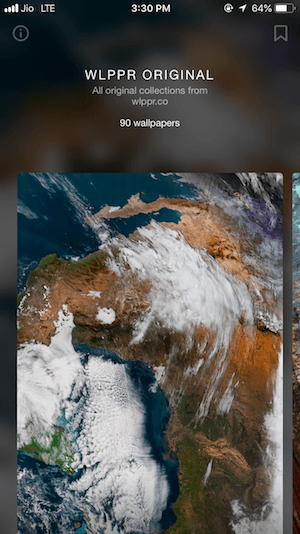 If you are fascinated with our planet Earth and universe, then go for the WLPPR app to get your hands on some cool iPhone wallpapers that will look great on the lock screen.
Seriously, stunning pictures in high definition make this application one of my favorites from the list. Along with the wallpapers, you will also find scientific sources of images and a description. WLPPR app is free to download. But, to download all the options available on the application, you need to make an in-app purchase.
Features of WLPPR App
The app allows you to add a bookmark to the wallpapers you like.
The interface of WLPPR app makes it easy to choose your favorite wallpaper in a hassle-free manner.
If you like the wallpaper, you can share the geographic location of the wallpaper with your friends.
New collections are frequently added by the app developers.
You can choose between the normal size or parallax iPhone wallpaper size after downloading.
WLPPR is one of the best wallpaper apps for iPhone if you are looking for something refreshing for your locks screen and home screen. Thanks to a vast collection and blur facility, the app is a delight for geography aficionados.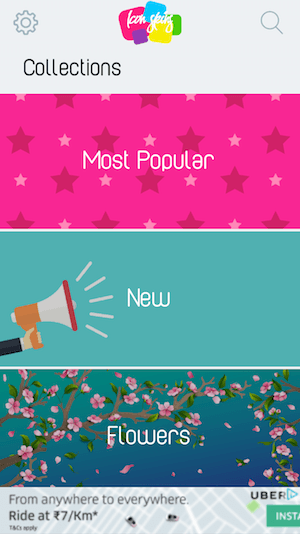 Icon Skins & Themes is a must download wallpaper app if normally available wallpapers are too simple for you. The app is home to many unique options that are appropriately categorized into different categories. The interface of the application is catchy and quite easy to maneuver, and all the images found on the app are high definition.
Features of Icon Skins & Themes Wallpaper App
Dedicated category for high-quality wallpapers for iPhone X.
The app developers update the collection on a weekly basis.
It includes a large number of handmade wallpaper designs.
Wallpapers can be blurred with the in-app tool.
Icon Skins & Themes app is designed for wallpaper enthusiasts who love to wrap their smartphones in a vibrant and unique look. You can find some of the best customization options for your iPhone in this app.
5. Kappboom – Overall Best Wallpaper App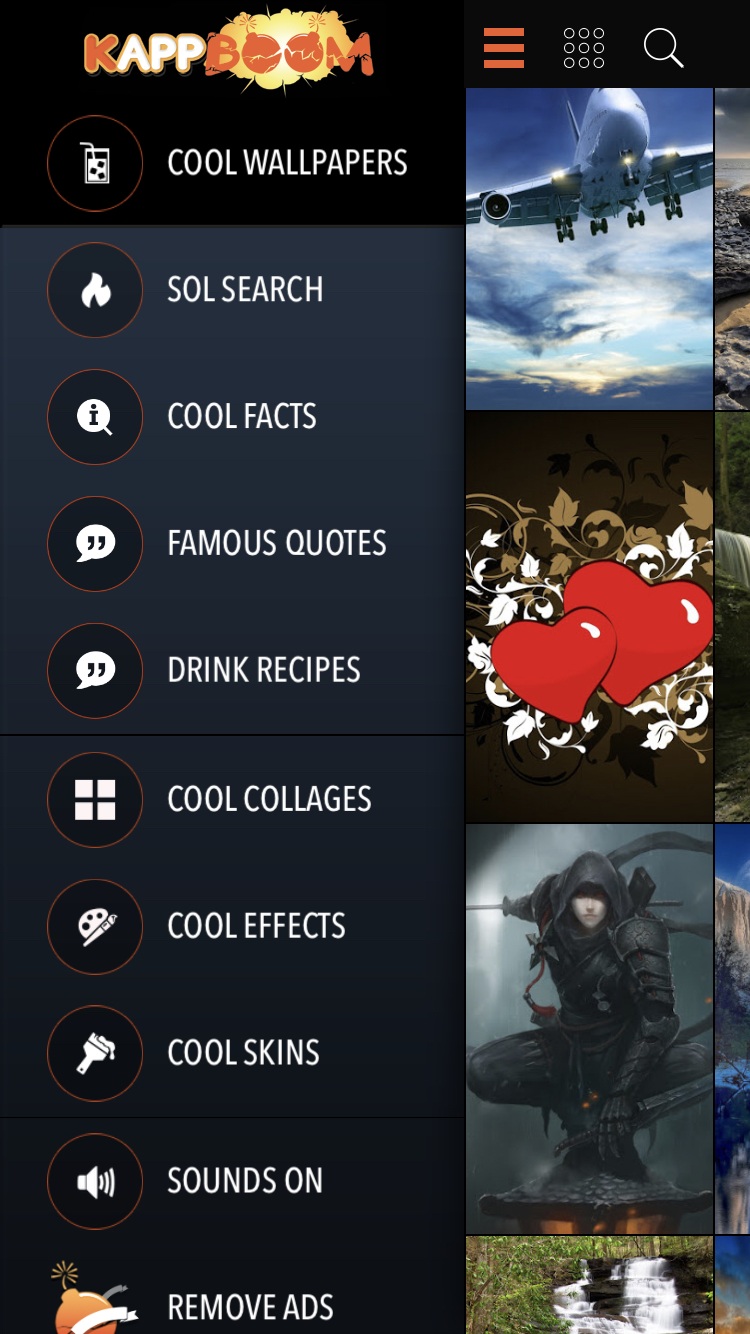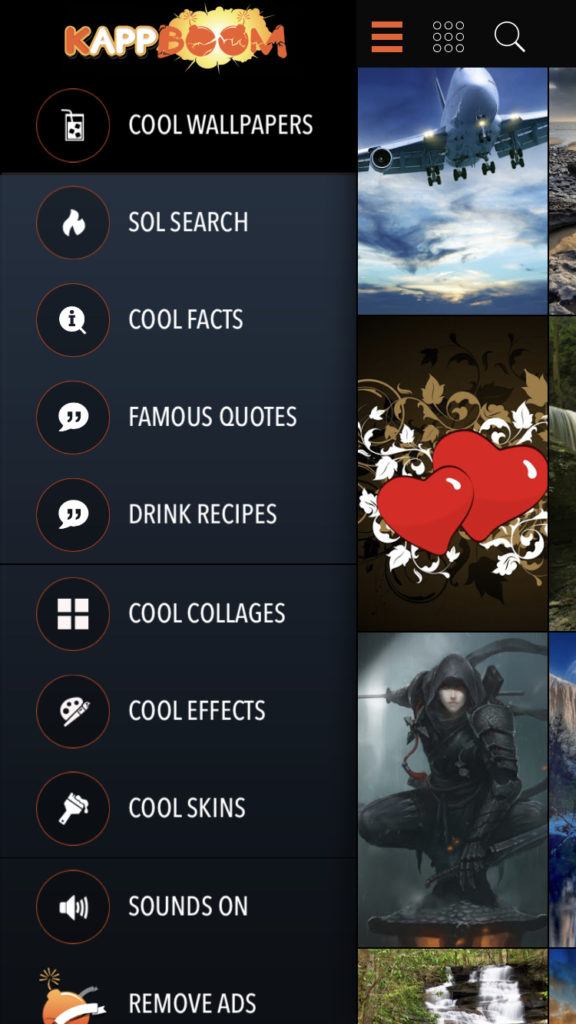 Kappboom is not only a wallpaper app for iOS devices but a lot more than it. In the Kappboom app, you can find cool facts, famous quotes, and drink recipes.
You can make collages and edit photos with the editor provided in the app. The app features more than 200,000 wallpapers, and all the iPhone backgrounds are in high definition. Here, you can find some of the best wallpaper for iPhone X, XS, or 11, if you have been disappointed by other wallpaper apps.
Features of Kappboom Wallpaper App
Slideshow option allows you to sit back, view wallpapers, and choose the best wallpaper from the large collection.
With the hold and drag option, you can add backgrounds to your favorites, find images with similar tags, and share with your friends.
Kappboom's image search option can be used for searching images online.
Create a collage with different wallpapers given in the app.
KappBoom wallpaper app is free to download, but if you are annoyed by the frequently flashed advertisements, you can opt for the paid version of the app that can be purchased for a few bucks.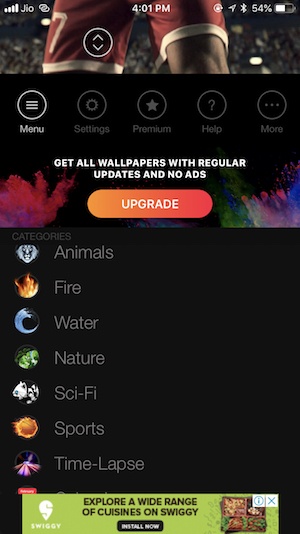 Searching for free live wallpapers for iPhone? Live Wallpapers for Me presents before you a collection of thousands of animated wallpapers. You can choose your favorite live wallpaper from the list of categories, including Fire, Water, Sci-fi, Sports, Animals, etc. Your iPhone must support live photos feature to enjoy animated wallpapers.
Features of Live Wallpaper for Me
The interface of the app can be accessed in different languages, including English, French, Japanese, German, and Thai.
It has a neatly categorized collection of wallpapers.
New wallpapers are added on a weekly basis.
Plenty of best 4k wallpapers.
Live Wallpaper for Me is easily one of the best live wallpaper apps for iPhone due to the vast library of dynamic backgrounds. If you don't want to see frequent ads, you can purchase the premium version of the app, and it's worth every dime.
7. Magic Screen – Best App to Create Your Own Wallpaper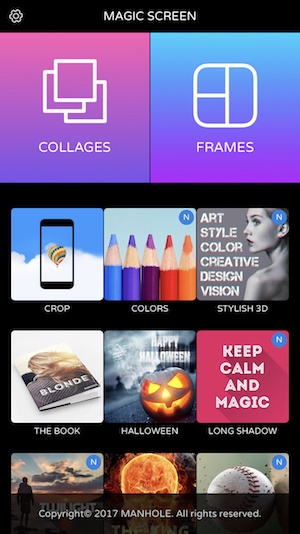 Magic Screen works just like its name. With a large number of surreally animated wallpapers, the application is a must-have if you want to decorate your screen with customized backgrounds.
Not only you can choose from the pre-existing wallpapers in the app, but you can also design your own wallpaper. It is an added feature not found in commonly available live wallpaper apps.
Features of Magic Screen
You can add text and calendar to wallpapers from a choice of more than 150 fonts and 20 beautiful templates of calendars.
Turn your photo into a GIF or Live Wallpaper and apply it on the screen.
You can share your created wallpapers via wi-fi.
You can create a collage of wallpapers for your lock screen. Customizing wallpaper is a child's play with this free app.
8. Papers.co – Wallpaper App With Variety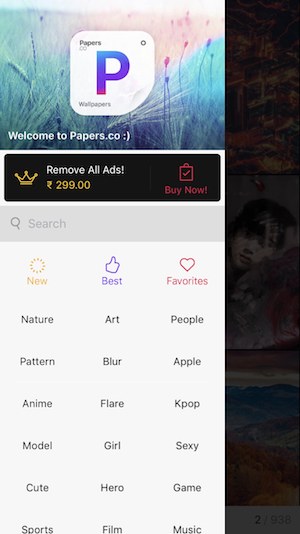 Papers.co had to be included in this list of best wallpaper apps for iPhone because of its extensive collection. Stunningly designed pictures are segregated into different categories, including Art, Apple, People, Texture, Sunset, Night, Spring, Space, etc.
You can preview the wallpaper on your lock screen and home screen by simply clicking on the wallpaper of your choice. Here you can find wallpapers of your favorite football team, comic hero, and vintage art as well.
Features of Papers.Co
More than 500,000 wallpapers available for zero cost
The collection is updated daily.
Easy to use interface.
Papers.co is the app you should download if you are searching wallpapers for iPhone X or later generations. Dark themed wallpapers on the app look good on these devices. The application is free to use but features annoying ads. You can go for the premium version to get rid of the ads.
9. Walli – Wallpapers For iPhone Designed By Artists
Walli is a creative wallpaper app for iPhone and Android wherein you will find wallpapers designed by artists. The iPhone backgrounds featured here are not like the ones you will usually find in other apps that are listed here. It is a community of artists, and the contributing artists are paid as well for their work. That's visible in the content available on this app; you get to see some really cool iPhone wallpapers.
Features Of Walli Wallpaper App
Wallpapers designed by the best graphic artists from all over the world.
Categorical division of wallpapers into different sections such as retro, cute, said, hipster, and funny.
You can follow your favorite artists by visiting the designer's social media account and website.
Multiple sizes to choose from according to your device.
Walli is one of my favorite wallpaper apps because of the artistic and creative wallpapers that I find here. The wallpaper app has a pretty snappy and interactive interface that you would love.
10. Pixs – iOS Wallpaper App With Neat Interface
Pixs is another budding wallpaper app for iPhone that has been included in this list because of its neat and clean interface. While most apps offer tonnes of choices, making it difficult to choose the best out of them, Pixs has a handful of wallpapers. But the focus on quality is certainly an attraction.
Features of Pixs Wallpaper App
A neat interface with wallpapers segregated into different categories such as Winter, Art, Colorful, Into The Night and City Vibes
No annoying advertisements
A new wallpaper is added every day
Pixs app has wallpapers for iPhone 11, 11 Pro, Xs, and XR, and one of the features that I liked most in the app is the color filter that can be applied to view the wallpapers of a particular band of color. This could be useful for those who are searching for black wallpapers for iPhone.
11. Unsplash – More Than Just An iPhone Wallpaper App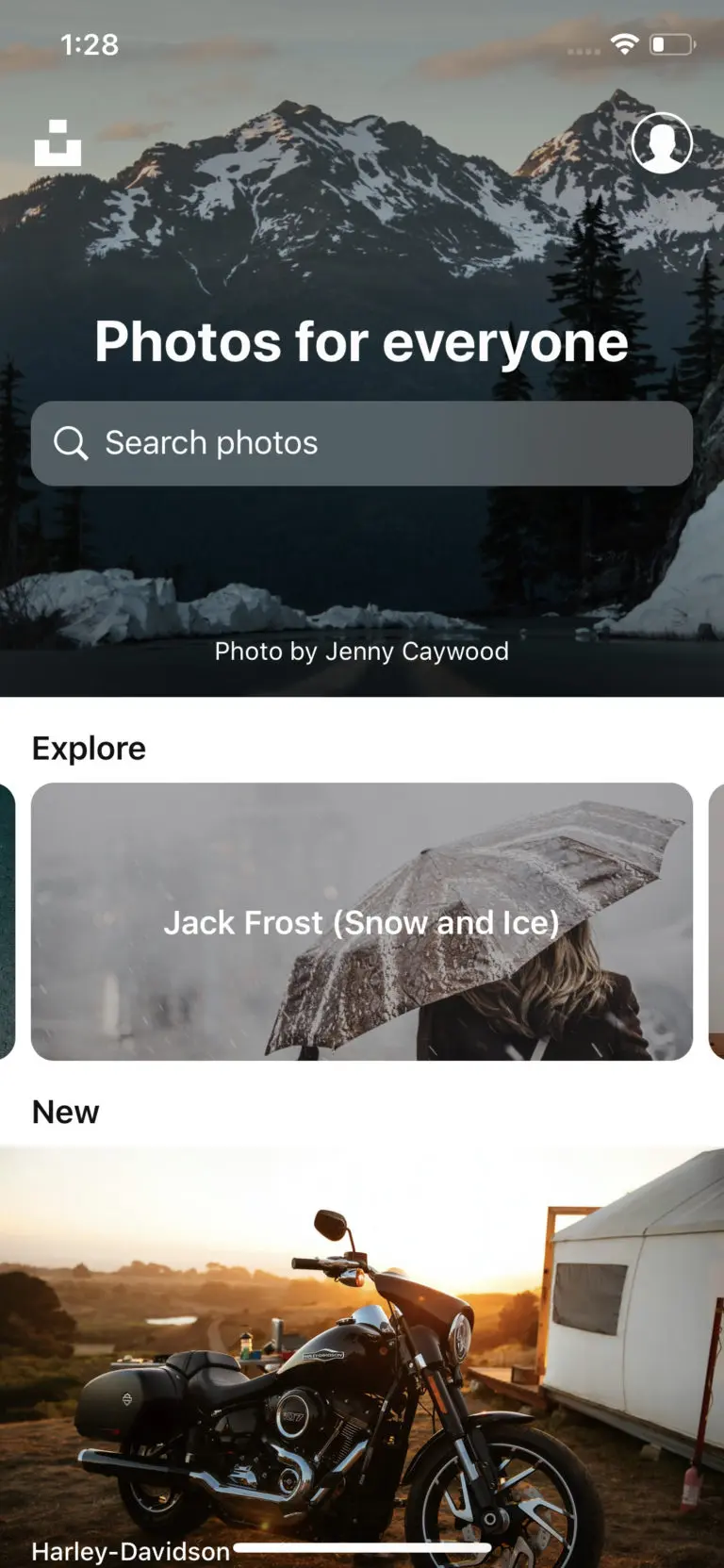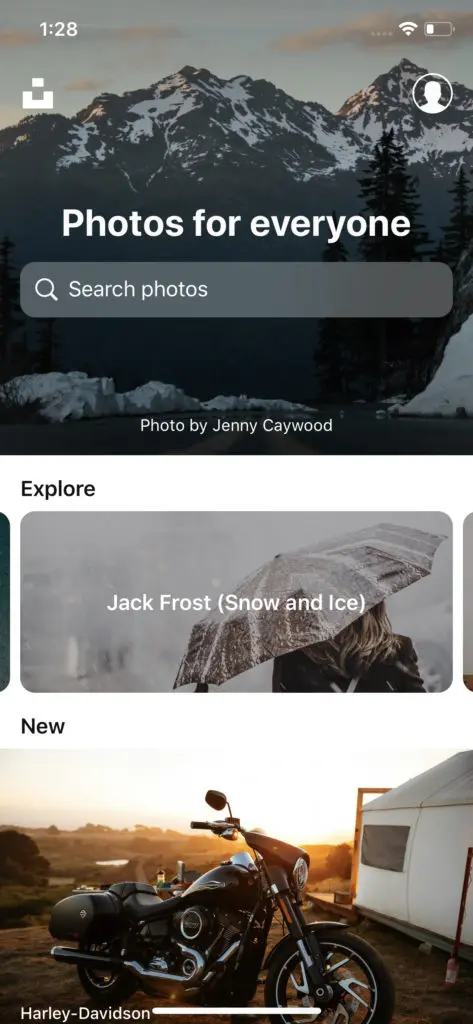 Unsplash is not an iPhone wallpaper app per se but it is a community where photographers and artists submit their creative photos. It makes this a home to some of the best images you'll find on the internet. The app is free to use and you get to choose a wallpaper for iPhone by typing in the search box in the app. Like other apps, there are no categories as you need to scroll down to choose wallpaper or you can use the search box for the same.
On the Unsplash app, you can easily find creative and best wallpaper for iPhone 11, iPhone Xs, Xs and more. All the images hosted on the app are in HD quality and you get to see the information of the camera used by the artists for clicking the photograph.
Features of Unsplash iPhone Wallpaper App
A vast collection of free wallpapers
Search box for searching a particular image
No advertisements
Unsplash is undoubtedly one of the go-to apps for best iPhone wallpapers owing to its large collection and neat interface.
Which iPhone Wallpaper App Did You Love?
We hope that this list of best wallpaper apps for iPhone would help you stand out from the crowd. Apps mentioned here are not listed in any order; you can download as per your requirement. We have mentioned the specialties of each wallpaper app given in the list.
Also, remember that live wallpapers are supported on iPhone 6s, 7, 7 Plus, 8, 8 Plus, iPhone X, Xs, Xs Max, Xr, 11 and 11 Pro. If you are applying animated backgrounds to your phone, then expect the battery to drain somewhat faster, and animations won't work when your iPhone is in low power mode.
Tell us about your favorite app from the list in the comments and keep reading Fossbytes.
Now, that you have checked put the amazing wallpapers apps, have a look at our other lists of iPhone apps.