In this age of globalization and technological advancements, one of the most important skills is programming, which is why everyone should learn to code. You can not only land a job as a fresher with the help of programming skills but also boost your existing career with the technical know-how of coding. But several beginners struggle to find the right place, to begin with.
This is why I have compiled this list of best coding websites where you can learn coding for free. These free programming sites aren't ranked in any particular order. Learners are advised to try these websites and choose according to their requirements.
7 Best Coding Websites To Learn To Code For Free In 2020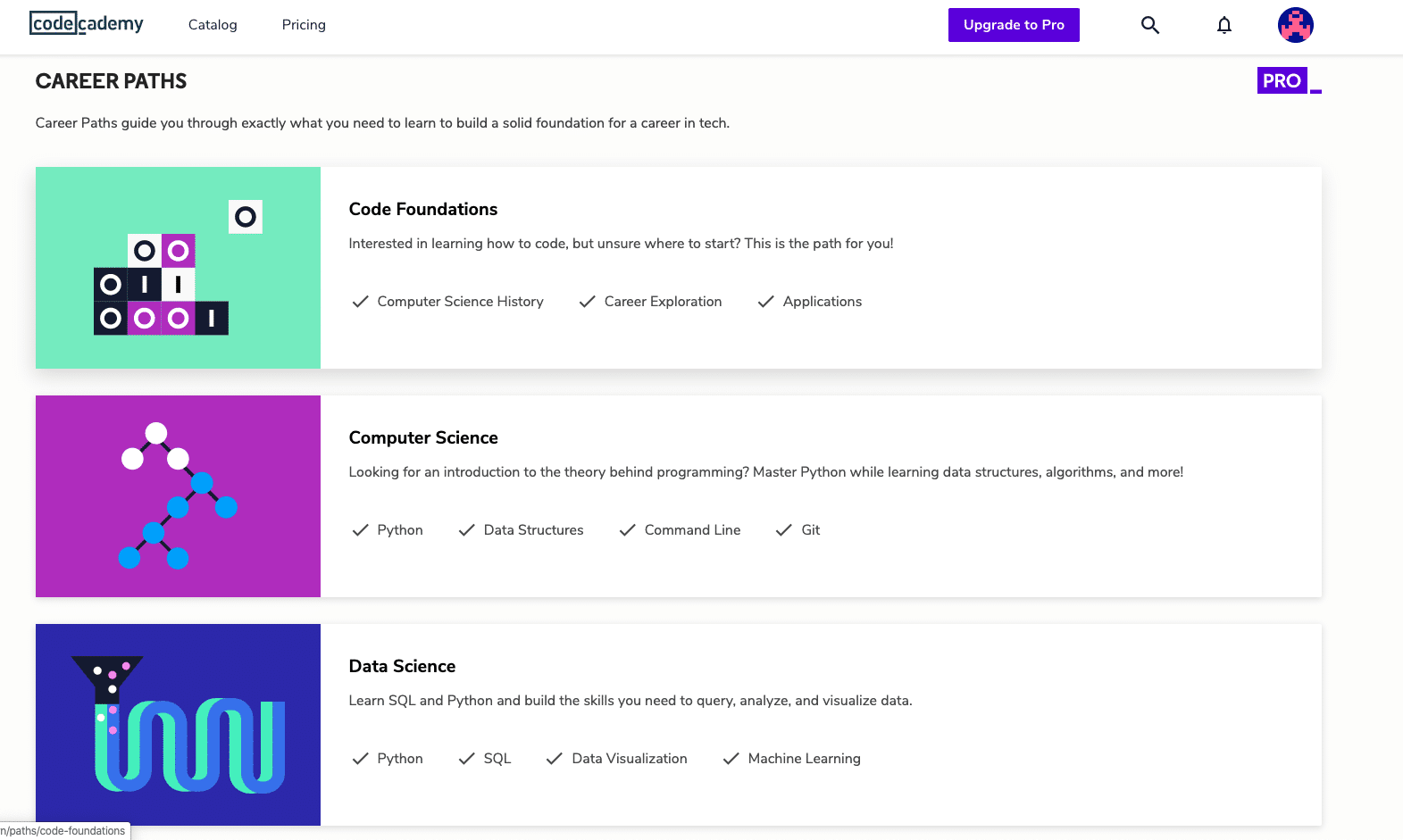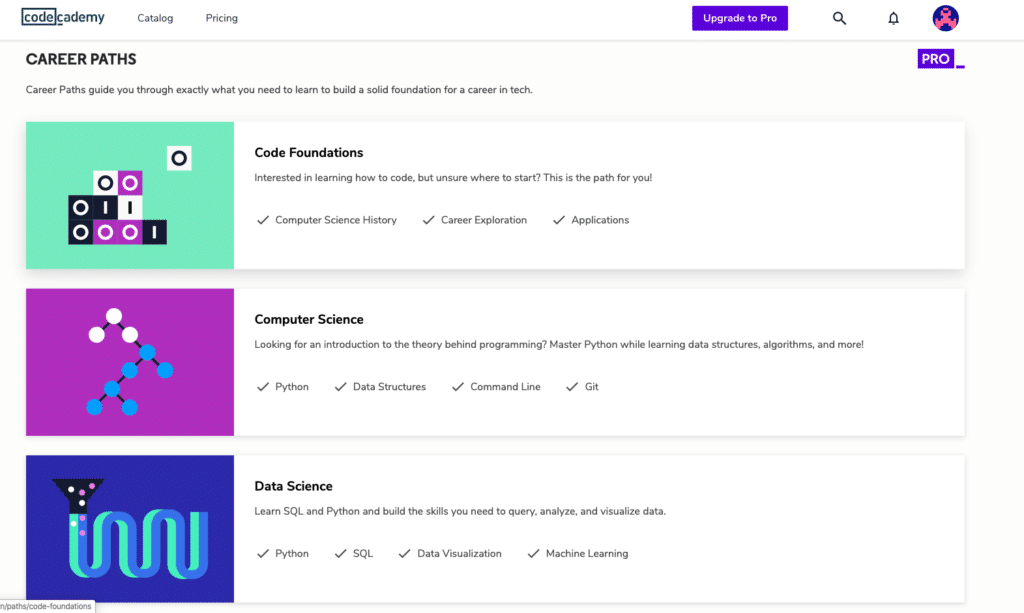 Codeacademy is one of the best websites to learn to code for free. Millions of users have learned programming through this educational website. The best part is that beginners who have no idea where to begin can also receive guidance from the site. On signing up, Codeacademy gives you two options: custom recommendation and choosing your own course. The custom recommendation suggests courses based on your pre-existing knowledge. Alternatively, you can explore coding topics on your own if you want to learn a specific topic.
For those who have doubts regarding coding as a career, you can also check on the website whether coding is the right career for you. In case you have a non-programming background and you just want to learn some related programming topics, Codeacademy will help you there too. Right from HTML & CSS, JavaScript and SQL to Bash/Shell, Python, Ruby and C++, this online code school will teach you all the fundamental concepts you need to learn.
Why learn from Codeacademy?
Teaches multiple languages
Excellent for beginners
Customized coding lessons available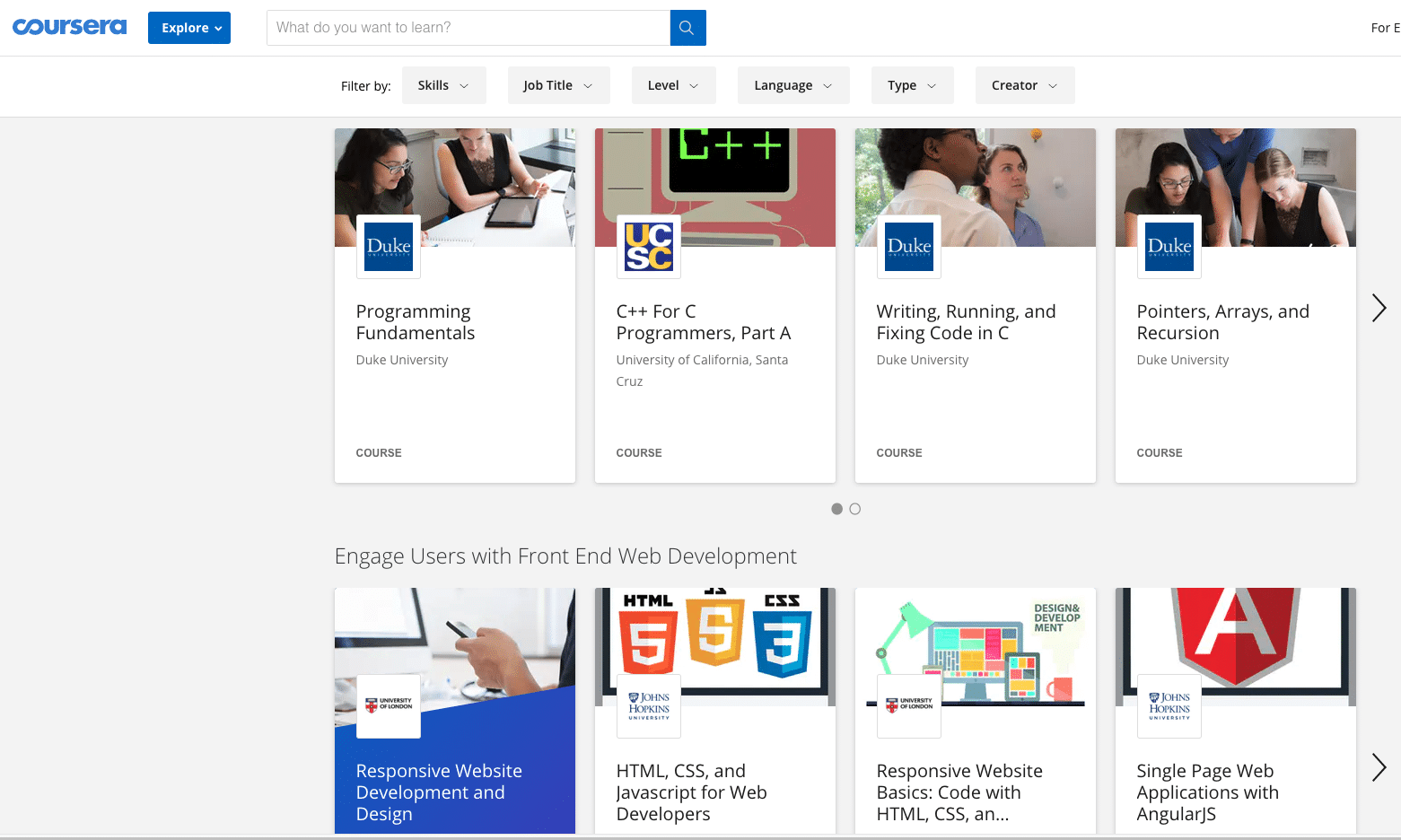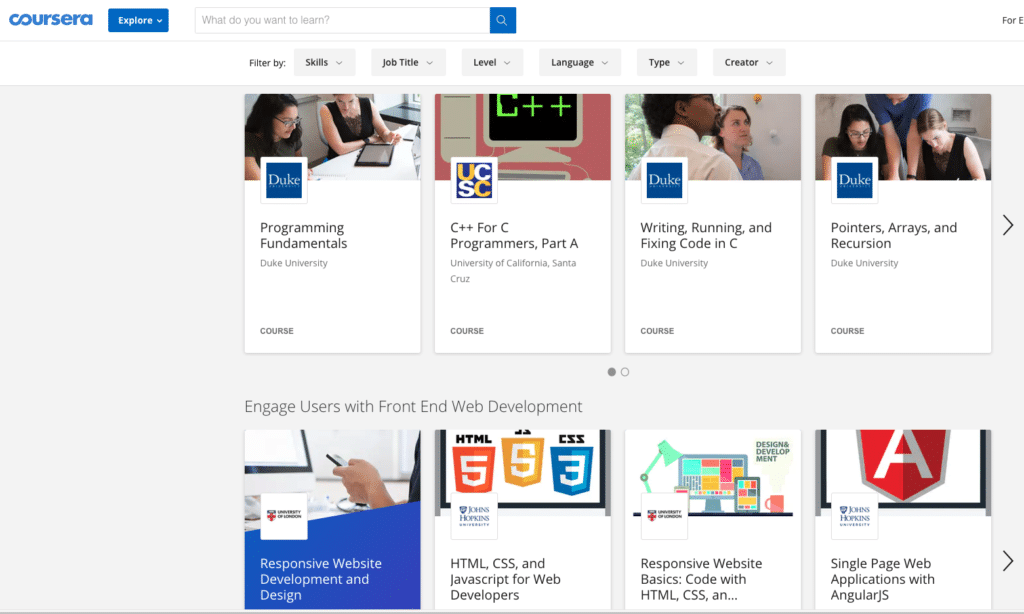 Coursera is another platform that offers free coding classes to beginners who'd like to learn programming for free. This free coding website provides more than 1,000 courses on coding from 119 institutions. While many of them are paid, there are free courses as well. You can also obtain certificates for courses which can be a good addition on your resume if you are looking for a job as a coder.
The best part is that this coding academy offers financial aid for courses. It means that if you are unable to pay for a course, you can apply for a fee waiver program. Once you sign up on the platform, Coursera also gives you recommendations based on your occupation and knowledge level. So in a way, its AI can guide you through the learning process. You can also download the Coursera app to continue your lessons from anywhere, anytime.
Why learn from Coursera?
Courses and certification from renowned universities
Courses available multiple languages
App available for iOS and Android
Financial aid for courses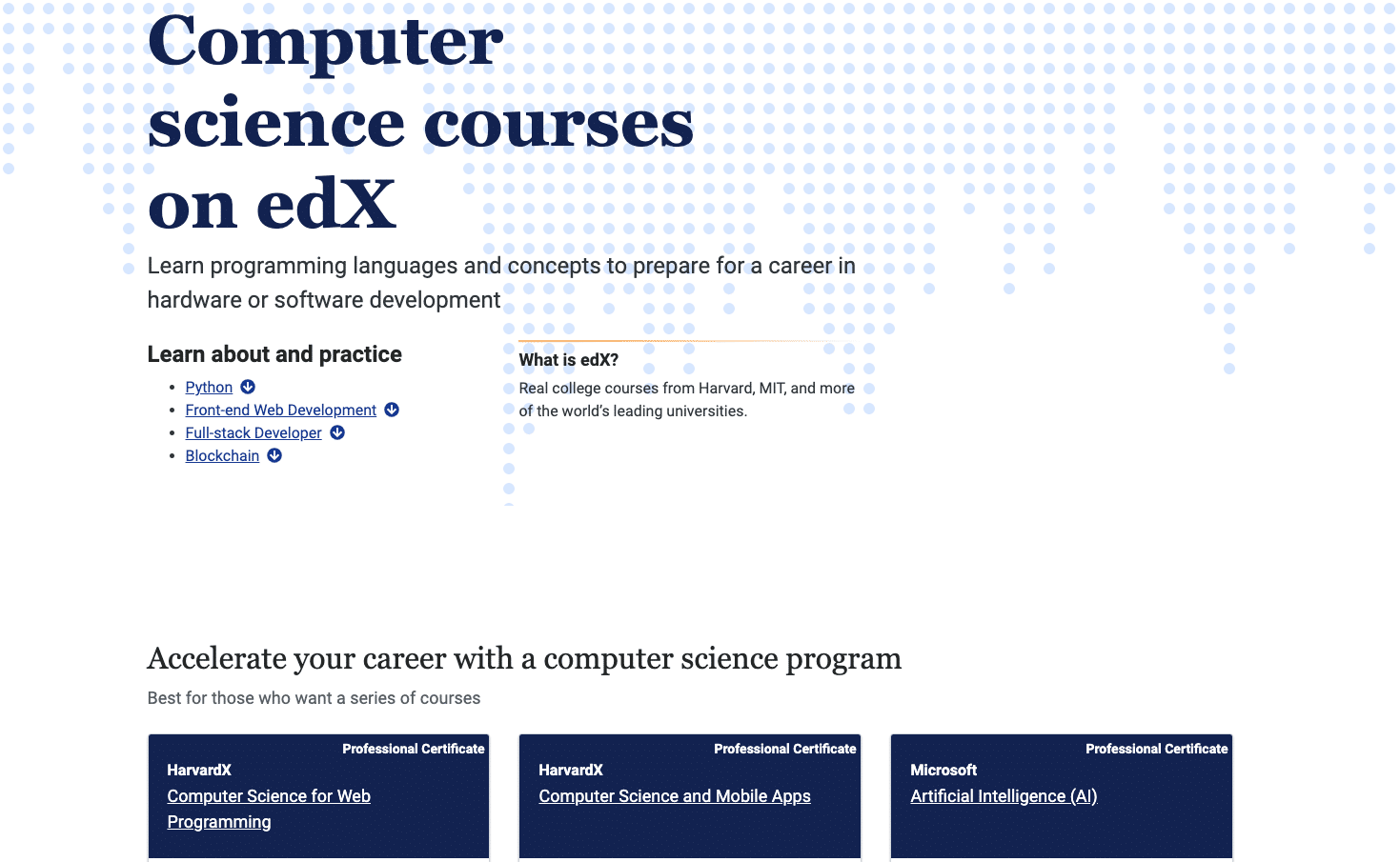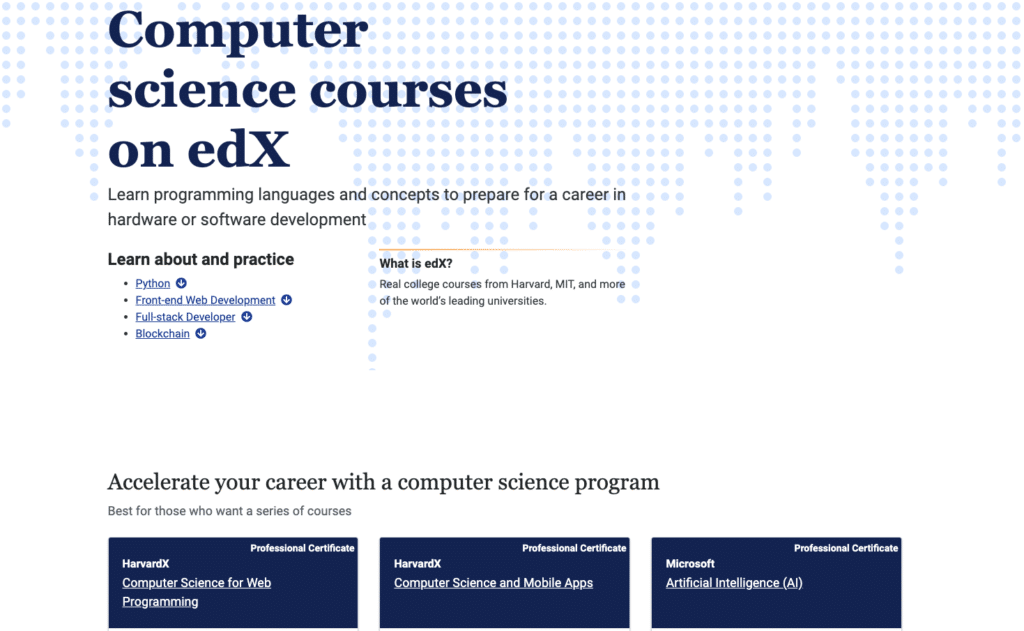 edX is another online learning platform that was founded by Harvard University and MIT in 2012 to provide free courses to learners worldwide. I would personally recommend the popular CS50's Introductory course to Computer Science to all aspiring coders.
Similarly, there are several other courses on this free coding website that will impart a broad and robust understanding of computer science and programming. Be it HTML, CSS, Java, jQuery, C++, Python, or any programming language, you will find good material on this website that will teach you how to write code.
Why learn from edX?
Courses and certifications from universities and companies
Step by step guide to programming concepts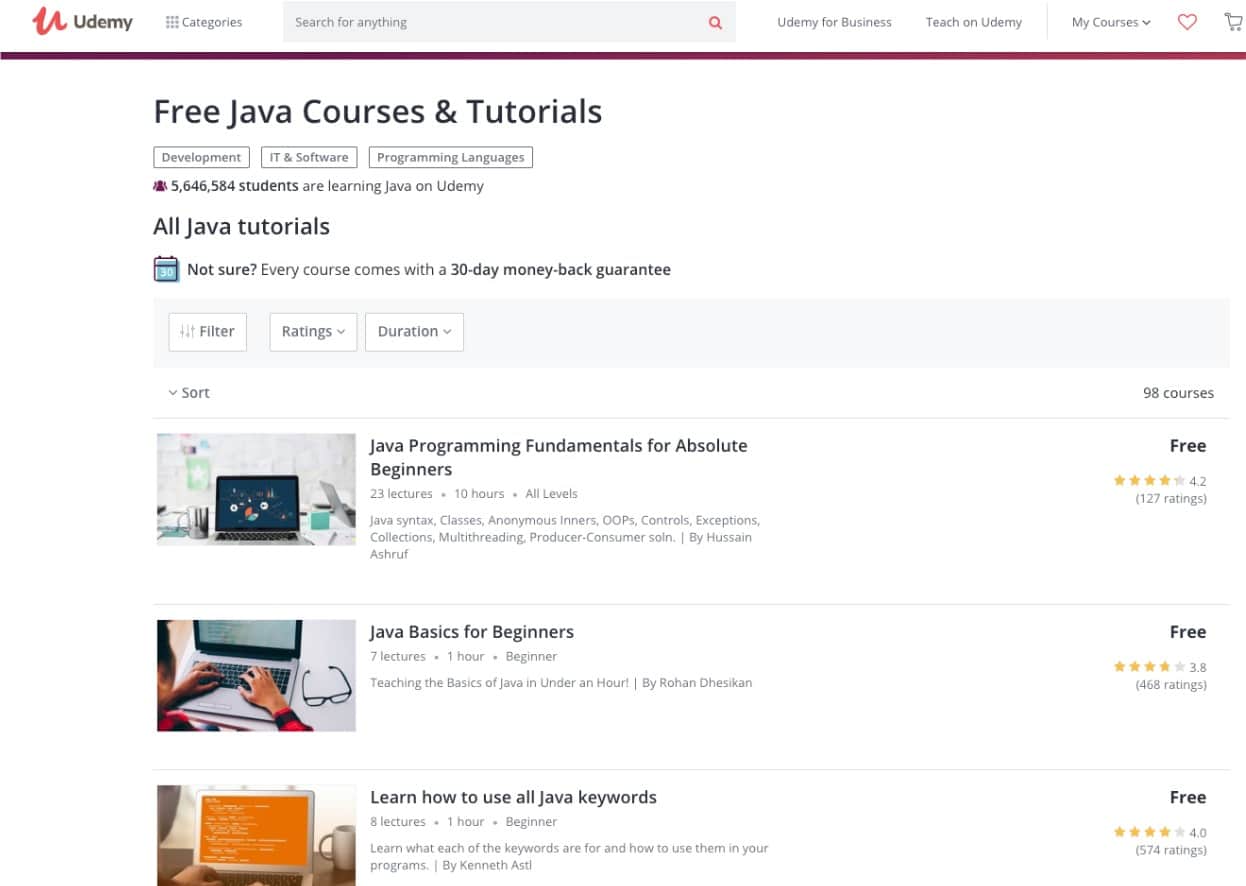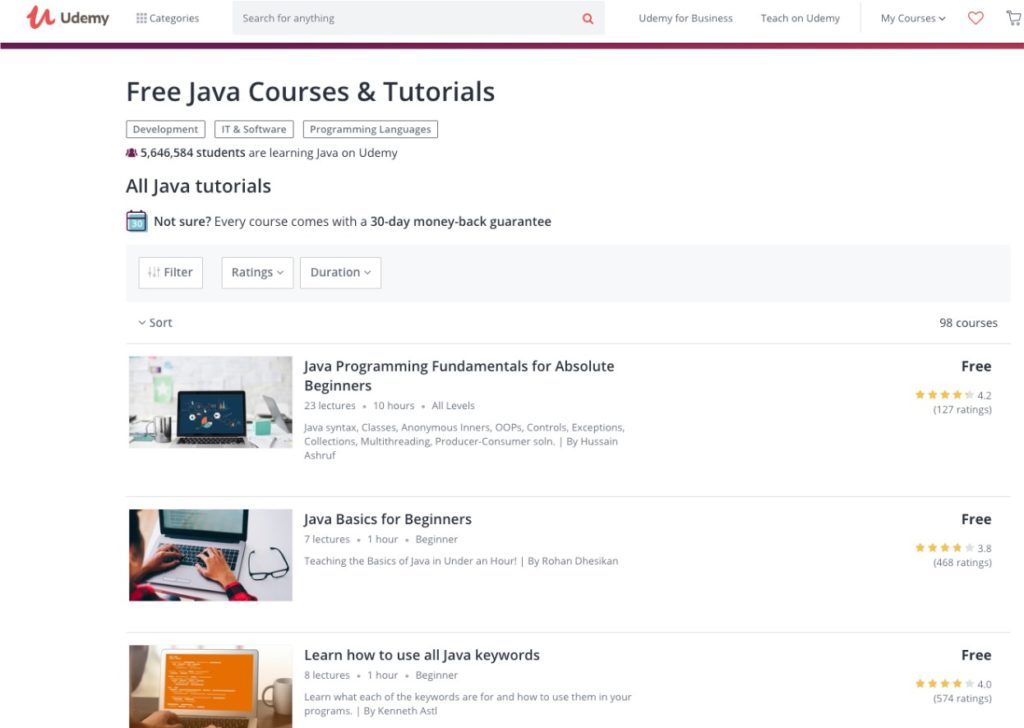 I am sure that many you have already heard of Udemy as it is one of the popular online learning platforms that help you learn new skills. When it comes to programming, it is one of the best free coding websites where you can learn to code without paying a single dime. Founded in 2010, this coding academy offers several paid and free programming courses, taught via video lessons.
Apart from programming languages, you'd find all sorts of courses related to web development, UX design, UI development, Android and iOS development. The courses are rated on a 5-star system and you can go through the reviews to see what other students have to say about the course and decide accordingly.
Why use Udemy?
Free courses on all programming languages
App available on Play Store and App Store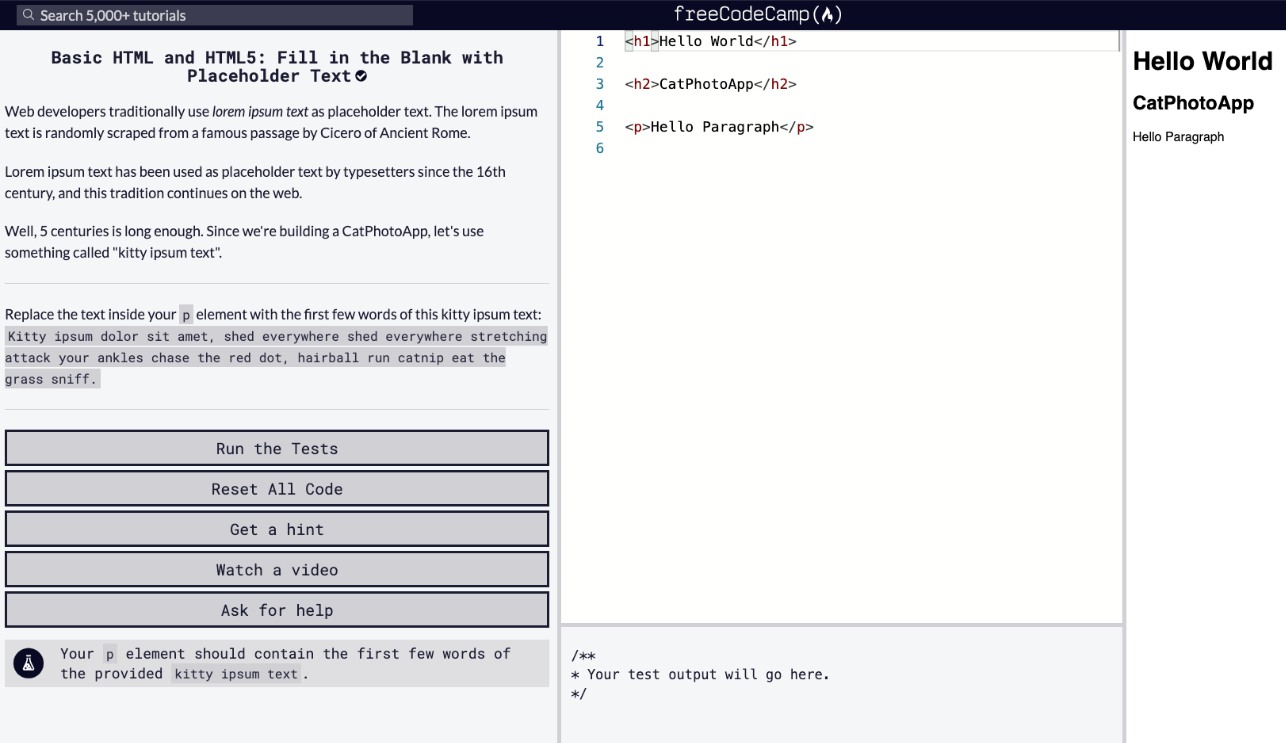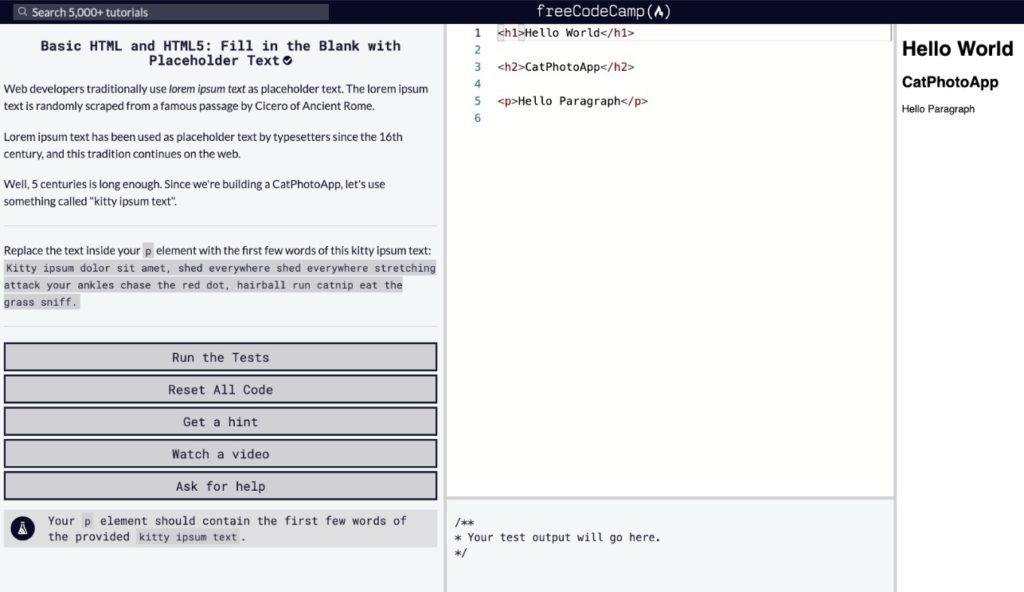 This online programming tutorial website will help you learn to code not only by studying theoretical concepts but by completing practice exercises and practical challenges. There are courses in HTML5, CSS3, JavaScript, and other concepts related to PHP and MySQL. By the end of the beginner course on FreeCodeCamp, you'll gain sufficient knowledge to create and host a website.
As an undergraduate, I used to code regularly on FreeCodeCamp and the website helped me hone my basic skills as a web developer. This coding website keeps an overall count of the number of hours and days you have coded on the platform and shows your coding streak on a monthly and yearly basis. This not only gives you a sense of achievement but also encourages you to code religiously.
Moreover, FreeCodeCamp has a large and active discussion community so if you reach a bottleneck, there'd be other developers to help you with your queries. The best part is that while learning, you can assemble and build your portfolio of real apps that will be used by real people. And these courses will be delivered through interactive and focused assignments and tutorials.
Why use FreeCodeCamp?
Available on both desktop and mobile platforms
Opportunity to learn by making real apps
Large and active community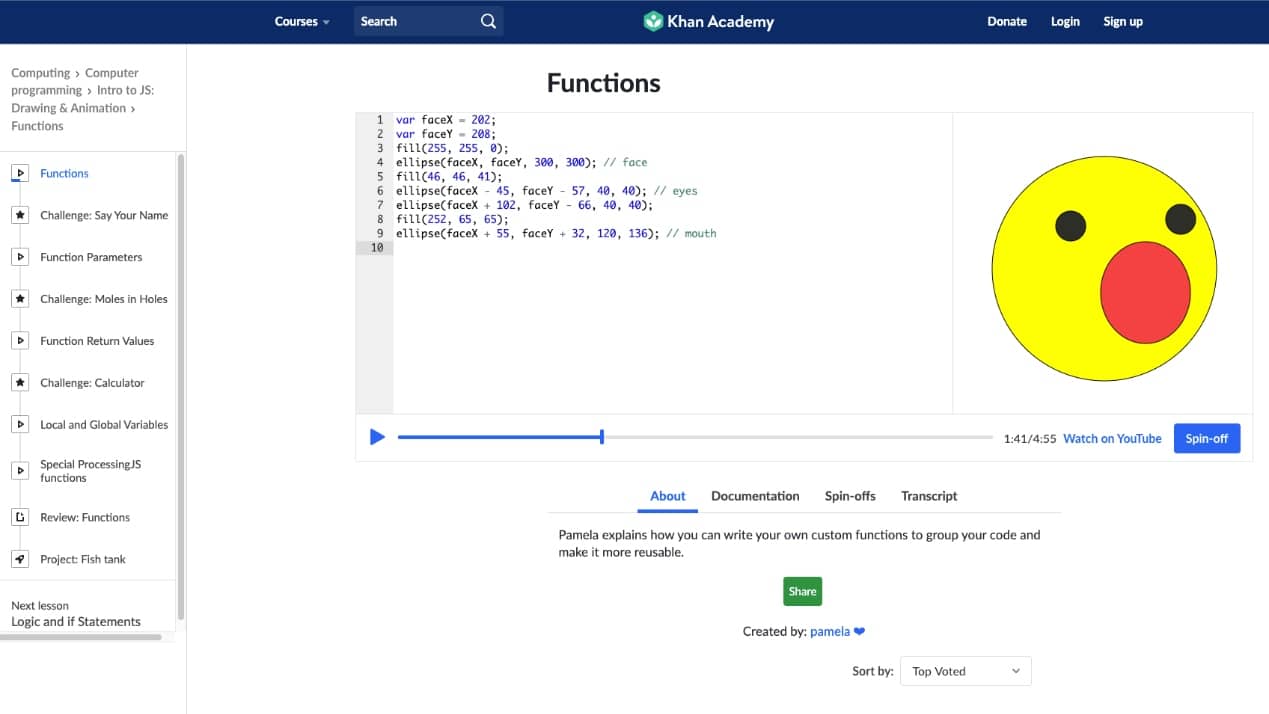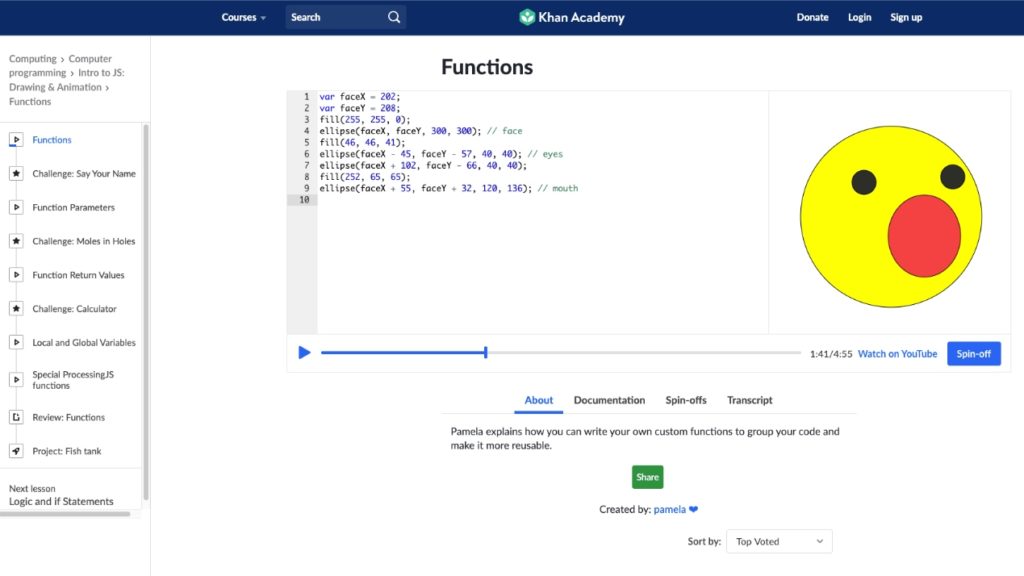 Khan Academy, created in 2006, is one of the original free online-learning institutions. The free coding site offers step by step video tutorials on computer programming concepts. Here you can learn how to create drawings, animations, and games through JavaScript programming and learn to create webpages using HTML and CSS.
To further strengthen your programming concepts you can also refer to the Computer Science section on the side where you'd find an intro to algorithms and other concepts like sort/search algorithms and recursive algorithms, explained in an easy to understand manner. Besides these, Khan Academy's "Hour of Code," has specially designed introductory courses that dedicate one hour tutorials for computer science and computer programming.
Why use Khan Academy?
Courses for all stages from beginner to advanced
Assignment based learning
Clean interface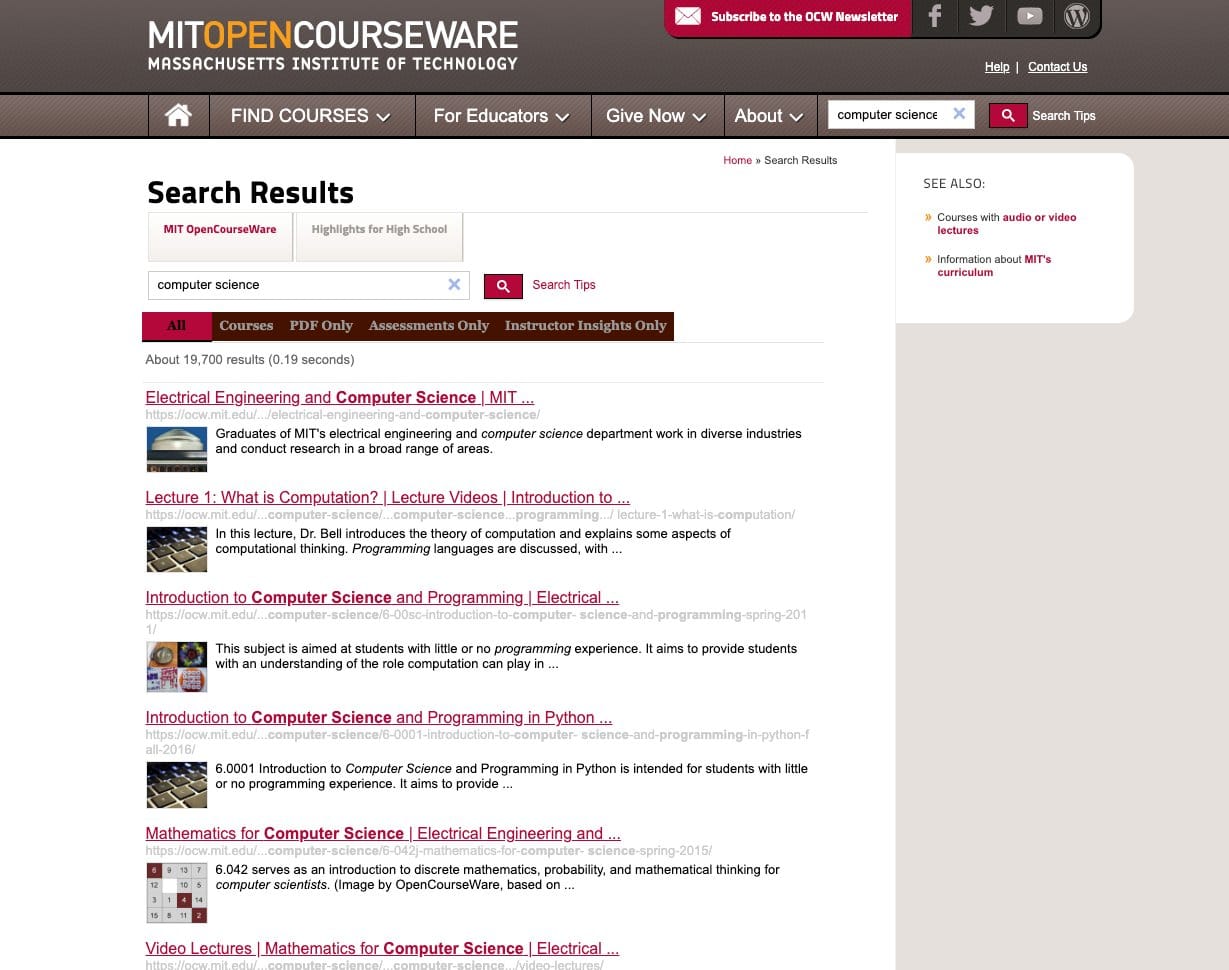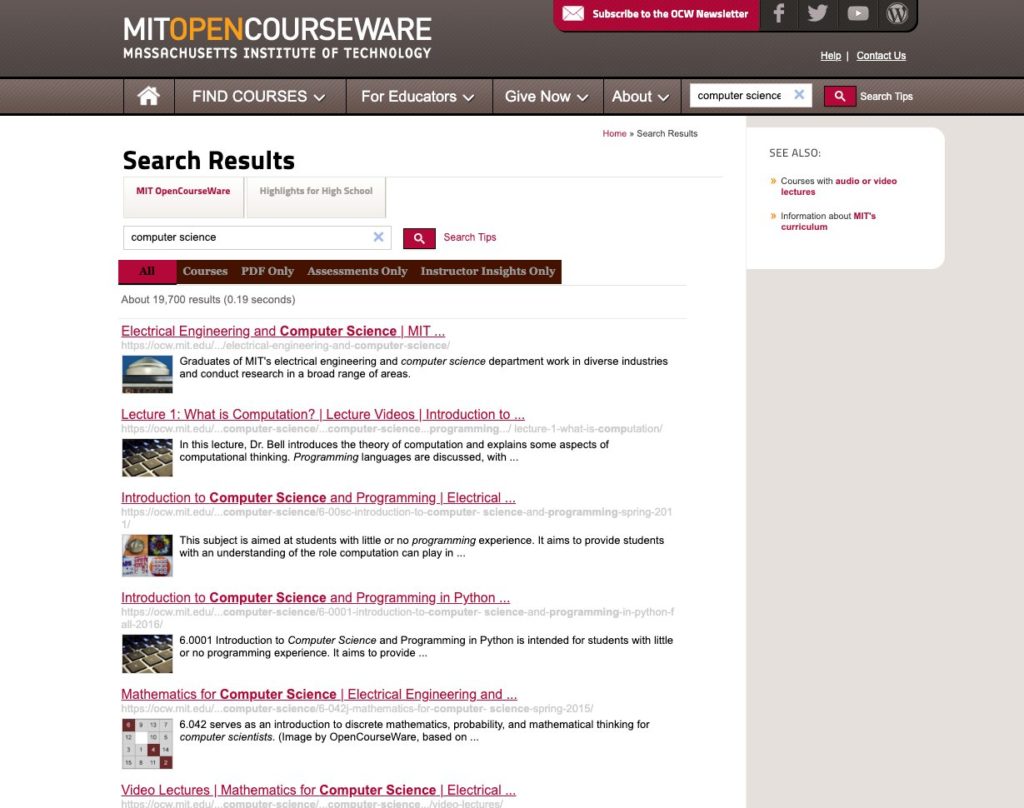 If you are someone who already has a decent command over basic programming concepts, and you want to try something more advanced to explore the concepts behind coding applications — then MIT Open Courseware is one of the best places to learn to code online. MIT maintains an online library of every subject that is taught at the institution. Getting admitted to MIT is something that might not happen with most, but you can definitely benefit from these online courses.
MIT's free coding site includes classes such as Introduction to Computer Science and language-specific courses like Java, MatLab, Python, C, and C++. Interested learners can browse the courses that are available, and filter the results based on the features of the course such as assessments, lecture notes, videos, audio, or online textbooks too.
Why use MIT Open Courseware?
Online lectures by MIT professors
Easy to learn format
Unique learning material
Learn How To Code Right Away!
One might think that learning to code is an expensive education but that's not true! There are hours and hours of free coding classes available that teach coding for beginners. You can learn to code for free, all you need to invest is time and code religiously and complete the assignments at the end of each lecture. While there is a plethora of paid programs and courses on coding academy, I sincerely believe that there is a lot of free resources available that one can utilize to develop the foundational knowledge to kickstart their journey as a coder.
There are several Q&A forums like StackOverflow and FreeCodeCamp community that can solve your programming related queries on a daily basis. You don't have to go through each and every course present on the free coding websites above, as many of them offer the same concepts. Instead, I'd suggest that you select those coding courses that seem most exciting and easy to understand. Meanwhile, if you have any questions regarding online coding classes, feel free to reach out. Until then, have fun coding!