Short Bytes: If you love clicking pictures and sharing them with your friends and family, by using some handy Instagram tricks you can make the best out of this Facebook-owned photo-sharing app. Using some hidden features, you can use Instagram as a photo editor, add/remove filters, download photos and videos in batch, drive traffic to your website, and more. These tips are equally useful for a beginner and professional Instagram user.
J
ust like Facebook's main social networking app, Instagram is growing at a fast pace. People and businesses are extensively using Instagram to share their pictures, increase followers, and get business benefits. So, to help you out in this process, I've created a list of the 16 awesome Instagram tricks and feature hacks. Take a look:
Instagram Tips & Tricks | Instagram Guide
Note: We don't recommend the use of third party Instagram apps and services that need your password; Instagram's policies are strongly against sharing login credentials with the third-party. So, to avoid any bad-looking situation, we advise you to only use the inbuilt features of Instagram and services that don't ask your password.
1. Download Instagram photos and videos in batch
If you aren't tech-savvy, downloading Instagram photos and videos could be more than a few simple steps for you. To solve this issue, you need to visit Insta-downloader.net. It's a new and fast growing website that lets you simply paste the URL of a photo or video from the address bar of your browser and hit the Download button. It's also one the few websites on the internet that lets you download the complete user album of Instagram photos and videos instantly. Do check out this website.

2. Upload photos from your computer
If using your smartphone camera for snapping pictures and uploading them via the mobile app is the only way you use Instagram, then this tip is useless for you. Just in case you are a professional photographer or a maintainer of a company's social media account, you might be knowing the convenience of the desktop workflow. Instagram can be accessed in web browsers, but it doesn't come with the uploading functionality. Same goes for Instagram's Windows 10 client which only lets you upload pictures if your PC has a touchscreen display and a rear camera, which is only possible in the case of a Windows 10 tablet.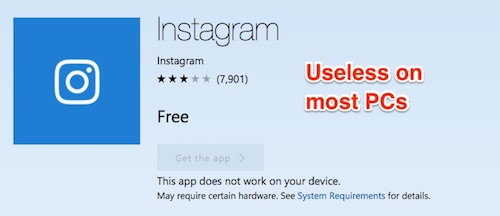 In such case, you are left with the option on emulate Android using BlueStacks and install Instagram on it. It's a way to upload Instagram pictures using the desktop without violating company terms by using third party apps.
3. How to repost Instagram pictures
Unlike Facebook and Twitter, Instagram doesn't let you share other people's posts on your account. It's pretty frustrating in case you wish to share the pictures uploaded by your friends or family members. To repost the Instagram pictures, you can use a popular app called Repost. It's available for iOS and Android. Please note that this Instagram trick doesn't work for private profiles, which makes sense.
After installing Repost app, you need to open the Instagram app, find a picture and click on the three dots in the top right of the post. Now, select Copy Share URL option.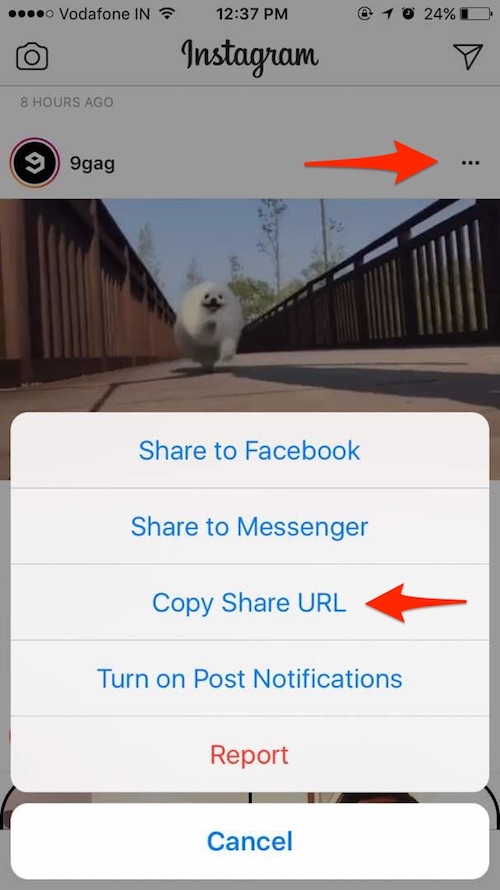 Now open the Repost app on your Android or iOS device. The copied Instagram URL will be automatically imported. Tap that post to continue and explore the given options to customize the Repost watermark. After this, simply tap the Repost button which will start the export process and open the picture/video in Instagram's editor. Now you need to follow the usual Instagram steps to share the post. The app doesn't need any login, so it's a win-win situation for security enthusiasts.
4. Use Instagram as a photo editor for other apps
Instagram has a great selection of filters to help you enhance your pictures and gather more likes from your followers. It's possible that you might want to use Instagram's effects and share the picture on some other social networks. Using a simple Instagram hack, you can do this easily.
First, make sure that you're turned on the Save Original Photos option in your settings. You can find this option by tapping the gear icon on your profile. Second, you need to turn on the airplane mode in your device. You can find this option in Android by swiping down from the screen. In iOS, the same can be found by swiping up from the bottom of the screen. After this, you need to follow the usual photo sharing method and proceed with adding the picture, applying the effects, and sharing. As the airplane mode is on, the upload will fail and you'll find the edited image saved in your gallery. Please note that don't forget to tap the X button after the failed upload to prevent the photo from uploading later.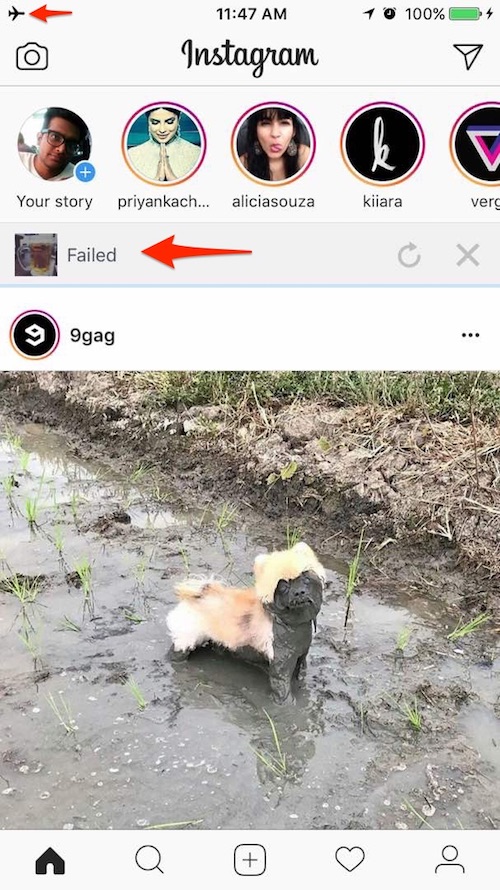 5. Post multiple photos at once
One of the biggest features that was added to the Instagram app in the recent times was the ability to add multiple pictures at once. If you haven't used this Instagram feature, it's time to do so as it allows you to share more. You can add up to 10 photos at once.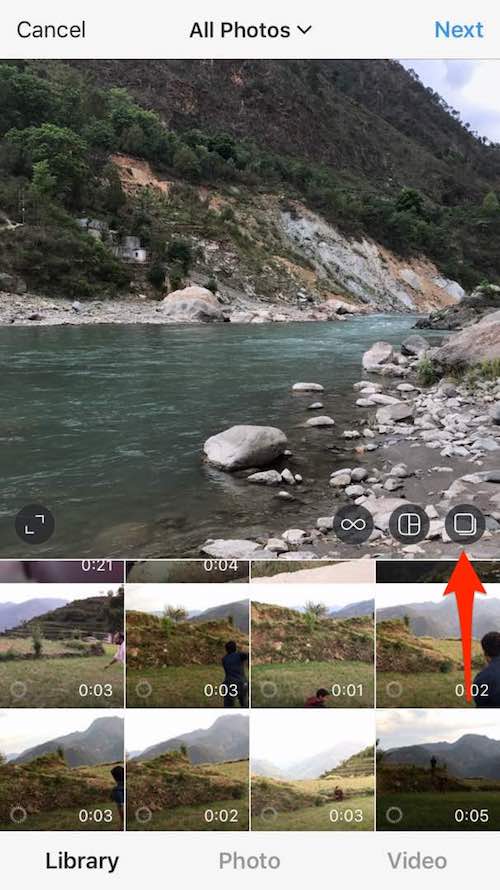 To do so, simply click the plus sign to add a new photo. Select the first picture and tap the Select Multiple Icon shown above. It's the right-most icon at the bottom of the image.
Now you'll be prompted to select more photos and videos. Tap the Next button, choose effects, and you're good to go.
6. Get full-size Instagram images on desktop
The size of images being shown to you on Instagram app and website isn't the original one. You can grab the original picture with the help of an awesome Instagram trick. To get the full-scale image, you need to open the Instagram of the image in your web browser. Take a look at the URL in address bar and remove the part "?taken-by" and characters following it.

Now add "/media/?size=l" to the URL and hit Enter. This will open the full size image on the Instagram servers. If you wish to save it, simply right click and save the image.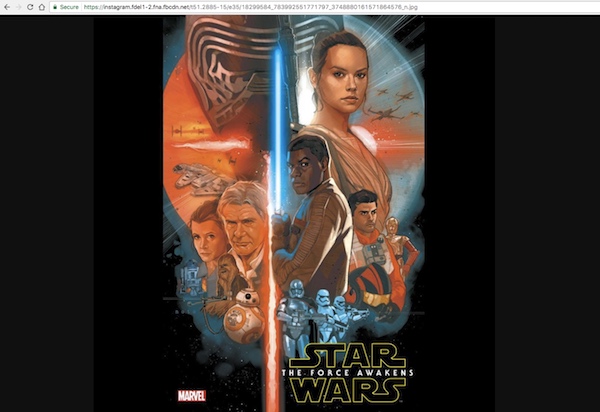 7. Turn Instagram images into ASCII art
For some unknown reason, Instagram saves ASCII text versions of the images on its servers. Using a simple Instagram trick in your web browser, you can see that version. To do so, after opening a full-size image as mentioned in step 5, you need to add .txt to the URL to get a plain ASCII text version of the picture.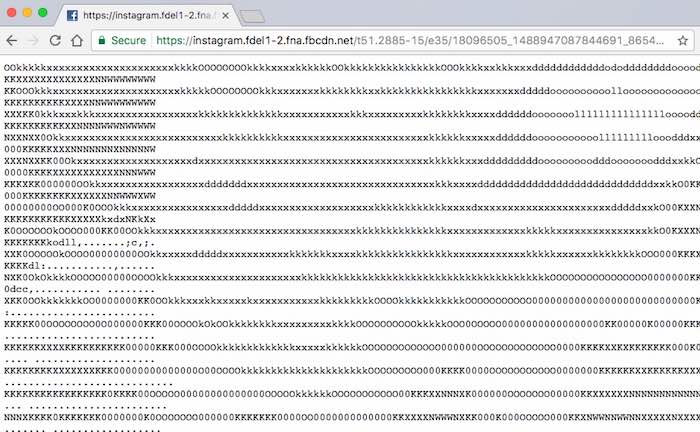 Instead of .txt, you can add .html to get a colored ASCII HTML.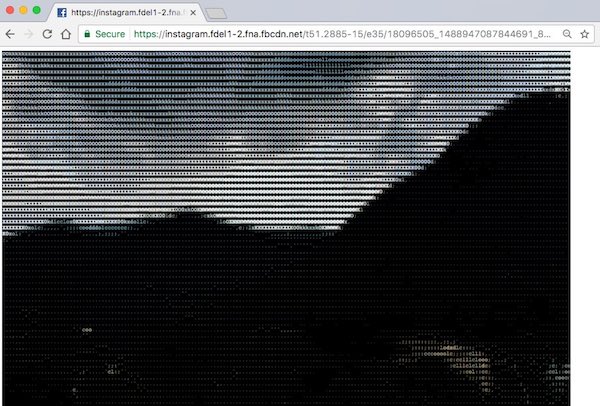 8. Add hashtags after posting, here's why
This Instagram trick is useful if you're habitual of sharing your picture on other social media accounts. If you prefer doing so, what's your workflow — adding tons of hashtags and then sharing the post on Facebook, Twitter, Tumblr, etc.? Well, you can skip the hashtags adding part in the caption and share it on social media channels. Later, you can edit the picture on Instagram and add as much hashtags as you like. This will save you from the hassle of deleting the long paragraph of hashtags from everywhere.
9. Compare the filtered and unfiltered Instagram photos
Very often people get lost in the editing process and forget the original image. It's a very easy way to ruin a great picture. This can be easily avoided by comparing the filtered and unfiltered images in real time. To do so, after you've applied edits to a picture, you need to tap and hold the image. It'll show you the original picture and this Instagram trick will help you make the comparison.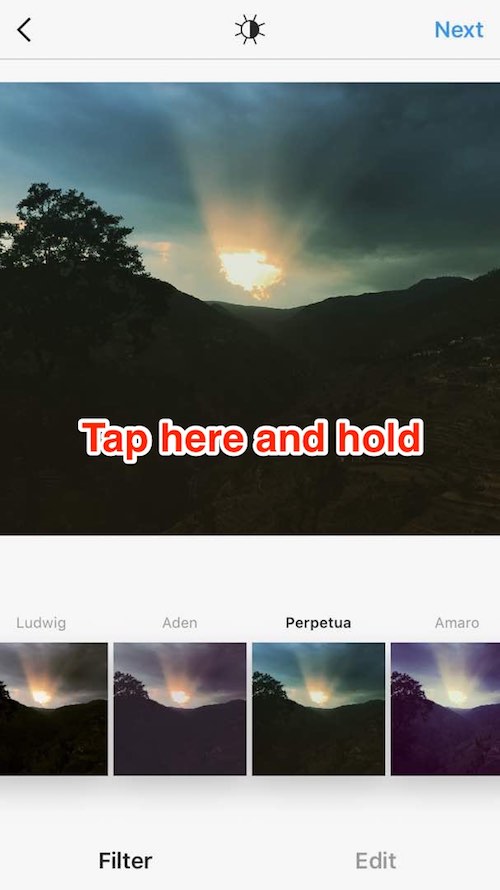 10. Adjust the intensity of Instagram filters
While editing the picture that you intend to upload on Instagram, you must be knowing how much is enough. Not controlling the amount of color or saturation can end up giving unpleasant results. The same goes for filters. Unlike the earlier days, now you have the option to control the intensity of filters and maintain the subtlety of a picture.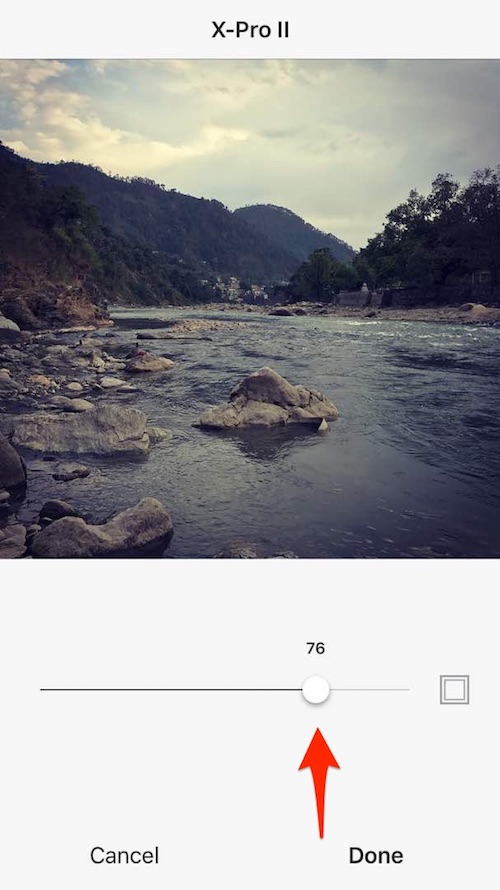 To use this Instagram trick, you need to tap on the filter you wish to apply on the image. As you might see, by default it's applied at full intensity. To reduce the strength, you need to tap on selected filter again. This will open a slider to reduce/decrease the filter intensity. After choosing the right amount, you need to select the Done option and post the image.
11. Get notified when someone posts
When Instagram first launched its feed sorting algorithm, many people disliked it. This was so because they intended to see all the latest posts at one place. This change also hides the recent pictures of your friends and family.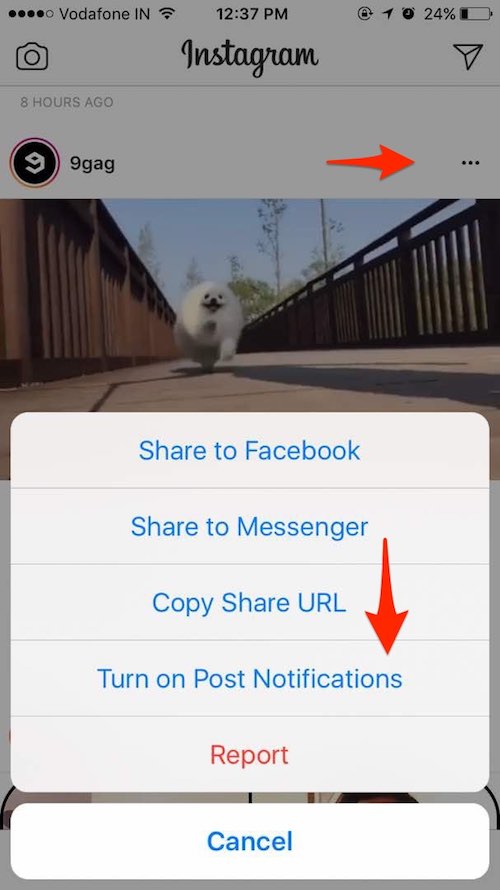 So, to take control of your Instagram feed and make sure that you don't miss a single post of your close friends and family, you can choose the Turn on Post Notifications. This option can be found by tapping the three dots on any post from the person you want notifications from. This option can also be enabled by visiting a particular profile page and tapping the three dots in the top right.
12. Adding paragraphs to Instagram captions in iOS
While Instagram is surely a well-designed app that has right features at the right places, in its iOS app one can't simply add line breaks or paragraphs. In iOS Instagram app, in place of the Return button, there are # and @ symbols for adding hashtags and adding people.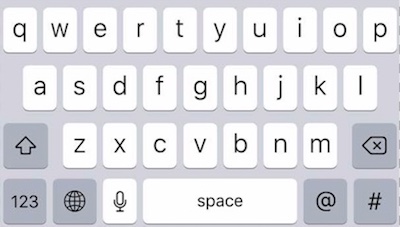 To use the Return key to add paragraphs and line breaks, you need to tap the 123 button and switch the keyboard format. Now you can locate the Return button in the bottom right, which can be used to add line breaks. To add new paragraphs, you need to do something more as Instagram removes all the line breaks except one. For that, you need to add a period or some other punctuation on each line. Take a look: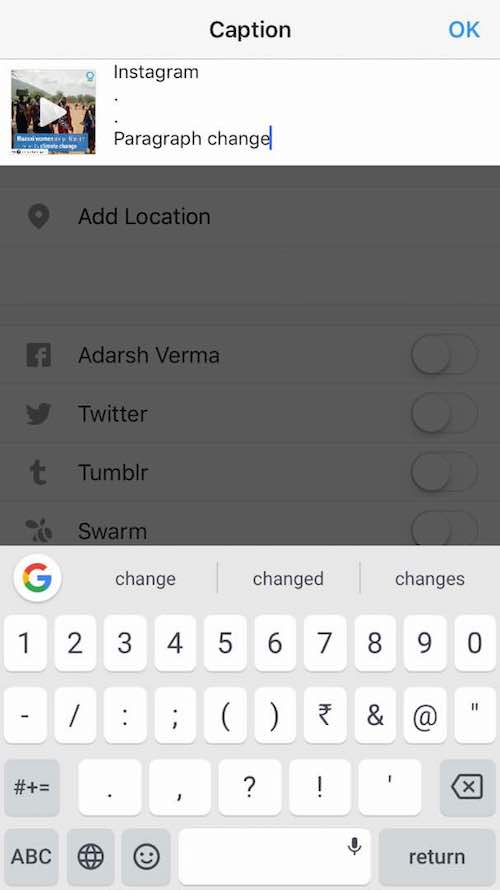 13. See what pictures you've liked; see your friends' activity
People use Instagram to stalk others, there's no doubt about it. To make sure that nobody knows about the same, people avoid liking or commenting on those posts. But, what if you liked some picture by mistake and you can't remember which? In that case, you need to open your profile and tap the gear icon (iOS) and three dot icon (Android). Now look for the Posts You've Liked option and tap on it. It'll show all the past posts of others that you've liked: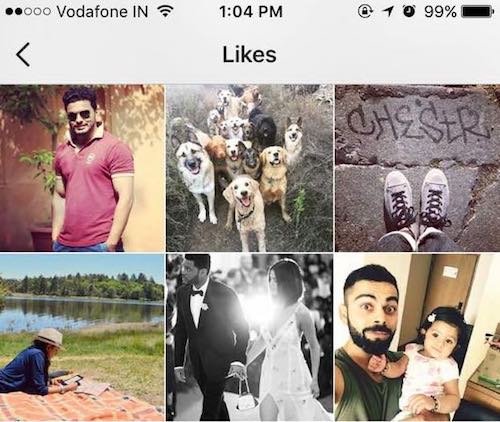 To see the activity of your friends, tap on the heart button at the bottom and you'll be seeing notifications. Now, in the top bar, tap the following option. It'll show the activity of the people you'll follow.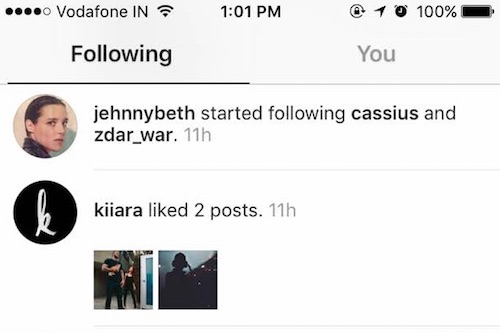 14. Enable two-factor authentication
If you're an avid reader of Fossbytes, you might be knowing that two-factor authentication is one of the most common and useful ways to add an extra layer of security to your online accounts. Few of you might be knowing about this Instagram hidden feature that allows you to enable the two-factor authentication. This isn't a trick, but a useful feature that everybody must use.
To activate it, simply tap the gear (setting) icon at the top right to open the Options screen. There, locate the Two-factor Authentication option and click on it.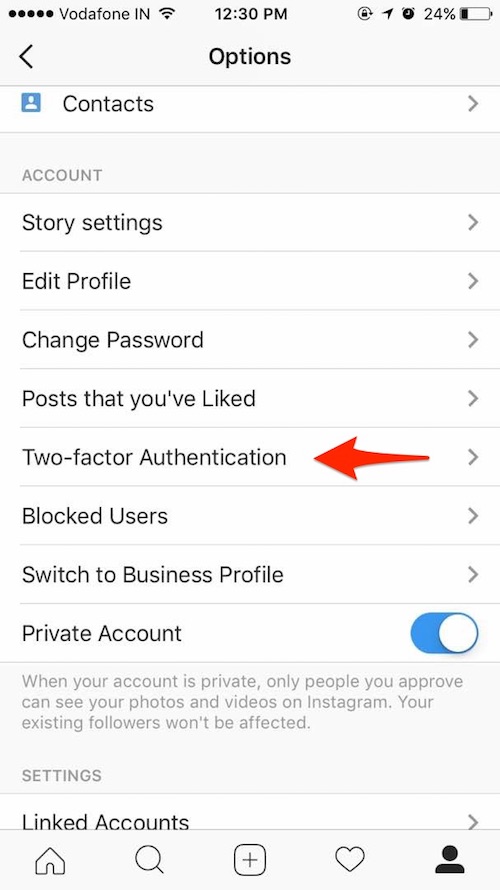 Now tap the Require security code toggle. If you haven't added a phone number already, you'll be prompted to a phone number and enter the confirmation code. This way, you can use two-factor authentication feature to secure your Instagram account.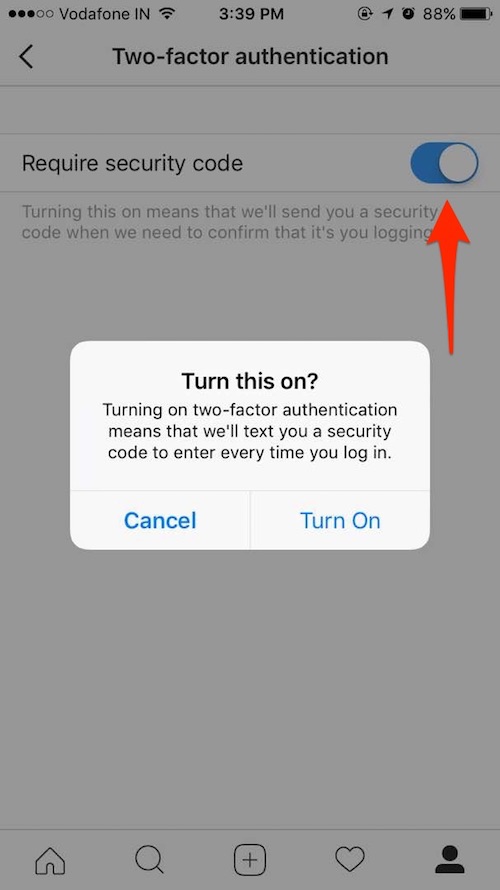 15. URL changing trick Drive traffic to your website
To make sure that Instagram users don't leave the app, you aren't allowed to add links in your post captions. Even if you type a link, it's not linked to the website. So, what to do in such cases Well, here's a smart Instagram trick that you can use to direct traffic to your website or blog. You might be knowing that you can add a website link in your bio that's prominently displayed on your profile. So, you can edit this link often to drive traffic.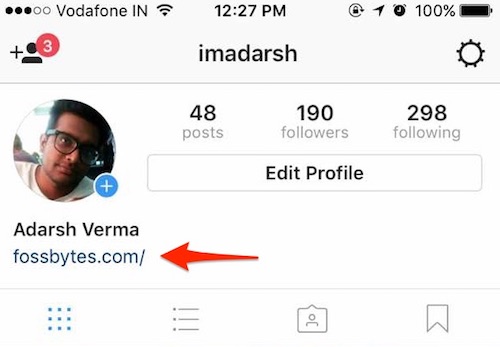 Let's say you've published a blog with 10 best places to eat in New Delhi. You need to share a couple of pictures of those places and add lines like "For more places and pictures, click the link in our profile." When you post a new update, you can change the link in the bio to drive traffic to the latest post.
16. Send pictures privately to specific friends and use Instagram as a chatting app
Whenever we like something on Instagram and we wish to share it with our close friends, we often tag them in comments. But, what if you don't wish to make this communication public? In that case, you can hit the send button below the shared picture and choose the recipient.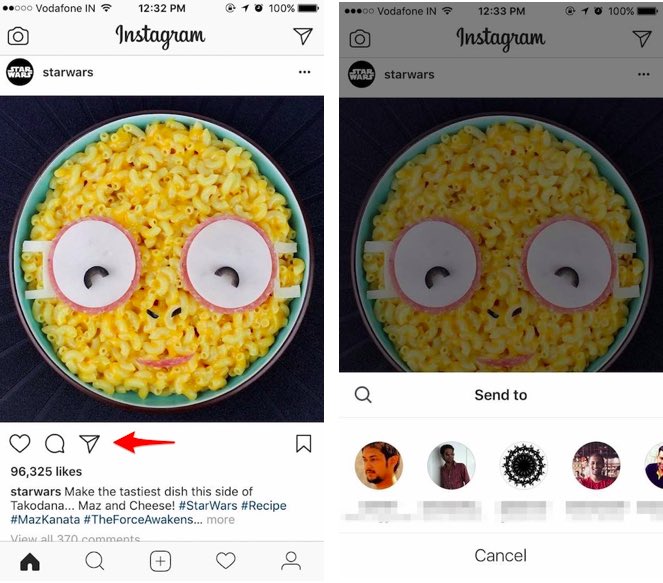 You can also use Instagram as a chatting application. To do so, open the profile of a friend and tap the three dots icon at the top right. Now, select the Send Message option and start chatting. Send texts, emojis, pictures, links, whatever you like.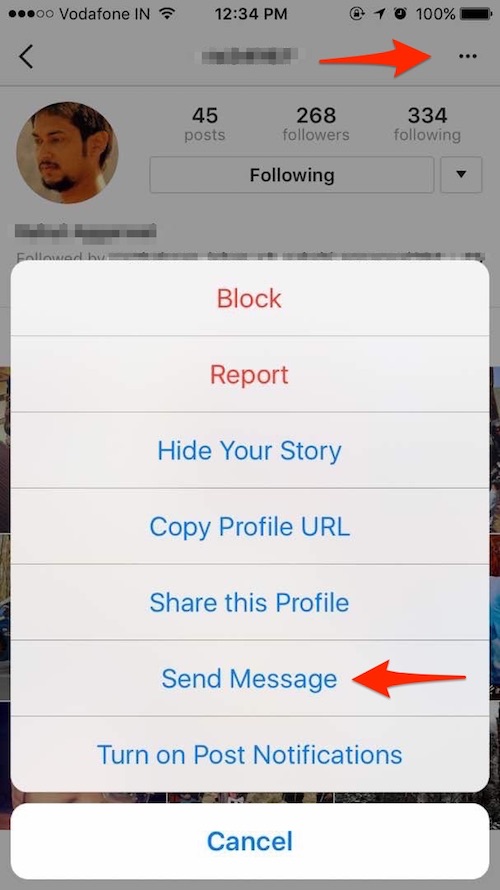 17. Add, hide, and reorder filters
By default, many Instagram filters are inactive which you can add and increase the photo editing options. To do so, you need to go to the end of the filter list by sliding with fingers and click on the Manage option.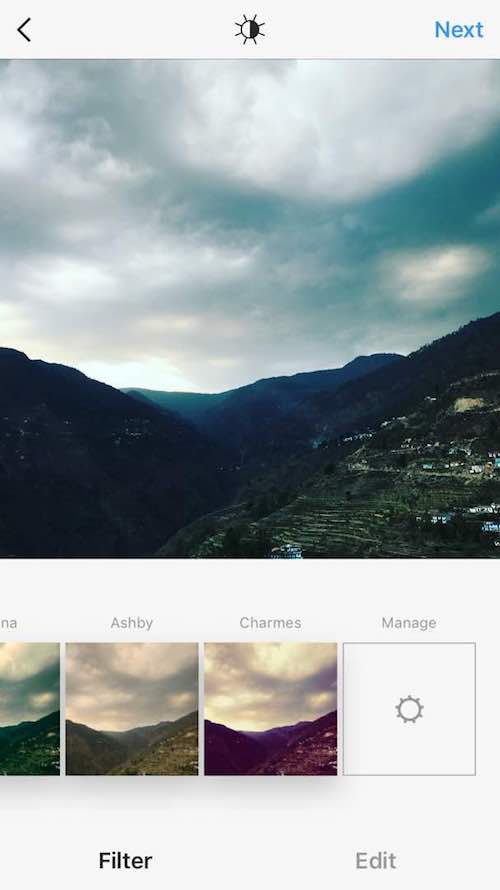 Here, you can add or remove the filters by tapping on them. To reorder them, you need tap the left side of a filter listing, hold it, and drag it up or down. Depending upon the frequency of filters you use, you can reorder Instagram filters.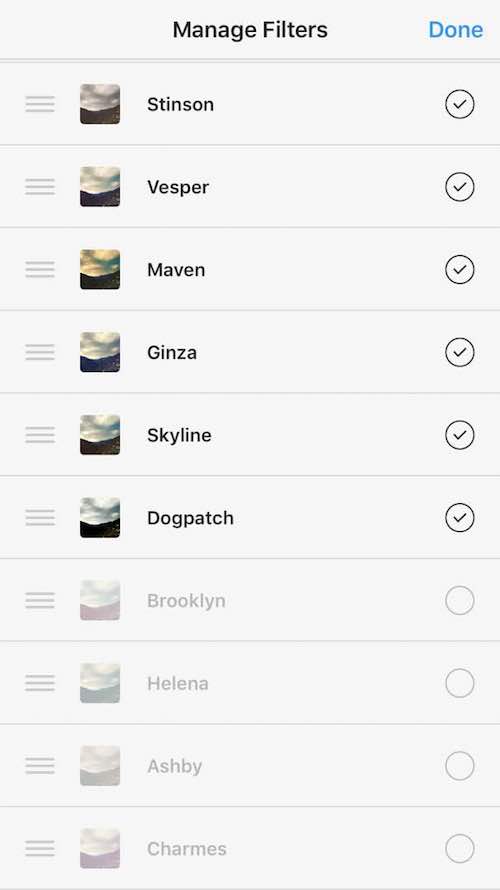 Did you find these Instagram tips and tricks interesting? Try them out and let us know about your favorites.
Don't forget to check out some other useful tips and tricks: